African Chess made strides in 2015
After the contentious Presidential election of the World Chess Federation (known as FIDE) in 2014 featuring incumbent President Kirsan Ilyumzhinov and former World Champion Garry Kasparov, the future of the African continent was in serious question. Little had been done in past decades to provide the continent with firm footing to develop consistent programs.
Ethiopian delegate Ghidey Debessu raises a question at 2014 African Congress. The heated election at the 2014 Chess Olympiad was one to remember. Despite the bitter and oftimes divisive politics, it served as a watershed moment for chess development.
FIDE General Assembly at 2014 Chess Olympiad in Tromso, Norway.
Photo by Daaim Shabazz.
The election itself threatened to divide the continent as there were high stakes riding on the votes of the 43 African nations. Ilyumzhinov won the election convincingly, but it was unclear what vision would be charted. FIDE Vice President Lewis Ncube told The Chess Drum about his plan including an African Grand Prix. (interview)
GM Bassem Amin and WGM Mona Khaled
2015 African Champions
Photo by Egyptian Chess Federation
It appears that 2015 was a crucial year as a number of new initiatives were launched and it appears that African federations have benefited by entities including the Kasparov Chess Foundation, the African Chess Confederation Women's Commission and visits by GM Nigel Short, GM Zhu Chen. There was also the successful indigenous efforts such as MiniChess (Lesotho, Kenya, Madagascar).
Not only was there the successful African Individual Championships, African Junior Championships and the African Youth Championships, there were the various national tournaments and the three qualifying tournaments (Kenya, Nigeria, South Africa) for the Millionaire Chess Open. In February there was the bridge-building event in Ethiopia. In addition, there were a number of newer federations Tanzania, Swaziland, Lesotho, Eritrea, Rwanda and Togo initiating their agendas.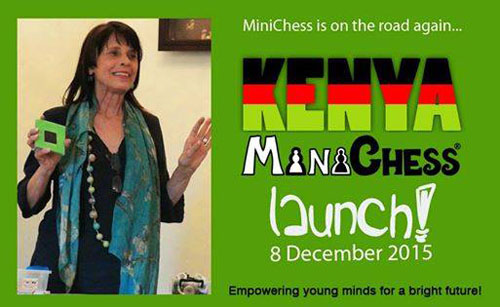 Here are the young minds for a bright future!
Photo by Enyonam S. Fumey.

Cote D'Ivoire made a splash at the last Olympiad.
Photo by Daaim Shabazz.
FIDE Arbiter Purity Maina of Kenya directing at the 2015 Africa Individual Chess Championships in Cairo, Egypt. Photo by Egyptian Chess Federation.
Sylviane Kouokam of Cameroon receiving her national champion's trophy from the President of Cameroon, Paul Biya. Photo courtesy of Sylviane Kouokam (Facebook).
In addition, women were making an impact in leadership positions with Botswana's Keenese Katisenge winning the "Sport Administrator of the Year," and FIDE Arbiter Purity Maina of Kenya directing at several international tournaments. They were also being honored as seen by Sylviane Kouokam recent awarding of her national title by President of Cameroon! There were also inspirational stories on Majur Juac of South Sudan and Phiona Mutesi of Uganda.
One of the other highlights was the proud stand of Arthur Ssegwanyi at the 2015 World Cup in Baku, Azerbaijan. The Ugandan acquitted himself quite well against top-ten player Anish Giri holding him to a draw before losing a tough struggle. The draw created quite a buzz throughout the chess world, but perhaps other will know that facing an African will not yield an easy point.
In addition, Hikaru Nakamura posted to Facebook encouraging after having dispatched of Zambian Richmond Phiri…
As this year closes, we reflect some of the important developments such as the FIDE tournaments in federations such as Angola (1, 2), Ghana, South Africa, Uganda, Zambia and Zimbabwe. However, many of Africa's top players still find it difficult to manage conditions to compete for titles. One top African player, who will go unnamed, stated that his reasoning for not playing is a lack of motivation and inability to travel. Nevertheless, the African players who play abroad seem keen to make a good impression. The winners of the Millionaire Chess qualifiers represented their respective countries and thus, the continent.
African qualifiers at Millionaire Chess… Wanyama (UGA), Oatlhotse (BOT), Olape (NGR). #MC2 pic.twitter.com/tpiMm80rXh

— Daaim Shabazz (@thechessdrum) October 8, 2015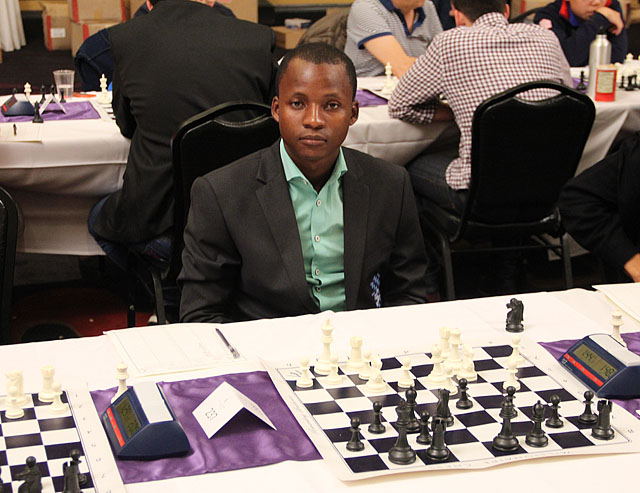 IM Providence Oatlhotse (Botswana)
Photo by Daaim Shabazz.
As I have written back in 2006,
"The countries in the African Diaspora have a charge to seek greater assistance in furthering their respective chess agendas. Oftentimes, it is not enough for the local federation to lobby for funding and assistance from the government."
Thereby, organizational support as seen by Kasparov Chess Foundation for Africa has been valuable in spurring growth on the continent in 2015. It has been amazing. It is not a matter of politics. We are all trying to propel chess into the force for social and educational development. We need more suggestions such as Ncube's "African Grand Prix" to keep the strongest players motivated. This year has been a success and as we move to an Olympiad year, we hope that 2016 will be even better!
AFRICA… ON FORWARD!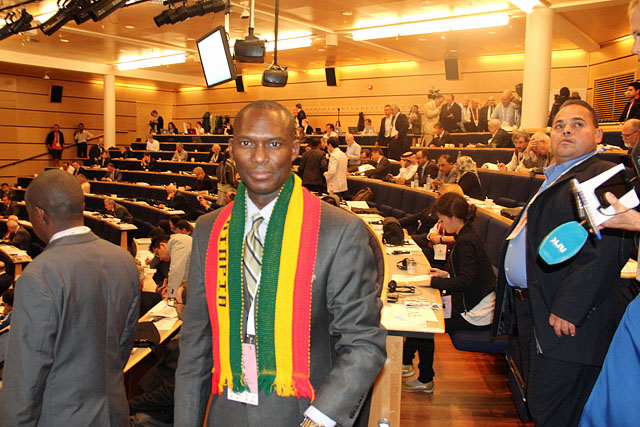 The Chess Drum's Daaim Shabazz