IM Emory Tate has passed away at 56
Emory Andrew Tate Jr.
(December 27, 1958 – October 17, 2015)
The Internet has ignited with the news of IM Emory Tate's confirmed passing. A tactician par excellence, Tate was participating in the Sam Shankland Open tournament in California when he fell ill and collapsed. After receiving first aid, he was taken to a local hospital where he was attended to, but later passed away. Tate died doing what he did best and doing what he loved to do.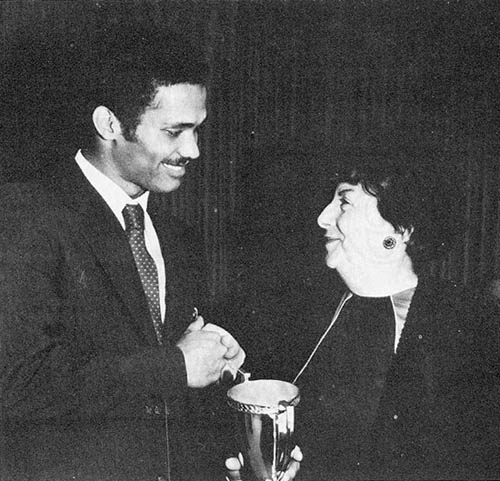 Air Force Sergeant Emory A. Tate, Jr., stationed at Ft. Meade, Maryland accepts the first annual Haskell Small Award for taking individual honors at the 25th Annual Armed Forces Chess Championship Tournament Tate won the tournament, which was held in Washington, D.C. from September 11-20 (1984), with a score of 8½-3½. Taken from U.S. Chess Life, January 1985.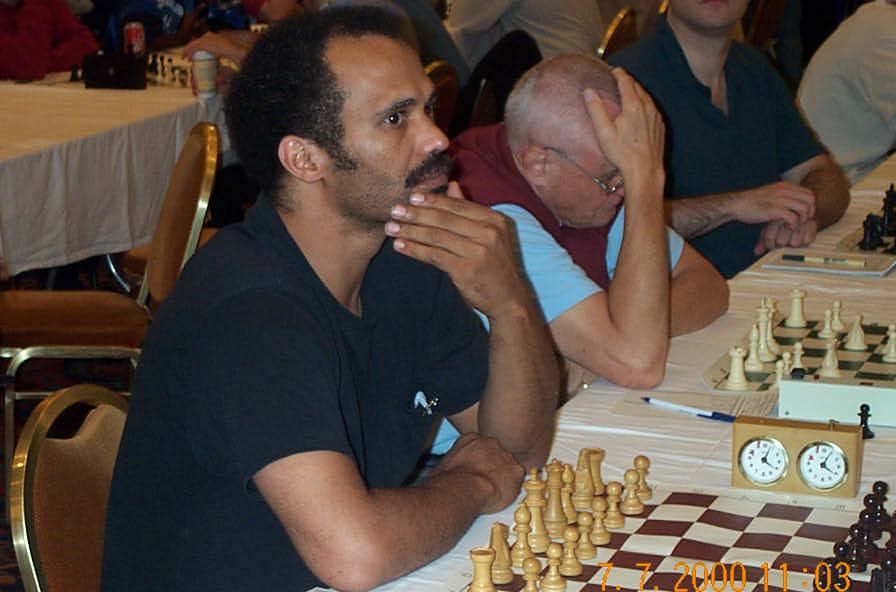 This was Tate's favorite chess photo… the look of a predator gazing at his prey.
Photo by Daaim Shabazz.
IM Emory Tate vs. IM Marani Venkatesh
at 2008 World Open (Philadelphia, USA)
Photo by Daaim Shabazz.
Tate had a penchant for the melodramatic and if anyone had studied his games or saw him analyze a position, there was certainly an impression made. His creative ideas never failed to stun even the most skeptical of minds as he would fancy rook lifts and dashing sacrifices.
The Emory Tate Variation… 1. e4 Nf6 2. e5 Nd5 3. c4 Nb6 4. a4!? a5 5. Ra3!? has scored some sensational victories. (story)
He was proud to say that he was a five-time Armed Forces Champion and personally told me years ago that his GM scalps were around 80. He was the most selfless and giving master I knew and often gave suggestions upon passing by a game analyzed by beginners. His analysis sessions were legendary and people stood on chairs to catch a glimpse of his entertaining commentary.
There will be more details as they come available, but please post your stories here. A full obituary will be forthcoming as well as funeral arrangements. Below are a few of his gems and an instructional video that he left for us to enjoy!
* * *
Selection of IM Emory Tate's Noted Games
FM Emory Tate – GM Gennadi Sagalchik (New York PCA, 1995), 1-0
FM Emory Tate – FM Maurice Ashley (New York Open, 1993), 1/2-1/2
FM Emory Tate – GM Leonid Yudasin (U.S. Masters, 1997), 1-0
IM Larry Kaufman – FM Emory Tate (Virginia Open, 1999), 0-1
GM Nick deFirmian – FM Emory Tate (New Jersey Open, 2001), 0-1
GM Sergey Kudrin – FM Emory Tate (World Open, 2001), 0-1
GM Sipke Ernst – FM Emory Tate (Zwolle Windsheim Open), 0-1
IM Emory Tate – GM Varuzhan Akobian (U.S. Championship, 2006), 1-0
IM Emory Tate – IM Saljivus Bercys (World Open, 2007), 1-0
IM Emory Tate – GM Arthur Chibukhchian (North American Open, 2013), 1-0
Tate demonstrating his first-round win against GM Varuzhan Akobian
from the 2006 U.S. Chess Championship.
IM Emory Tate conducting a 30-board simul.
He dedicated his entire life to chess.
Photo by Chris Torres
* * *
OBITUARY
Emory Tate: chess savant, warrior (1958-2015)
https://www.thechessdrum.net/blog/2015/10/21/emory-tate-chess-savant-warrior-1958-2015/
FUNERAL
IM Emory Tate laid to rest… legacy lives on!
https://www.thechessdrum.net/blog/2015/10/27/im-emory-tate-laid-to-rest-legacy-lives-on/