IM Emory Tate laid to rest… legacy lives on!
Emory Tate laid to rest October 24th, 2015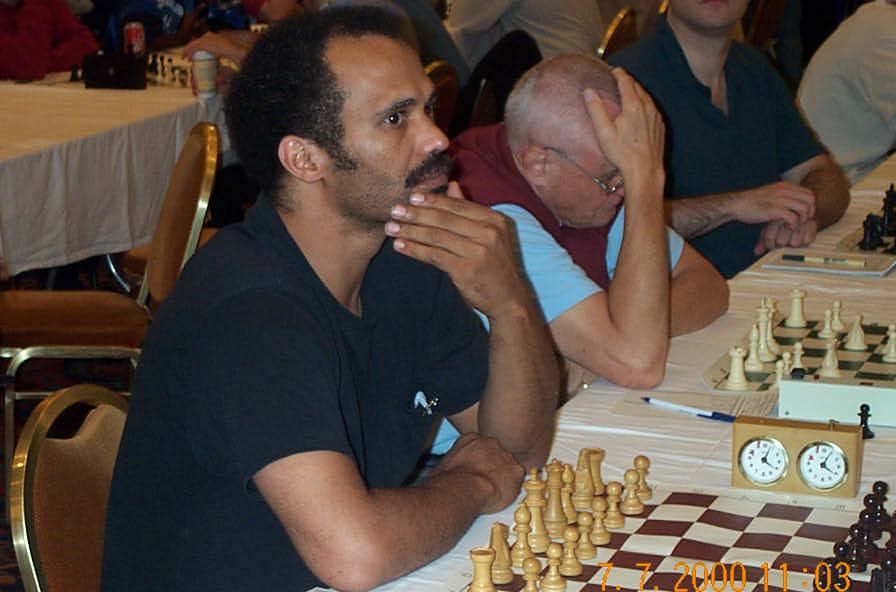 Photos by Daaim Shabazz.
A private gathering of family and friends assembled at the New Union Grove Baptist Church in Smuteye, Alabama to celebrate the life of Emory Andrew Tate, Jr. on a bright Saturday afternoon on October 24th at noon. Relatives had come from as far as California and England to be present. There was music playing in the church including "American Pie". If these were songs Emory liked, a glaring omission would have been Elton John's "Bennie and the Jets".
Daughter Janine Tate read touching stories.
After the Lord's Prayer was sung by Estella Jernigan, there were a number of tributes: his doting daughter Janine Tate, sisters Margaret Jernigan, Elizabeth Tate, Ira Jean Salls, brother former Mayor John McGowan, cousins Hobson Cox, Melvin Cox, Ed Everhart, nephews Mac Jernigan, Nick Jernigan and two chess players Daaim Shabazz and Sulaiman Smith.
Of course, all relatives call him "Dennis" whereas chess players call him "Tate" or "ET". I was expecting that Emory was nicknamed Dennis because he was like "Dennis the Menace" as a boy. My conjecture was not far off, but there is a very interesting story about naming conventions in the Tate family. His sister Katrinka Tate Trail told me the Dennis story which is part of family lore.
There were several speakers and all had heartwarming stories of Emory. It was truly a different side that chess players would never see, but chess was the common theme in all the speeches. The chess speakers told family members about an enigmatic world Emory only mentioned in passing.
TRIBUTES TO EMORY TATE, JR.
Janine Tate (daughter)
Elizabeth Tate (sister)
Margaret Jernigan (sister)
Daaim Shabazz (chess player)
Sulaiman Smith (chess player)
Mac Jernigan (nephew)
Ira Jean Salls (sister)
John McGowan (brother)
Nick Jernigan (nephew)
Ed Everhart (cousin)
Hobson Cox (cousin)
Melvin Cox (cousin)
Estella Jernigan (niece)

Many did not realize Emory's stature in the chess community until days following his passing. Hundreds of stories and tributary remarks were posted online. While there were many different angles, what was common was Tate's generosity and love for those close to him… and sometimes strangers.

Ira Jean Salls tells humorous stories of her brother 'Dennis'.

Chess player Sulaiman Smith came from Atlanta to pay tribute.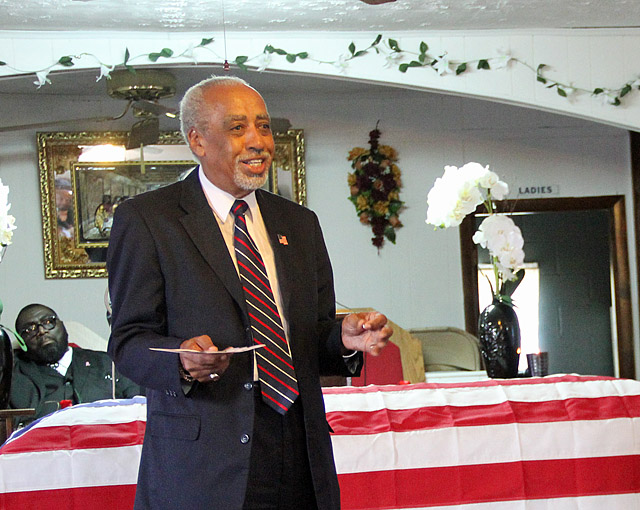 Brother and former Mayor of Union Springs John McGowan
tells his story of mentoring Emory in chess.
Elizabeth Tate comforts her niece Janine.
After the ceremony, Emory was buried on the family plot behind the church and received a military honor including the playing of "Taps". A final salute to the Staff Sergeant was given and the presentation of the folded flag to Janine, his daughter.
CLICK to see larger images. Hover to get descriptions.
The repast was held in rural Alabama at the home of Emma Cox Tate, Emory's mother. It was a place that Emory often found solitude. He loved to fish in the pond or simply take in the vastness of the countryside. It is this quietude in which he will rest forever, but his chess contributions will live on!

Daaim Shabazz with Emma Tate, Emory's mother.

Emory's place of solitude.
IM Emory Andrew Tate, Jr.…
Staff Sergeant and Chess Master Extraordinaire!
Photo from Tate family archives.
* * *
CHESS OBITUARY
Emory Tate: chess savant, warrior (1958-2015)
https://www.thechessdrum.net/blog/2015/10/21/emory-tate-chess-savant-warrior-1958-2015/
FUNERAL PHOTOS
https://photos.google.com/album/AF1QipPE32ySgKYvfHzefqtosC2Hu7Q08p0ihZq_UEXv