2015 Tanzania Open (Dar es Salaam)
Tanzania has gained momentum since their accession to FIDE last year. They held a very successful 2013 Tanzania Open and recently held the second edition in Dar es Salaam. The event attracted 42 players from Tanzania, Kenya, Uganda, South Africa, Rwanda, Zambia, Yemen and India competed for for TShs 2,000,000 (approximately USD 1,000) prize fund.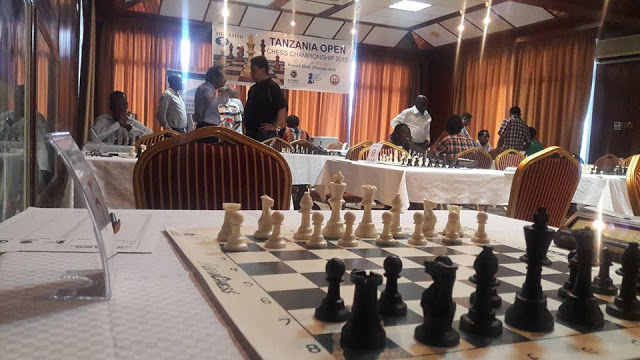 The event was won by IM Elijah Emojong (Uganda) who continued his recent good form to record 8/9 and end a full point ahead of his nearest rival! Joyce Nyaruai (Kenya) also played some excellent chess to score 5/8 and she took the ladies prize whilst also ending in 10th place overall!
IM Elijah Emojong receives his trophy from Graham Jurgensen of KCF-A, while Vinay Choudary & Arbiter Benard Wanjala looks on. Photo by Githinji Hinga.
Ugandan International Master Elijah Emojong (2283) was coming off of a recent victory at 2015 Bungoma Open and paced the field of entrants. Again… the Kasparov Chess Foundation was a benefactor in making this event successful and have been very active in helping the development of chess programs throughout the continent.
The KCFA Executive Director Jurgensen Graham competed in the tournament and was the 4th highest rated player at 2023. The Tanzanian Chess Foundation also provided financial backing while the organiser of the event is the Tanzania Chess Association.
Kasparov Chess Foundation's support has once again been incredibly useful by supporting a federation that only joined FIDE in 2014. Tanzania went for a long period of time without any chess activity and the current officials led by Chairman Geoffrey Mwanyika & General Secretary Nurdin Hassuji have done a great job in a short span of time.
Report & Photos: https://www.kenyachessmasala.com/2015/11/2015-tanzania-open-is-here.html