Nigel Short's mini-tour of Africa



KCF President Githinji Hinga introduces GM Nigel Short. Photo by Kim Bhari.
Whilst the drama of the Tsogo Sun Millionaire Satellite event was unfolding over the weekend, GM Nigel Short was concluding his African tour with a 3- day visit to Kenya! Nigel was the guest of honour at the 2015 NAIROBI GYMKHANA BLITZ CHESS CHAMPIONSHIP Championships where he conducted a 30-board simultaneous exhibition scoring a perfect 30/30 score in the process. KCF wishes to congratulate CM Ben Magana who won the rapid event and Joseph Metu who won the blitz. Results of both tournaments can be accessed below:
Rapid: https://www.chess-results.com/tnr180956.aspx?lan=1
Blitz: https://www.chess-results.com/tnr181024.aspx?lan=1&art=4&wi=821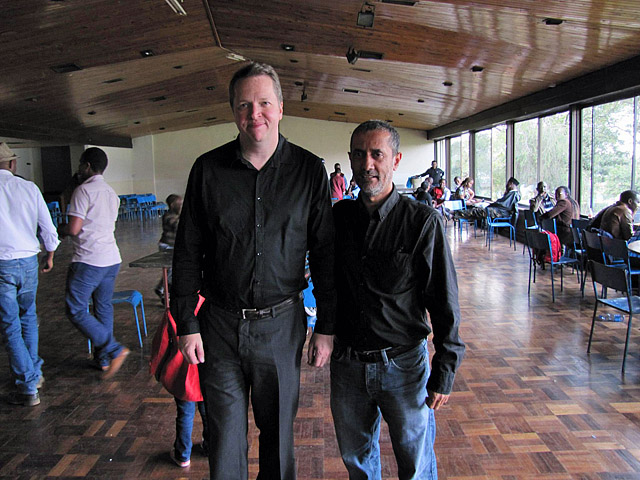 The British Grandmaster with Kim Bhari.
Nigel then conducted a training session for the top players and upcoming juniors and did numerous television interviews including this excellent 30-minute session on the morning sports show of K24 Alfajiri TV.
KCF Africa would like to extend our thanks to Nigel for his efforts to develop the game across the continent. He has traversed the continent visiting Ghana, South Africa, Zimbabwe and Kenya and has been on the road road for almost three weeks in total.
We hope he can now get some hard earned rest back home in Greece at the end of a highly successful tour!
~Kasparov Chess Foundation