2015 Millionaire Chess Satellite (Johannesburg, S. Africa)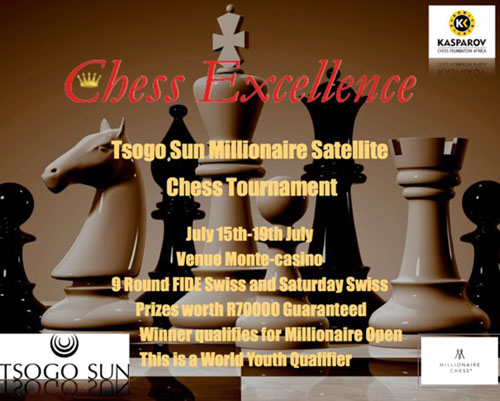 The field for the Tsogo Sun Millionaire Satellite has just been boosted by the inclusion of GM Kenny Solomon who confirmed his participation yesterday morning.
There are now only 4 days to go to the start of the third and final Satellite event tournament and players who still wish to participate are asked to register urgently at https://www.chessexcellence.com/ to avoid disappointment.
The starting list for the Champion section is now published at https://www.chess-results.com/tnr179449.aspx?lan=1 and will be updated daily moving forward.
The top 10 seeds are now all rated above 2100 and we look forward to the fight for the final ticket to Las Vegas!
~Kasparov Chess Foundation for Africa
GM-Elect Kenny Solomon
Photo by Jackie Fritz.