The Making of The Chess Drum
From time to time, I'm asked a number of questions about the website, The Chess Drum. The site has developed over the past year and players who I meet at tournaments want to know the hows and the whys, so to speak. Well… there's a short answer and a long answer. The short answer to "why" is the fact that the idea was long overdue. The long answer is much more complicated and consists of several milestones, but four in particular. They are as follows:
a question posed to me about the lack of Black players with titles;
a road trip with Maurice Ashley and Jerry Bibuld to the 1990 World Open in Philadelphia;
Gregory Kearse's article, " A History of Black Chess Masters in America," appearing in Chess Life magazine;
Maurice Ashley's earning the Grandmaster (GM) title and cover story in May 1999.
Where are the Black GMs?
In the early to mid-80s, Chicago was a hotbed of chess activity as many of the major tournaments were hosted by the many powerful chess personalities such as: Tim Redman, Harold Winston, Helen Warren, Richard Verber, Fred Gruenberg, and Tom Fineberg. The chess community was vibrant as relatively close-knit as there were plenty of tournaments and chess clubs to become acquainted with other players.
In one of Mr. Gruenberg's "Put the Fun Back into CHESS" theme tournaments in the early-80s, I was casually talking to Vince Berry, a very popular master in the Chicago area who seemed comfortable with Black players. He respected me a great deal as I was considered a promising young player. We got on the subject of Black chess players, and of course names like Marvin Dandridge and Emory Tate came up instantly, but then he posed the question, "Where are the Black GMs? You all don't have even an IM!" Of course, no offense was taken because Vince was merely posing the question, and not making a mockery. The issue was not the accuracy of his last statement more than it was the fact that I didn't have any evidence to contend with it.
To the Letter!
The conversation with Vince stuck in my head and sent me searching for answers. In the latter part of 1988, two letters appeared in U.S. Chess Life magazine about chess in South Africa. One was written by Jerry Bibuld (September 1988) and the other by Stan Vaughn (December 1988). In December 1988, I wrote several letters to influential chess personalities, organizers, and players on the idea of providing support for an initiative to promote chess growth in the Black community. In one letter, I stated, "Although there are many strong players of African descent, there are no organizations or publications designed to highlight their achievements." My plea was to fill this void.
After failing to receive any immediate responses, I pressed on. I called Helen Warren who then offered a room at the 1989 U.S. Open to do a workshop on Black chess. That workshop was never held, but the momentum had begun. Mrs. Warren DID refer me to Jerry, and in February 1989, I began exchanging letters with him about my ideas. He then sent me a listing of "Afro-American" chess masters… an amazing document! I was encouraged further after seeing a May 1989 interview of Ron Buckmire in U.S. Chess Life magazine.
The 1989 U.S. Open
At the 1989 U.S. Open in Chicago, I would meet a young Black man playing among the top boards. I knew Emory Tate and Morris Giles already but had never seen this person. I saw him watching one of Emory's games and I, in turn, went over to visit his games. I eventually introduced myself and I would learn that his name was Maurice Ashley.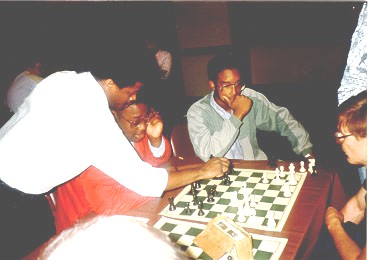 Maurice Ashley analyzing with R.O. Mitchell at 1989 U.S. Open.
Kimani Stancil looks on.
Copyright © 2001, Daaim Shabazz.
I remember making a comment about his T-shirt displaying the word, "Jamaica." I said to him, "You've obviously been to Jamaica." He immediately responded, "I was born there!" I would see Maurice often during the tournament and remember him showing me and
R.O. Mitchell
(who became 1990 U.S. Junior Champ) one of his games which took the route of Fischer-Spassky, game 4. I was impressed at the depth of his analysis. Even today Maurice remembers me bringing my reggae tapes and playing Steel Pulse in the skittles room!!
Nubian Chess International
In the Fall of 1989, I moved to Atlanta to attend graduate business school (undergrad is computer science) and in my first marketing class, I had to write a marketing plan. Of course, with these chess thoughts on my mind, I decided to write a plan for "Nubian Chess International." I had just come from Egypt and was inspired by many things I saw, including a chess set in the Egyptian Museum of Ancient Antiquities (Note: This same set can be seen here).
The Executive Summary of this business plan (dated December 8, 1989) stated, "The idea is to create an international network which caters to the market of Black chess players." As part of the network would be "Nubian Chess News," a magazine that would feature interviews, instructional chess articles, game analysis, cultural topics, and contemporary issues. Momentum was growing quickly.
1990 Philadelphia World Open
In the summer of 1990, I found myself in New York interning at a large media firm in sports journalism. Although I had no formal training in journalism, it was something I seemed to have a knack for. Besides, I wanted to be in bustling New York! After I arrived, I contacted Jerry Bibuld and Maurice Ashley. Jerry invited me to ride with him to visit the World Open in Philadelphia and to discuss ideas. After a few phone conversations with Maurice, we agreed to meet in Washington Square Park to discuss the plan I had developed. Coincidentally, when I met with Maurice, he had mentioned that he was also riding with Jerry Bibuld to visit the World Open in Philadelphia. This "meeting of the minds" was meant to happen!!
The famous Washington Square Park in New York City. "Russian Paul" waiting for a game while Ernest Colding (seated right) is in a test. Photo by Daaim Shabazz.
On the 3rd of July at 8:30 am, we were on our way to Philadelphia. A very interesting conversation ensued about social politics and the plight of Black chess players. I also found interesting the high hurdles that Maurice was having to jump in order to move toward getting the IM title. The question of selective exclusion was brought up in the case of Black chess players in the U.S. Jerry pointed out that both Maurice and Emory Tate earned IM norms at the 1988 New York Open, but were not mentioned in the U.S. Chess Federation press releases! In addition, K.K. Karanja may not have been afforded the opportunities needed to develop his immense talents. There were other countless examples.
After arriving in Philadelphia, the World Open site was filled with electricity and I recognized some familiar faces. I went to the Open section room where I saw players such as
Emory Tate
,
George Umezinwa
,
Norman Rogers
,
Wilbert Paige,
and
Ernest Colding
. I later introduced myself to a number of players (including both Rogers and Paige), and discussed with them my ideas; they gave moral support.
"Never forget about July 3rd."
~Maurice Ashley
Stephen Muhammad
was also present at the 1990 World Open, and in a stimulating group discussion, provided input about possible obstacles that could hinder such an idea. The strongest memory I had of the 1990 World Open was the spirited exchanges and camaraderie that was displayed. I listened carefully and took down a copious amount of notes. Before we parted Philly to return to New York, Maurice told me never to forget about July 3rd.
Gregory Kearse's "Black Masters" article
After returning to Atlanta, I was forced to put the idea of a Black chess network on hold while struggling through the rigors of graduate school and deciding what course my life would take. I never forgot about the idea, but I wouldn't think of the idea with any intensity until I finished my Ph.D. in 1998. Prior to leaving Atlanta for a professorship in Florida, I picked up the July 1998 U.S. Chess Life magazine from the mailbox, and inside was a story titled, "A History of Black Chess Masters in America." Wow!!
Written by Gregory Kearse of Washington, D.C., the article was an interesting account on the history of Black chess in the U.S. and detailed many of the different eras that were important in its evolution. I sent a response to Chess Life and it was published. I also contacted the U.S. Chess Federation because I wanted permission to put Kearse's article on my academic website. Instead, they gave me his e-mail address, and after contacting him via e-mail, he agreed to let me use the article. Gregory and I continued to exchange e-mail and discussed a number of issues and potential projects. His article was important and ignited a spark that was needed to start the "network" discussion once again.
The First Black GM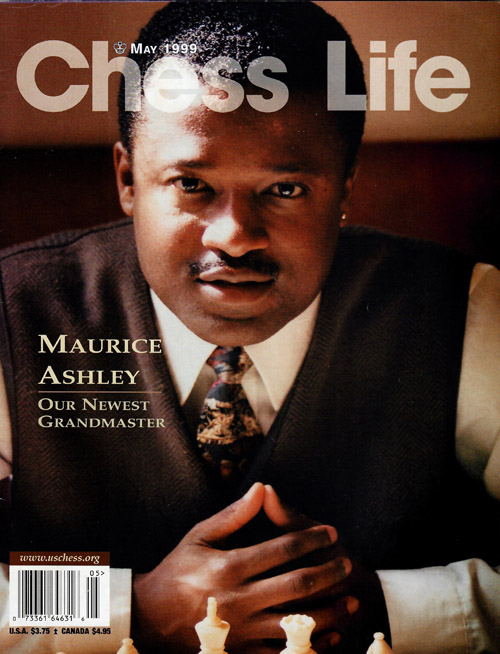 Almost on cue, Maurice Ashley would win his GM title at a tournament in March 1999. The airwaves and bandwidth were being burned up by people around the world concerning Maurice's triumph. To top it off, he made the cover of the May 1999 U.S. Chess Life magazine and generated a lot of excitement in the Black community. Months passed. Still excited, I tossed around ideas for a website based on the original idea of a chess network. After the structure was created and the pages were in place, The Chess Drum was made public on February 12, 2001, at 12:00 am. The idea never died.
Keep the Beat Going!!
Why the name? The name, "The Chess Drum" comes from the idea that in many ancient African societies, the drum instrument was used for communication… sometimes from village to village. In fact, drum language uses a rudimentary form of node-switching present in Internet communication… point-to-point protocol. Thus, this site communicates authentic content pertaining to the accomplishments of Black chess players around the world.
The Chess Drum does not receive any outside funding so all efforts made toward the website are a "labor of love." In other words, it's hard work but enjoyed. The philosophy is to provide a clean, attractive interface with a variety of fresh and exciting features to inform and entertain. To be honest, it's extremely difficult to find the material needed for updates, so contributions are encouraged. Make sure I have enough details… the who, why, what, when, where, and how.
In the coming year, the website will continue to bring exciting developments from around the world and may expand in some areas. However, the main idea will remain to highlight the contributions of chess excellence in the African Diaspora. The time has come for players of African descent to make a presence in the chess land where "Kings are Kings." As the ancestors of days gone by would send signals by the use of instruments, Black chess players have a responsibility to use communicative vehicles to increase collaboration. The Chess Drum is one such vehicle, so… keep the beat going!!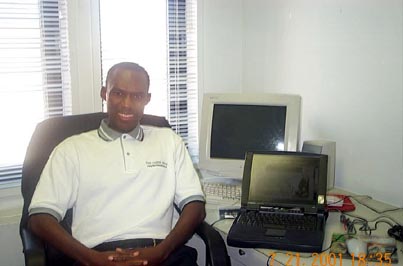 In Harlem, New York covering Wilbert Paige Memorial in July 2001