2015 Millionaire Chess Satellite (Nairobi, Kenya)



Uganda's Harold Wanyama (right) beat his compatriot and top-seed IM Elijah Emojong in an important 5th round encounter. He went on to win his last three games to take the first of three qualifying tournaments in Africa. Photo by Kasparov Chess Foundation.
The first of the three satellite tournaments in Africa took place in Nairobi, Kenya from April 30th to May 3rd and sponsored by the Kasparov Chess Foundation. The tournament apparently won many plaudits as described by the many comments seen on Facebook including the one below…
Kenya Millionaire Satellite Chess festival – Great event, wonderfully organized, superb venue and the best part – very fairly handled – congrats to all winners and keep it up Chess Kenya….. Ameet Parikh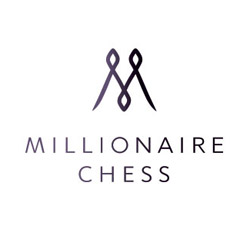 The tournament organization had its glitches in the beginning, but seemed to handle all of the extenuating circumstances. This included remedying the idea of "match-fixing" a worrisome trait of some Kenyan tournaments. In the last rounds of the tournaments, the pairings were held until 10 minutes before the round to prevent any type of collusion. There were approximately 200 players in the three sections: Prestige, Open and Juniors.
In the end, FM Harold Wanyama won with a convincing 7.5/8 to win an all expenses paid trip and entry to the Millionaire Chess Open in Las Vegas, USA. He will be the first Ugandan team national player to compete in the U.S. in recent memory since Grace Nsubuga played back in 2001.
Wanyama had to ward off a stiff challenge from Kenya's Lawrence Kagambi who started a blistering 5/5 despite being rated on 1649 FIDE. After his surprising start, he lost to Wanyama and then Haruna Nsubuga to fall into the quartet of Kenyans (Mowlid Ahmed, Kenneth Omolo and Joseph Atwoli) to end on 6/8.
Amy Lee of Millionaire Chess (center) sitting at the head table with Githinji Hinga (Chairman of Chess Kenya), Graham Jurgensen (Executive Director of Kasparov Chess Foundation Africa), Satish Deshpande (Tournament Director & CEO of Chess Kenya), Harold Wanyama (winner of Millionaire Chess Satellite – Kenya). Photo by Kim Bhari.
TV Coverage of Millionaire Chess
Video by KBC Kenya.

Corrections on video…
The sponsoring company name is Millionaire Chess and NOT Chess Millionaire (which is a scam).
Winner is NOT going to get $1,000,000. $1,000,000 is the total payout
After Wanyama's victory, GM Maurice Ashley , co-founder of Millionaire Chess franchise posted a congratulatory message…
FIDE Master Harold Wanyama of Uganda is the winner of the MC satellite tournament held in Kenya this weekend. Harold gets an all-expenses paid trip to Vegas under the auspices of MC and the Kasparov Chess Foundation Africa! Congratulations Harold!
2015 Millionaire Chess Satellite
Nairobi, Kenya, April 30th-May 3rd
(Kenyatta International Conference Centre)

Full Results