2015 Millionaire Chess Open (Las Vegas, NV)

After the inaugural Millionaire Chess Open (MCO) was met with a rousing organizational success, many of the skeptics were silenced and supporters encouraged. However, there was always the question of whether this tournament would become a fixture on the American chess landscape.
There is a wave of excitement building as 600 players have descended onto Las Vegas to vie for $1,000,000 prize fund. With approximately 50 GMs from more than 50 different countries, the second edition of the tournament hopes to capture the attention of sponsors and supporters in the midst of the current resurgence in chess. There are a number of reasons to be positive about future developments given the number of innovative ideas being spawn by co-organizers GM Maurice Ashley and Amy Lee.
The tournament is headlined by top-ten players Hikaru Nakamura, Fabiano Caruana and Wesley So, the field features a star-studded cadre of international players. The class sections will also be hotly-contested and their games will be more prominently featured in the broadcast. The tournament will follow the innovative format of the first edition with the culmination being the "Millionaire Monday" showdown. According to the official website:
The first seven rounds will be a qualifying round to determine who plays the finals on Millionaire Monday. Four finalists will move on to play two knock-out rounds to determine who wins the top prize. The last two rounds of the Open section will also be played on Millionaire Monday to determine who wins 5th place and under, as well as to give players a chance to acquire norms.
Millionaire Chess commentators!
GM Robert Hess, IM Tania Sachdev and IM Lawrence Trent
An All-Star team is calling the action live from Las Vegas with GM Robert Hess, IM Lawrence Trent and IM Tania Sachdev comprising the team. GM Maurice Ashley will be giving spot commentary, but will serve mostly as the floor general. David Llada will be the official photographer.
Official Site: https://millionairechess.com/
Photos: https://www.flickr.com/photos/
hashtag: #MC2
Twitter: @highstakeschess
THE LOOK OF MILLIONAIRE CHESS
Maurice Ashley's smile is a bit brighter! 🙂 Adia Onyango, Stacey Moore, Maurice Ashley, Amy Lee, Alisa Melekhina
The World Champions return to look over the proceedings and…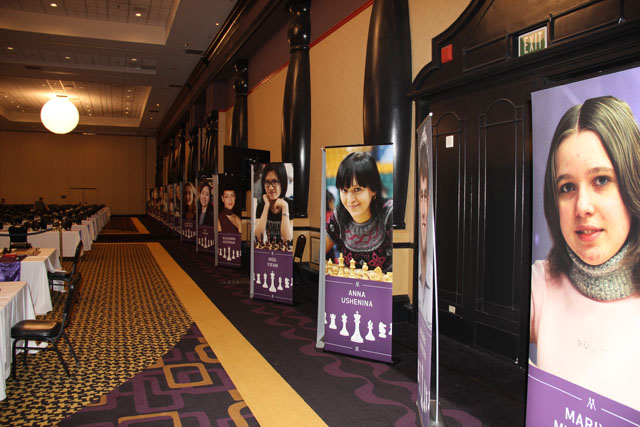 …the women champions will also look on.
* * *
WISHING ALL THE VERY BEST!