Emory Tate: chess savant, warrior (1958-2015)
A lone lion wanders afar in the wilderness, no longer part of the pride
Once gleaming, accepted, a beautiful beast, now having been cast aside
No chance for part in coordinated hunt, this one can't run very fast
Nature holds no place, and faltering, it seems this beast just won't last
~Emory Andrew Tate, Jr.
* * *

International Master Emory Tate
Photo by Daaim Shabazz
The other day we lost a king. The other day we lost a savant. The other day we lost a warrior. Yet… in the days that followed, we have gained so much from reflecting on the life of Emory Andrew Tate, Jr. He emanated a light that shone into the lives of hundreds of thousands of people. An athletic man with an agile mind, Tate would have excelled in absolutely any endeavor he would have chosen, but he chose chess and its history books would add his name as one of its most loyal sons.
As the world continues to mourn the loss of International Master Emory Tate, rarely does one see such an outpouring of praise and tribute of a chess player. There are literally thousands of testimonies and stories circulating around on chess servers and personal pages of players around the world. Over the years, the Tate persona has taken on a prominence that was magnified by the energy he put into his craft.
The Tate Family and Chess Beginnings
Born into a highly-accomplished family with a loving mother Emma and a strict patriarch Emory Tate, Sr., his father worked as a sharecropper in rural Elberton, Georgia, served the U.S. Army in World War II in ammunition transport and finally spent 48 years as a distinguished Chicago lawyer. What is interesting is that Emory Jr. has an older sister named Emory Denise with twin sisters Katrinka/Katherine and finally Elizabeth. His mother also had children from a previous marriage to a McGowan… Ira Jean, Margaret, John and Harold.
Emory Sr., Andrew Tate, Emory Jr.
Photo courtesy of Tate family archives.
With roots in rural Georgia, Emory Sr. was a hard worker and instilled this ethic into his children who all went on to have successful careers in entrepreneurship, academia, real estate and law. Emory Sr. (November 20, 1918 – November 17, 2008) preceded his son in death, but left him with tremendous pearls of wisdom… and a wonderful gift of chess, something in which young Emory would dedicate his life.
The Tate family evolved in the turbulent 60s, a time of tremendous racial tension around the country… especially in the heavily-segregated Chicago area. After serving his country, Emory Sr. applied for, but was denied admission to Harvard Law School in Boston. He was admitted to Chicago's John Marshall Law School on a GI Bill and after graduating began to practice law in Chicago. He was admitted to the Illinois Bar in 1951 and retired from the legal field in 1999.
A man of erudition, Emory Sr. taught all of his children the game of chess. Emory Jr., affectionately known by the family as "Dennis", learned at about age four and attended Pope Middle School on Chicago's west side. At the age of about 13, he had surpassed his father in skill. The father, a prominent lawyer, was chagrined. However, he could not have known that his son would one day become a worldwide chess icon.
Five-Times Armed Forces Champion!
The Tate family had moved from Chicago to Addison, Illinois and then to Elkhart, Indiana. Young Emory graduated in 1976 from Concord High School in Elkhart, Indiana where he was a member of the wrestling team. As a 17-year old, he chose to attend Northwestern University over Princeton to study pre-medicine.
According to Dan Shenk of Goshen, Indiana, the teenage Tate was the only player to beat Grandmaster and former U.S. Champion Arthur Bisguier in a 30-board simultaneous exhibition. A few years later, Tate begin to make his rise as a teen shuttling back and forth from Indiana and Chicago to compete. Players in Chicago began to notice this brash chess player who emulated Bobby Fischer's style and carried the bravado of Muhammad Ali.
In the late 70s, a period when the ratings froze in the U.S. Chess Federation, Tate had a rating of 1797 where it remained for one year. In subsequent months, he began bagging the scalps of many local masters who were deceived by his deflated rating… and even more by his prodigious knowledge of the Sicilian. He was already master strength by the time the new USCF database had been completed.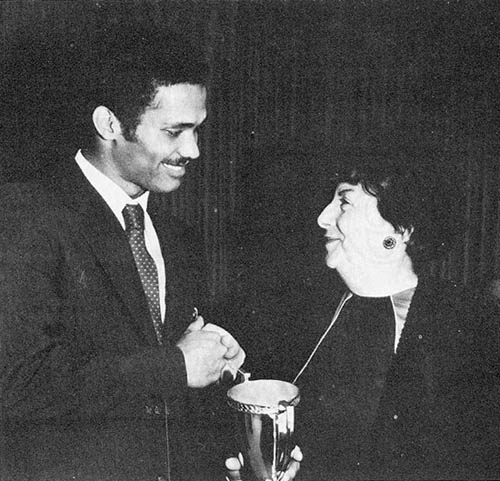 Air Force Sergeant Emory A. Tate, Jr., stationed at Ft. Meade, Maryland accepts the first annual Haskell Small Award for taking individual honors at the 25th Annual Armed Forces Chess Championship Tournament Tate won the tournament, which was held in Washington, D.C. from September 11-20 (1984), with a score of 8½-3½. Taken from U.S. Chess Life, January 1985.
The Emory Tate Variation… 1. e4 Nf6 2. e5 Nd5 3. c4 Nb6 4. a4!? a5 5. Ra3!?
has scored some sensational victories. (story)
After deciding to take a different course in life, he joined the Air Force and it was there that he began to make his presence felt in the chess world. It was in the Air Force that he uncorked an opening that today bears his name. In the 1988 Air Force Championship, he trotted out a strange sequence against Paul Waldowski… 1. e4 Nf6 2. e5 Nd5 3. c4 Nb6 4. a4 a5 5. Ra3!? There is no prior record of a game with these eccentric moves.
Tate won the U.S. Armed Forces Championship in 1983 as Senior Airman, in 1984 as Sergeant and in 1987, 1988, 1989 as a Staff Sergeant. He proudly cites this accomplishment and it stood as one of his greatest feats. Ultimately, Tate spent a lot of time competing in tournaments while in the service.
---
James "Black Knight" Taylor became life-long friends.
James "Black Knight" Taylor with Emory Tate at 2004 World Open. Black Knight raved about Emory's cooking skills! Photo by Daaim Shabazz.
With a growing coterie of followers, his legend began to grow… along with nicknames such as "ET", "Emory Mate," or simply "Tate". His hyperactive style and his melodramatic post-game portrayals were highly-entertaining, instructive and drew legions of fans. In 1988, he earned his first IM norm at the New York Open along with another talented Black player, Maurice Ashley.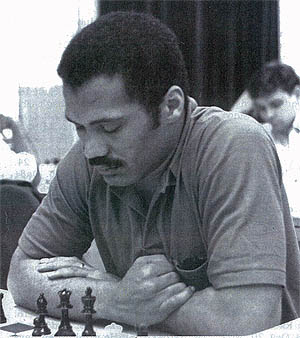 FM Emory Tate at 1998 New York Open.
Photo by Jerry Bibuld.
A player needed three "norms" to earn the title, but they were hard to come by. There were only a couple of tournaments that offered such opportunities. Unfortunately for Tate, his handsome cache of Grandmaster scalps came in open tournaments where norms were not offered. He only earned his IM title in 2007 almost 20 years after his first international-level performance.
Tate's reputation had grown so much that he can take partial credit for his sister Katrinka Trail finding her husband. A man who was visiting the family home noticed a picture of the Tate brood. He asked excitedly, "Is that Emory Tate?" She affirmed that it was. "You KNOW him?" he followed. "He's my brother," she replied. She set up the entire plot. Katrinka relayed this story on chess.com blog.
I met my future husband who was a Emory admirer. When I told my future husband that I am Emory's sister and that I beat my brother regularly at the chess board, he was in awe of me and married me soon thereafter. We have been married 17 years and he ultimately forgave me for my lie. My brother laughed when he found out about my trick…he said he didn't mind.
In fact, Tate endorsed his sister's ploy with a Cheshire Cat smile and said, "Checkmate".
The Making of a Legend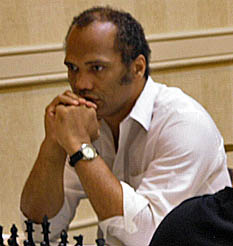 FM Emory Tate at 2006 World Open where he earned his last IM norm for the title.
Photo by Daaim Shabazz.
The 20-year period of 1988-2008 was a time in which "Tateism" philosophy was born. You could go to any city in America, particularly where the Blacks played and they would know of the legendary "Tate". He was a folk hero in the worldwide Black community (not merely African-Americans) and he was revered by players such as Grandmasters Amon Simutowe (Zambia) and Pontus Carlsson (Sweden).
Based on his eschewing of opening theory, he created unique ideas which were expressed over the board in dramatic fashion. His uncompromising fighting spirit was captured in all of his games, but his epic battle against Maurice Ashley was for the history books. Ashley explained that he lost a game to Tate last year but,
…it was the first game that I will remember for all the electricity that he infused into the position when he boldly sacrificed a bishop right out of the opening. The tension of the game was thick throughout as this was our very first encounter and we instinctively understood that the game would be long talked about by members of the Black chess playing community. Funnily, we both felt very optimistic about our chances during the game and the battle went toe to toe until the bitter end. The final position is amusing: we had nothing left to sacrifice and reluctantly had to accept a draw! We actually chuckled at each other, two fighters gaining much respect for each other's attitude at the board.
His dashing win over Grandmaster Leonid Yudasin created quite a global sensation and was featured in Chess Life magazine and annotated by International Master Jack Peters. There are the scintillating queen sacrifices against Grandmasters Gennadi Sagalchik, Larry Kaufman and Nick deFirmian. He has dazzled thousands with his tactical treats and created an entire Internet fan base based on some of his noted battles.
Selection of IM Emory Tate's Noted Games
FM Emory Tate – FM Maurice Ashley (New York Open, 1993), 1/2-1/2
FM Emory Tate – GM Gennadi Sagalchik (New York PCA, 1995), 1-0
FM Emory Tate – GM Leonid Yudasin (U.S. Masters, 1997), 1-0
IM Larry Kaufman – FM Emory Tate (Virginia Open, 1999), 0-1
GM Nick deFirmian – FM Emory Tate (New Jersey Open, 2001), 0-1
GM Sergey Kudrin – FM Emory Tate (World Open, 2001), 0-1
GM Sipke Ernst – FM Emory Tate (Zwolle Windsheim Open), 0-1
IM Emory Tate – GM Varuzhan Akobian (U.S. Championship, 2006), 1-0
IM Emory Tate – IM Saljivus Bercys (World Open, 2007), 1-0
IM Emory Tate – GM Arthur Chibukhchian (North American Open, 2013), 1-0
One after the other, his numerous attacking gems developed a near-cult following. By his count, he has beaten more than 80 Grandmasters. However, his brazen style also meant he had more than his share of losses, including a 9-move loss to Alexander Yermolinsky where he humorously allowed himself to be checkmated. Live by the sword. Die by the sword. It was Yermolinsky on page 137 in his book, The Road to Chess Improvement who stated,
Emory may have certain shortcomings when it comes to all-around play, but he's not the kind of guy to back down from a challenge.
Apart from his games, Tate derived tremendous joy from showing his games. When he demonstrated his games, it was literally a theatrical performance. His gesticulations, quips and wordplay were all combined into his incisive commentary and his creative ideas for a spellbinding lesson. Intermittent proclamations of "triple exclam" were common. At times he would attract 30-50 onlookers who stood on tables and craned their necks to catch a glimpse. Tate performed his games! It was quite a scene! The annual World Open seemed to be his grandest stage.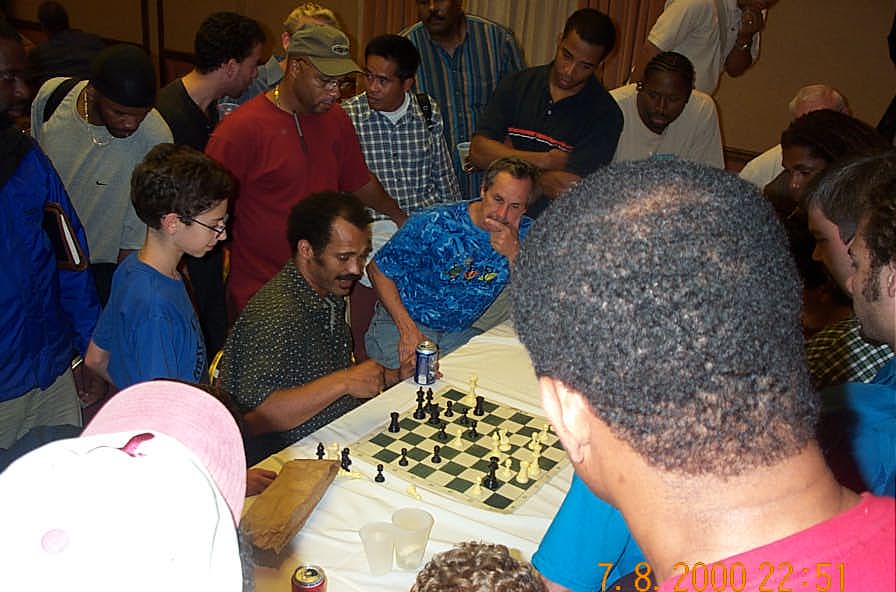 FM Emory Tate showing Kudrin-Tate at 2000 World Open. There were easily 30 people watching. This photo was taken standing on a chair. The audience remained at rapt attention up until the last move. As he rose to leave the room, thunderous applause broke out! Photo by Daaim Shabazz.
Seventeen-year old German star
Elisabeth Paehtz
was visiting the 2002 World Open, but not competing. When Tate saw her battling
IM Gregory Shahade
in blitz he asked, "Who is she?" After she won, he curiously sat down and introduced himself, "Emory Tate" and extended his hand. Paehtz didn't seem to know him. When the game started she was singing German folk songs and playing moves rapidly. Tate engaged in a bit of German banter! Then things got quiet when he sacrificed a piece… then another. In the photo, Tate is two pieces down, but with a strong attack. Paehtz ended up resigning a couple of moves later after missing the proper defense. Photo by Daaim Shabazz.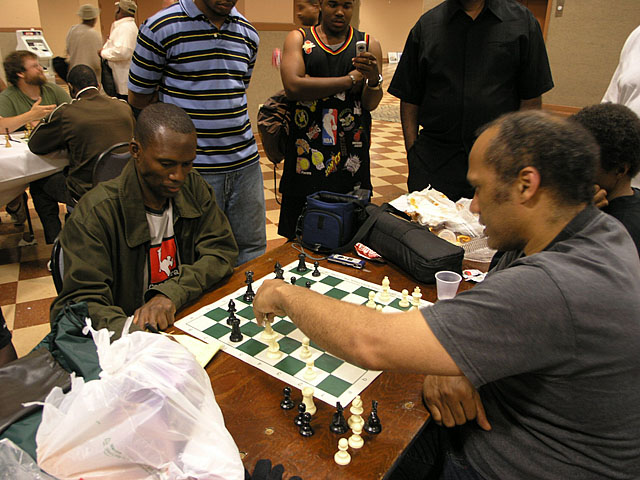 At 2007 World Open, Tate walked up to me and asked, "Is The Chess Drum open for business?" He then proceeded to show me
Tate-Bercys
, a beautifully-played game. Watch this analysis session
here
! Photo by Daaim Shabazz.
It is highly unusual for a master-level player to volunteer to show his games to the general public. In fact, it is more common for a master to hide one's games. In the case of Tate, it was essentially a generous chess lesson being given. In addition, he would walk through the "skittles" area where players are playing off-hand blitz games and gladly partake in a few games. Tate would commonly walk by a game of beginners he had not previously met, stop, take one glance and proceed to make suggestions with detailed insights to patterns and tactical/positional motifs. He particularly loved endings, but his forte were these obscure ideas involving piece sacrifices and rook lifts. Sometimes he would rattle off a deep variation and walk away.
IM Emory Tate conducting a 30-board simul.
He dedicated his entire life to chess.
Photo by Chris Torres.
In the last five years of his life he spent time in the Bay Area teaching chess to schoolchildren. Chris Torres who runs the Torres Chess and Music Academy, remarked that Tate's instruction was "remarkable" with children and he seemed to take a special interest in his students. In the end, it was apt that he spent his last moments doing what he loved. On October 17th, 2015, he was playing at the Sam Shankland Open when he emerged from the bathroom and collapsed. Later that day, the legacy of Emory Tate had begun.
"Shah Mat" (Checkmate)
In the past few days, many have been reflecting on the life of Emory Andrew Tate, Jr. and have learned a number of interesting things about him. While many chess players have a plethora of talents on display, the chess world is indebted to Tate for his contributions to the art of chess.
Emory Tate ponders move at Maurice Ashley's HB Global Chess Challenge in 2006. Photo by Daaim Shabazz.
In the past 15 years, I have tried to highlight his accomplishments for all to see. I first met him at a 1979 tournament at the Chicago Palmer House as a player with whom I played some crazy Sicilian Najdorf games. No piece was safe from being sacrificed! From him I learned the thematic sacrifices as they spilled onto the board.
By all accounts, the man was intellectually brilliant… and he was whole. He recited poetry. He played the piano. He sang. He spoke foreign languages. It is true that some choose a high-profile career in which they dedicate their entire lives, but never make much of a lasting impact. Some choose a field without the grandeur of prestige and become legends. The latter was such a destiny for Tate.
Why did Tate choose chess? We will not know but perhaps it was chess that chose him. Tate was a decorated man who never earned the coveted Grandmaster title but made generous contributions to chess. He gave all he had and all he knew. He was inducted into the Indiana Hall of Fame in 2005 and was the state's six-time champion (1995, 1996, 2000, 2005, 2006, 2007). He was also the 2010 Alabama State Champion and traveled the world sharing his craft. Maurice Ashley may have put it best.
Emory (or E.T. as he is most affectionately known) will be missed. However, he will also be well remembered. He was not a perfect player and he never got that coveted GM title his talent so strongly suggested he might. But his personality was unique, combining a flair for the dramatic with the steely eye of the soldier he was. Players like him do not come along every day, every month, every year. He was one in a generation, and he will be thought of, always, with a chuckle and a smile. No doubt he is challenging Tal and Fischer to some blitz right now. May he rest in peace.
The Tate Family
Tristan, Eileen, Janine, Emory III, Emory Jr.
Photo courtesy of Tate family archives.
* * *
The Lion lives through his Cubs
Tate left behind a veritable legacy in his children whom he loved dearly. He is survived by his three children, Emory Andrew Tate III (28), Tristan Tate (27) and daughter Janine Tate (25). His oldest son is a world champion kick boxer and has written many praiseworthy tributes to his father before and after his demise. Here is an except from his kickboxing biography:
My dad, Emory A. Tate Jr. was a young athlete, learning wrestling in school and developing the early forms of Tateshinkai strikes as a youth. His job in the military for 11 years took him on many adventures and little is known for certain, except that my dad never loses. He is my role model in many ways, even as I write poetry like he does.
Poetry indeed. Following is one of Tate's many untitled poems. It is one that was chosen by his son Andrew for The Chess Drum. This lion may be no more, but a lion lives through his cubs!
A lone lion wanders afar in the wilderness, no longer part of the pride
Once gleaming, accepted, a beautiful beast, now having been cast aside
No chance for part in coordinated hunt, this one can't run very fast
Nature holds no place, and faltering, it seems this beast just won't last
In darkened shadows he moves, sometimes skulking, creature of darkness not light
Surrounded by foes, oft-times hulking, so fit, too numerous to fight
Consumed by sharp memories of battle, drowning in impotent tears
Gnashing teeth, piercing howls of pure emptiness, striving to dissipate fears
What has God decreed for a beast such as this, yes here an innocent man
Shall he starve, mayhaps drown, perish in place, run just as fast as he can
Won't fatigue-desolation kill him at last, he's been condemned to persist
Despite wars, bloody deeds, and intricate tricks, his human soul must exist
Matters not, by any measure, how unfair life can be, we've have all heard that tired complaint
As his enemies-friends, gather in groups, impose sanctions perforce no restraint
Another notch in the belt for a murderous crew, one secret cabal's celebration
One more chamber of death, one more bloody thumbscrew, clamped hard after much rumination
As night gives way to yet another sunrise, and the months give themselves to the years
So the energy fades, aches and pains do accrue, one man's crying an oceans of tears
Certain days do demand that he shout long and loud, because internal hurt he's endured
Other stretches of time, stoic silence does reign, a professional yes he's inured
Well then why shout at all, such an un-Spartan act, pain is not really the cause
It's no plea for assistance, worse than that still, sound to give other men pause
As they gather in droves to glimpse shadow-beast, angling toward final release
Come no closer it warns, for only solitude serves, a man in search of surcease
~Emory Andrew Tate, Jr.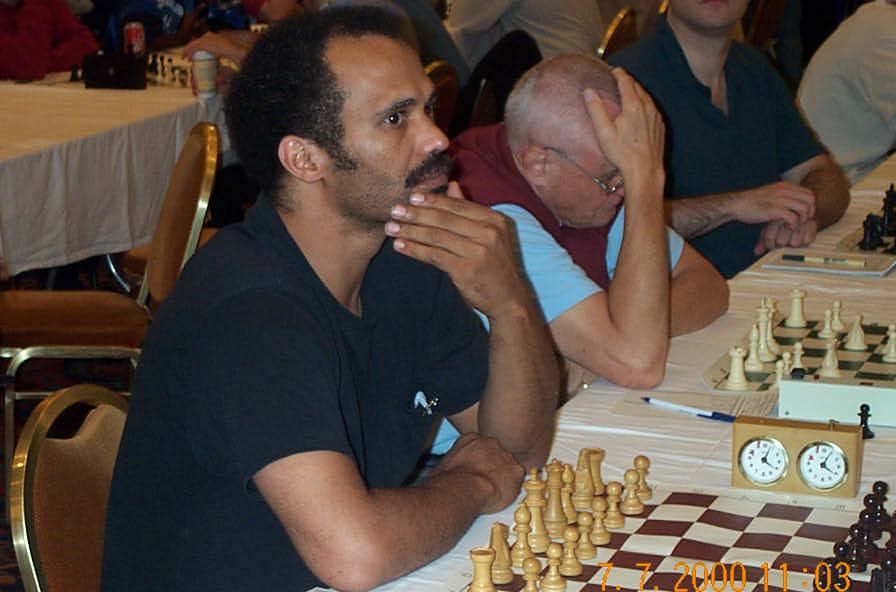 FUNERAL ARRANGEMENTS OF EMORY ANDREW TATE, JR.
Saturday, October 24th, 2015
New Union Grove Church
Bullock County Road Highway 14 (Smuteye Road)
Smuteye, Alabama 36005

Wake at 11am and Funeral at 12pm.
Flowers can be donated at scottchapelhillmortuary.com
and cards may be mailed at 814 headland Avenue, Dothan, Alabama 36303