2023 World Chess Championship (Astana, Kazakhstan)
2023 World Chess Championship

Astana, Kazakhstan (April 7th-May 1st)

pts.

Ding Liren

0

1

1

½

½

1

½

7

Nepomniachtchi

½

1

½

0

1

1

½

½

½

½

7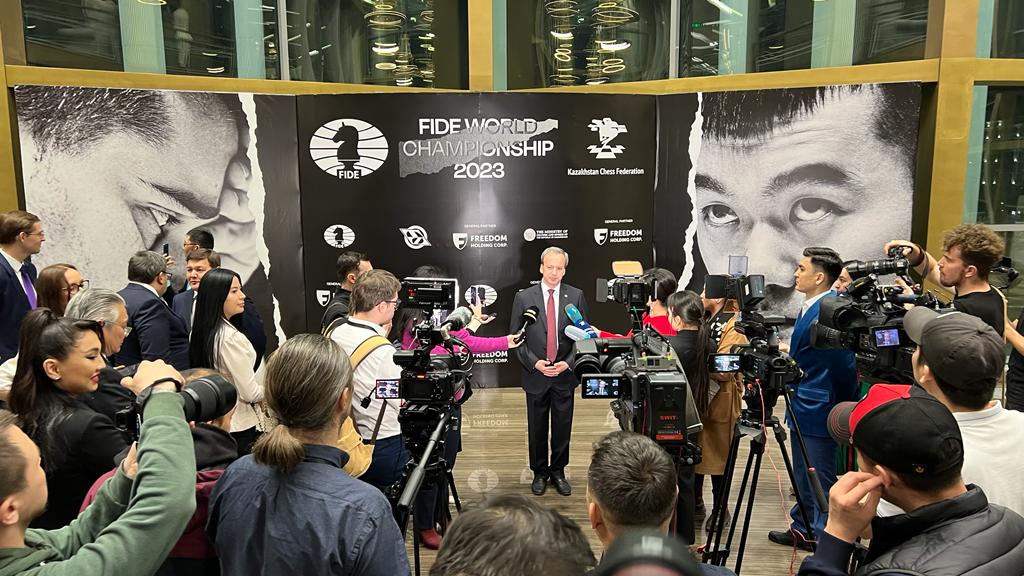 Arkady Dvorkovich at the press conference before Opening Ceremony.
Photo by David Llada
The 2023 World Chess Championship match opened today (April 7th) in Astana, Kazakhstan with the Opening Ceremonies and drawing of colors. The match between Ian Nepomniachtchi and Ding Liren will determine who will hold the official title of World Champion. The deserving winner will be known throughout the world as the face of chess despite the political shadow stemming from the raging war in Ukraine.
This match will pit a very evenly-contested match and perhaps will have the most intrigue since the first match between Viswanathan Anand and Magnus Carlsen in 2013. Carlsen took the crown from Anand and held it for ten years while retaining the #1 world ranking. However, the chess world will look forward to a new generation of talent that the 17th champion will most likely have to face in the next cycle.
"This is the beautiful prize that the two best players will fight for to become the next world chess champion. For both of them, this is an event they've been waiting for all their lives. It's going to be very competitive. They'll give all the talent and the skills to win it. I am confident that millions of spectators all around the world will enjoy this event but through it will also discover how chess makes people fight for something important. I hope that this event will give motivation for millions of kids to play chess, to use chess as a tool to improve themselves, to be better people and to make the world a better place."

~Arkady Dvorkovich at Opening Ceremony
Who will Win?
Odds-makers are picking Nepomniachtchi as a slight favorite as are some chess streamers. As far as The Chess Drum is concerned, we are picking Ding as the slight favorite due to his unflappable persona and stability in his play. These characteristics are invaluable in a match. Nepo showed grace in defeat, but he will need to show the same poise in his play.
There is a lot being said about Nepo's match experience, but much of what he learned in the previous world chess championship match will not apply against Ding who has a very different personality and style from Carlsen. The key will be how Nepo will react if he falls behind. On the other end, if the match ends in a 7-7 tie after classical, perhaps Nepo will have an edge in the quickplay session. He has a slight 3-2 edge in classical play but is more dominant over Ding in their blitz and rapid games.
Nepomniachtchi will start the first game with the white pieces.
The robot draws white for Ian Nepomniachtchi.
Photo by Stev Bonhage
Video by FIDE