Chess Kenya and the Ethiopian Chess Federation recently held a tournament in Mekele, Tigrai, Ethiopia to foster a better sense of cooperation in the region. Bordering Kenya on the northeast, a Kenyan delegation traveled to partake in the festival at the same time the country was celebrating the 40th Year Tigrayan People's Liberation Front (TPLF). From the photos it appeared that the event was held in warm spirits despite the competitive nature.
Aydagnuhem Abera lifting the champion's trophy.
The the tournament Aydagnuhem Abera of Ethiopia with 8/10 and Kenya's Kenneth Omolo took second with 6.5/10. In the women's event Uganda's Ivy Amoko scored a "clean sheet" with 10/10 with Kenya's Gloria Jumba getting 9.5/10. Eight Ethiopians were able to attain FIDE ratings adding to the 13 players the country already had.
Final results from both events are available at chess-results.com. For more details, check the Kasparov Chess Foundation Africa who helped make the event possible!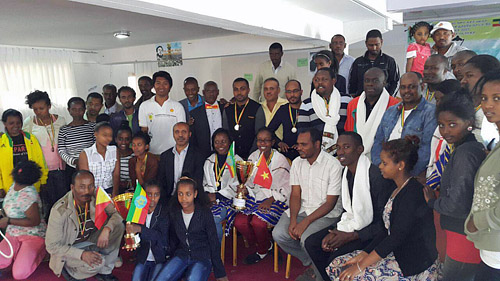 A wonderful group shot at closing ceremonies!
2 Responses to "Ethiopia-Kenya-Uganda build chess bridges!"
Photos from the TPLF Cup
(Kasparov Chess Foundation Africa – Facebook)

Fierce battles were fought and…

…crushing defeats were dealt!

A great experience for the young ladies.

Time for the prize-giving ceremony.

Aydagnuhem Abera lifting the champion's trophy.

Beautiful!

Lots of smiles…

…new friendships…

…and memories!

on 21 Feb 2015 at 2:07 pm

2

Davis Barry

These photo's are as warm as the lines that draw these competitors together, I am sure! This is great… seeding into the present allows us to seed into their future! Wishing much continued success to all, bravo!
Leave a Reply!