MiniChess franchise in Kenya!
Marisa van der Merve is taking her "MiniChess" initiative to Kenya! We reported some time ago about her launch in Lesotho and plans on launching a continent-wide initiative from its base in South Africa. Kasparov Chess has signed on as a partner.
Below is a report written by Kasparov Chess Foundation.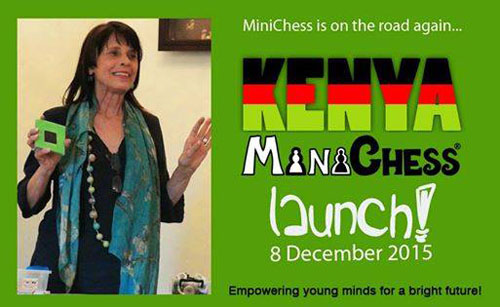 Another huge milestone has just been reached as the very first KCF Africa MiniChess franchise business launches in Kenya today!
Many months of hard work have gone into making this happen and we are very excited to finally see Marisa land on the ground in Nairobi. She will be in country for three days attending various launch functions, meeting with potential sponsors and providing training to the initial group of MiniChess Kenya trainers!
The MiniChess franchise businesses are key to ensuring sustainability of local operations in country moving forward and we will be launching more of these business over the course of the next few months!
We wish to congratulate MiniChess Kenya on the launch of their operations and we look forward to partnering with them closely to bring the program to as many children in the country as possible!
~Kasparov Chess Foundation Africa