Colas bags GM norm in Vegas!
God is good! When I least expected it, Josh surprised us. He earned his first GM and IM norm in The North American Open in Vegas.

~Guy Colas
Guy Colas will tell anyone within earshot that his son Josh Colas has always had the potential to excel at chess. An ardent advocate, he has looked for avenues to help Josh realize his dream to be an International Grandmaster. After thousands of games, some successes and some disappointments, Josh has never stopped in his pursuit of his chess goals.
"My parents constantly remind me that if I work hard
and believe in myself, nothing is impossible."
Josh went to the North American Open coming off a strong performance at the Marshall Chess Club Championship getting +3. At the North American Chess Open in Las Vegas, he only lost to Gata Kamsky, but earned his best result scoring a GM norm with 6.5/9 against five GMs (+1), two IMs (+1), one WGM (+1) and one FM (+1). Thus, Josh had earned a GM norm after clinching the IM norm with two rounds to spare.
New York is buzzing after the sensational performance by White Plains native. The likable senior at White Plains High School is currently deciding on which university he will chose to further his ambitions. Not long ago we knew him as "JoshuKid" but the 17-year old has grown up! He has not only grown since the time he started chess at age 7, but he now boasts a USCF rating of 2487!
Here is Josh blitzing with his father (Guy Colas) at the 2006 World Open. This was the year he started playing. He's all grown up now. Photo by Daaim Shabazz.
Josh Colas about to start his first international game against former National Champion Ravishen Singh at the 2010 Caribbean Chess Carnival in Port of Spain, Trinidad. He scored 5½-3½ including a win over FM Ryan Harper. Photo by Daaim Shabazz.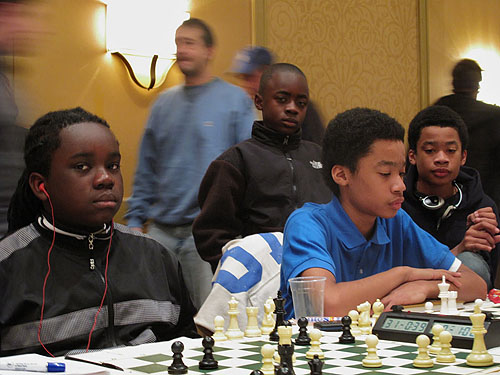 Justus Williams, Josh Colas, Jehron Bryant, Nigel Bryant in action at the 2010 U.S. Amateur Team Championship. Don't even try it! Photo by Elizabeth Vicary.
Josh has remained vigilant in his pursuit of chess excellence. Those who know Josh will understand how hard he works on his game, but in 2014, he fell into a mini-slump. After a dismal last-pace showing at the 2014 U.S. Junior Closed, Guy moved into action to repair his son's confidence. "I got him the tools he needed," stated the elder Colas.
It has also taken Josh to reel in his Dad not to lobby so hard in social media. Guy had developed a reputation for voicing his discontent at the lack of training opportunities and norm invitations. According to Guy, Josh told him, "Dad don't say anything. What's mine will come. We have to help ourselves." Very prophetic words indeed.
It has been a gradual process and the Vegas result seems to be a breakthrough. Josh has been between 2350-2430 since first reaching 2400 in 2012. Josh appeared to be playing purely on talent until he established a more organized regiment of study and preparation.
The Colas Family at the 2011 World Open.
Photo by Daaim Shabazz.
Josh Colas and James Black, Jr. conferring at 2012 World Open.
Always looking to improve!
Photo by Daaim Shabazz.
What lies ahead for Josh Colas? Certainly, the recent loss of his loving grandmother Lia Colas was devastating and it appears that this result is a fitting tribute in her honor. Earlier this year, the Colas family launched a campaign to support his quest for the GM title and they are plotting a course which includes international activity.
Josh has always wanted to attend the Massachusetts Institute of Technology (MIT), but of course a decision will have to be made on how he will reach his chess goals. After his graduation next spring, he will have time to compete in a number of norm tournaments. Since norms sometimes come in bunches, it will not be a surprise if Josh earns additional norms in 2016. He has the demeanor and the promise and this result is a glimpse of the future.
Kudos to Drum Major… FM Josh Colas!
FM Josh Colas (2245-USA)


#
Player
ELO
Nation

Flag

Result

1
GM Oliver Barbosa
2518
Philippines

1

2
FM Joshua Sheng
2423
USA

1

3
GM Gata Kamsky
2669
USA

0

4
WGM Jue Wang
2364
China

1

5
IM Denys Shmelov
2420
Ukraine

1

6
GM Jianchao Zhou
2606
China

½

7
GM Bai Jinshi
2502
China

1

8
IM Ruifeng Li
2460
USA

½

9
GM Jeffery Xiong
2575
USA

½

Score: 6½-2½ (GM NORM)