Promoting to a Black Chess Queen
In 2010, I wrote an article titled "Baraka Shabazz: Black Queen of Chess." Seven years later came "Revisiting Baraka Shabazz," in which I cited the brutally candid 1988 article titled "Ex-Queen's Gambit." That article was long before the "Queen's Gambit" miniseries but had some eerily similar themes.
While the series highlighted the rise of Beth Harmon, there were several female chess players who drew parallels to the fictional character. In fact, the story of Baraka Shabazz would've also made a compelling screenplay. In the above 1988 article, Baraka stated that the nationwide media attention had a tremendous negative impact on her.
The pressure to excel in chess was stifling and created strains within her family when she didn't perform as expected. In fact, after her parents abandoned her, she quit chess altogether and even left the country. More on this later.
---
And ultimately, I still question who are the main beneficiaries of these stories?
~Darrian Robinson
---
There have been many articles in past decades focusing on the prospects of an African-American female master. These predictive articles appear to have the intention of providing motivation and exposure to these players. However, in my view, they are not helpful in making this a reality. They may even have the opposite effect. The stories that remain essential are the "Black Girl Magic" celebrated after winning competitions or tournament success.
KCF All-Girls National Championship, 2016 National under-14 Champions!

L-R: Jaidyn Hamilton, Lauren Bradford, Sa'Nya Burton, Gisele Motley,
Jada Hamilton and Charisse Woods.
Photo by Catherine Martinez
Charting a Path to Success
Last month, The Chess Drum paid tribute each day of Black History Month. One of the truisms about chess is that it serves as a constructive outlet for so many sectors of the Black community. While there are a great number of examples across the African Diaspora, girls and women are still writing their own chapters.
Years ago, I wrote a piece titled, "Former African-American standouts reap benefits of chess," in which I profiled six players who all used chess as a platform to launch successful careers. Three were women: Jessica Wamala, Darrian Robinson, and Rochelle Ballantyne. All attended competitive schools, plotted successful careers, and are now enjoying the fruits of their chess labor.
Baraka Shabazz
Chess remains an effective tool for our youth to improve their cognition, and it is also an avenue for career success. There are so many examples in history. The tragic rise and fall of Baraka Shabazz should not deter the pursuit of chess excellence. However, it is a valuable lesson in how media pressure and overexposure could derail one's hopes and dreams.
Baraka's situation was a case in which her parents placed too much optimism in their grandiose plans of producing a "female Bobby Fischer." Shabazz was the sixth-highest-rated woman in the U.S. at age 15. In reality, she was still a girl besieged with media attention. As the media attention increased, so did the weight of her responsibility to represent all of Black America. She had no predecessors, although Colette McGruder sometimes encouraged her. However, for a 15-year old, the media pressure was too much to bear. In the end, she became isolated, withdrew in the middle of her last tournament, and wanted nothing further to do with chess.
Bear in mind that Baraka was one of the first teenage girls to receive such a wave of media attention. Lisa Lane, the chess media darling of the 60s, was already in her 20s when she made the cover of Sports Illustrated. It is interesting to note that Lane gave up chess (in part) because she was tired of being introduced as a "chess champion" at social gatherings.
Success Comes in Many Ways
Fast forward to 2022…
Many young Black girls who have shown a talent for chess have been hoisted into the spotlight in varying degrees. Shabazz was the most notable case. Others receiving varying degrees of media attention were: Medina Parrilla, Darrian Robinson, and Rochelle Ballantyne. All represented the U.S. at World Youth Championships overseas in their scholastic years.
Other players such as former Texas champion Stephanie Ballom and current scholastic standouts Jessica Hyatt and Janell Warner have also received praise as well. Three of the women above have reached the 2100 rating level, two have reached 2000, and two have reached 1900.
Medina Parrilla blitzes with GM Maurice Ashley while Darrian Robinson (in the pink) looks on with other spectators. Photo by Jennifer Shahade
Jessica Wamala was another inspiring story. She was not highly rated but transferred her chess discipline into a successful career in international development circles. Perhaps one of the most prominent members of the African-American chess community is Adia Onyango. Having previously attained Expert level, she has been a consistent role model for the advancement of women's chess.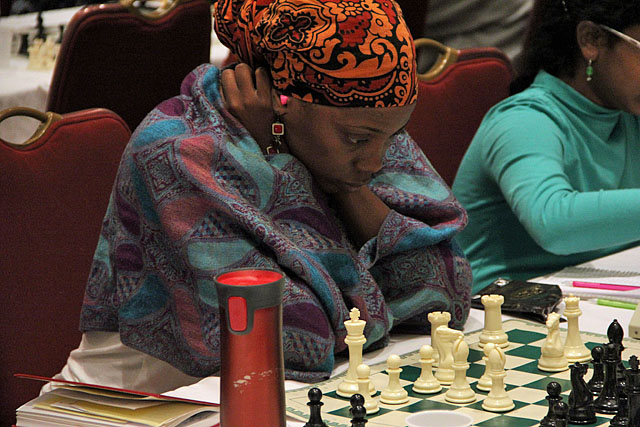 Adia Onyango
Photo by Daaim Shabazz
The benefits of scholastic chess are well-known, and many empirical studies have shown its value. In addition, chess helps to develop social skills and self-confidence. Nothing makes this more evident than examples of success.
Shakira Luster, Trechelle Williams, and Imani Hill have been in the media spotlight for the past two years after winning the 8th-grade section at the 2019 All-Grade Championships. They are now attending Marist High School in Chicago.
There is also the work of National Master Tyrell Harriott and his coaching of Bed-Stuy Middle School to glory. One of his students Jessica Hyatt has already been offered $40,000 scholarship to advance her education. Hyatt has been the subject of articles focusing on her chess goals.
Chicago's Shakira Luster, Trechelle Williams, and Imani Hill
hoisting their trophies at the 2019 All-Grade Championships
Photo courtesy of Wendell Hutson

The Success Academy of New York's Bed-Stuy Middle School team at the 2019 All-Girls Championship in Chicago. From left to right: Coach Tyrell Harriott, Tabia Davis, Jayleen Badillo, Geah Jean Baptiste, and Jessica Hyatt celebrate its win.
Photo from Brooklyn Paper (brooklynpaper.com)
The Sharp Edge of Media Exposure
There have been numerous articles over the years discussing the coming of the "First African-American Female National Chess Master." That's quite a mouthful. In my opinion, players in the Black community (men and women) should not focus on "first Black," "youngest Black," "strongest Black," "highest-rated Black," or any other of these honorifics. While many journalists are excited at the prospect of this historical breakthrough, it is not particularly helpful or encouraging in all cases.
Here is what Darrian Robinson stated in a recent discussion on Facebook.
"I also think that some of the media stories sort of pit black female chess players against one another in an unhealthy way. Admittedly, I felt a bit sad to not be mentioned in this video at all since my current (non peak ELO) is only 4 points behind Jessica Hyatt's, making me the 2nd highest rated African American female chess player. Though I recognize that like others, I also stopped playing chess to attend University. This ill feeling reminded me on when Brooklyn Castle first premiered. At the time, I was the highest rated African American female chess player yet left out of most of the discussions on the topic. As a teen, it was tough to watch. And ultimately, I still question who are the main beneficiaries of these stories?"
Darrian Robinson
Photo by University of Chicago
Many journalists writing "first" stories don't always understand the context, relationship dynamics, and the residual effect. They only believe they are providing positive exposure to young talent. Of course, we remember the story of Josh Waitzkin and "Searching for Bobby Fischer," a movie based on his life. His reasons for quitting chess were varied, but part of the reason was due to overexposure brought on by the movie. Waitzkin said he no longer enjoyed chess tournaments. After leaving chess, he refocused his energy and became a world champion in martial arts.
It is my view that predictive articles (i.e., "next Bobby Fischer," "1st Black female Master") are very risky. It is more helpful to focus on their accomplishments (as they progress) without mentioning the potential to make history. The fact that one earns a lot of social capital from being the first does have some merit, but placing such urgency on this can cause one to lose focus, not only chess-wise but in life. There are times when other tasks take priority over chess goals. Sometimes we succeed when we are not expecting it.
Love and Pain of Chess
Traveling for chess within Africa is a great challenge. Nearly skipping the tournament because of university exams, Botswana's Tuduetso Sabure decided to take the 1500-kilometer (900-mile) bus trip to Lusaka, Zambia to compete in the 2005 African Women's Championship. Despite the hardship of the bus ride, she won the tournament and used part of her prize money to fly back to take her exams! Thus, Sabure became the first woman from sub-Saharan Africa to earn the Women's Grandmaster title.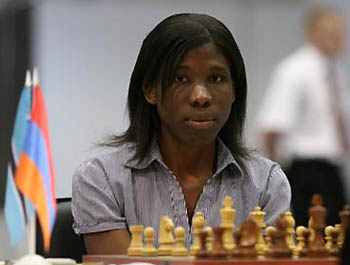 WGM Tuduetso Sabure of Botswana, 2005 African Women's Champion.
Picture taken at the 2007 Women's Team Chess Championship in Yekaterinburg, Russia.
Photo by WGM Elmira Mirzoeva
During an interview, she described her "nightmarish" travel challenges and only hoped for the best result despite little chess preparation. The lesson here is if you free your mind of "making history," you can avoid carrying emotional tension into each game. While she did not continue her chess activity, she taught us a valuable lesson. In addition, the title provided her with social capital to convert into an attractive career path.
In a Perpetual Podcast interview, Rochelle Ballantyne talked about the challenges in the aftermath of "Brooklyn Castle," where it was broadcast to the world that she desired to become the first African-American female Master. She stated that chess opened the door for many educational opportunities as well as the opportunity to travel overseas.
However, there were periods where she felt isolated at tournaments and repeatedly had to prove her worthiness in chess. Combined with the fact that the spotlight was on the progress of her stated goal, there was added pressure. While she is very frank in her condemnation of the chess environment, she continues to share her positive experiences and tout the benefits of chess.
---
Comparisons between Baraka and Fischer
are "far-fetched."
~George Koltanowski on 1980 media narrative of Baraka Shabazz
---
I remember how Baraka Shabazz burst onto the scene in the early 80s. My mother excitedly showed me an article about her in the Chicago Metro News as part of the Tony Brown Journal. I would later meet young Baraka at a major tournament in Chicago, and she was brimming with confidence and optimism. The media was in a frenzy and there were hundreds of articles and interviews, mostly syndicated. As an example, click and read the following article. You will see the danger.
There are so many problems with this story, and red flags are everywhere. Only a couple of years later, the shooting star fell like a doomed meteor hurtling toward the earth. What caused this sudden decline in interest? Baraka's life was complicated, and many of her challenges were unrelated to chess ability. Nevertheless, the social pressure on Black girls and women to be chess icons can be tragic. In other cases, it can turn into a fortune.
The inspiring story Queen of Katwe hit the media cycle in 2010 and caught fire after the book was released. Then the movie came. While the movie was not a commercial success, it taught us valuable lessons. After Phiona Mutesi graduated from Northwest University last year, the story was given a media boost. Earning a college degree would be quite an accomplishment by itself, but few can say they have achieved this goal after surviving the worst slums of Uganda. It is a lesson that will last for ages.
The Path from Katwe to Microsoft
While the "chess queen" narrative is widely known to refer to the game's most powerful piece, it's only part of the story. Many of the girls and women featured in this article are successful because of chess. However, if they never played another game of chess, many have carved out fantastic career paths. We saw what chess did in Phiona's case, and she is embarking on a new career as a Business Analyst with the Microsoft Corporation.
The Chess Drum featured more than a dozen articles on Phiona's "Queen of Katwe" and remember the unfavorable reviews from the chess community. One person even trolled that Phiona doesn't compare to Judit Polgar, the greatest women player in history. Imagine that!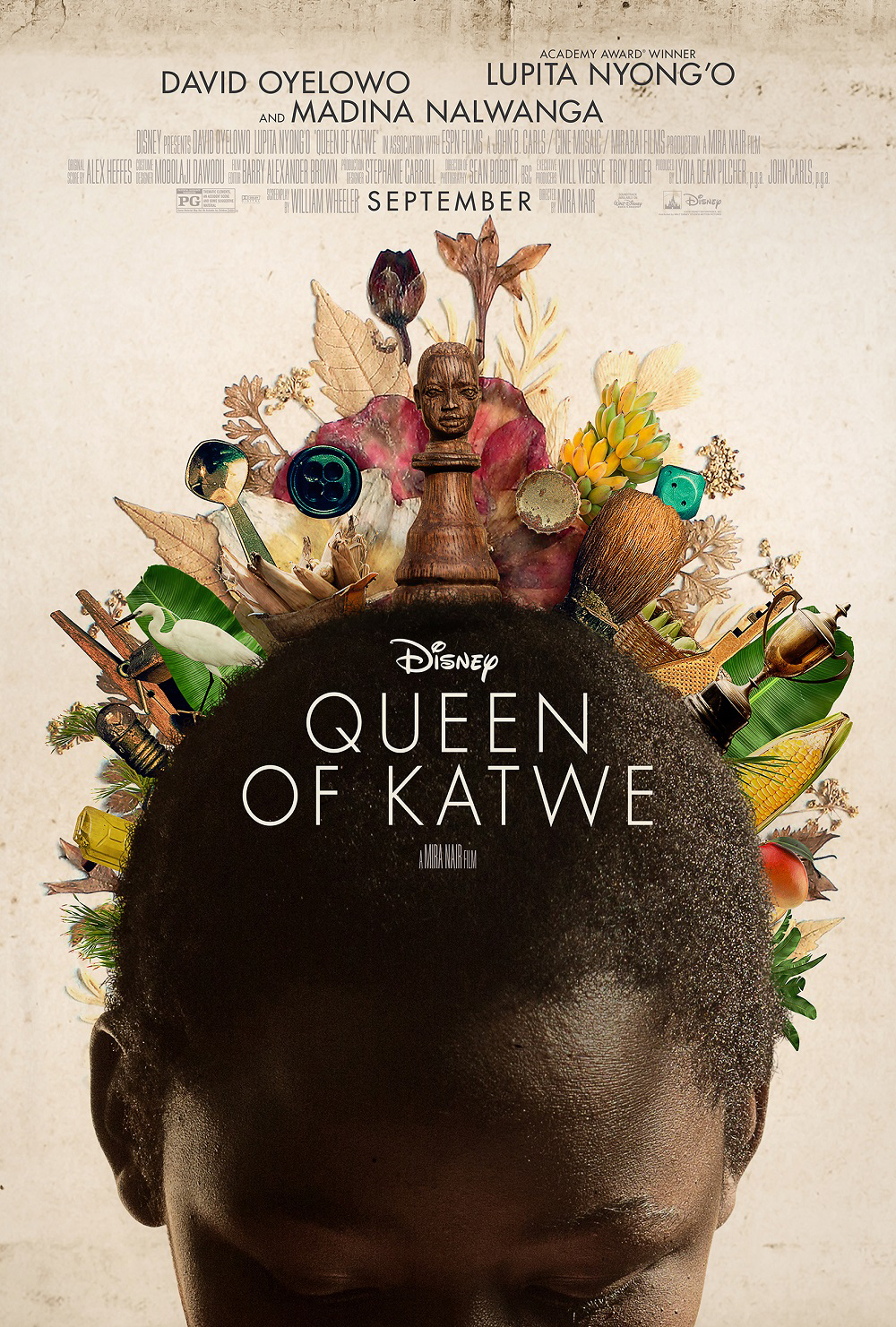 Would the chess world rather Phiona improve her chess skill or escape from abject poverty and improve her economic standing? Many of them seem to care less about the impoverished conditions or lack of access to basic services. Yet during the pandemic, many were upset for not being able to perform daily activities that Phiona never had.
Phiona's world did not have running water or plumbing, and her ramshackle dwelling had a mud floor. Yet these chess players ridiculed her for not being a stronger player. Some wanted to reinforce their racial stereotypes, while others had no psychological barometer to understand the level of poverty Phiona and her family endured.
Perhaps in Phiona's case, the handlers of the book made a huge mistake in the subtitle of the book, "The Queen of Katwe: A Story of Life, Chess and One Extraordinary Girl's Dream of Becoming a Grandmaster." Critics seemed more fixated on her FIDE rating than her path out of poverty. In one interview, Phiona talked about the pressure of increasing her playing strength to match the exposure she was receiving.
"My name, like, went so high, and my chess — it was still so low. I wasn't even the best chess champion, like, in Uganda. It was so hard."
Despite the pressure brought on by the movie's expectations, she realized there were more important things in life. She began to lose enthusiasm for chess, but it had already given her family the gift of a better life. She has now become a college graduate and a career with a Fortune 100 company, and we should be celebrating this magnificent achievement of triumph.
Phiona Mutesi at Northwest University, where she played collegiate chess and graduated in May 2021. She is now working for Microsoft. Photo by Eilís O'Neill for WBUR
The Queening Square
Many have written about the prospects of the "1st African-American Female National Master," and perhaps the idea is to motivate the aspirants and rally support. There is a tradeoff of having a non-chess journalist doing these stories. Many contain subtle errors, embellishments and misstatements of fact based on outdated information.
The harsh reality is that these "first" goals not only create added pressure but also highlight how poor a job we have done in the Black community to cultivate chess talent. In fact, not only has there not been an African-American female master, there has not been another African-American Grandmaster since Maurice Ashley in 1999. That is 23 years this month. (Note: Ashley earned his third norm in March 1999, but the GM title was conferred in 2000.)
Rochelle Ballantyne and GM Maurice Ashley welcomed to Ghana!
Photos by Maurice Ashley (Facebook)
At the 2002 World Open, there was an informal discussion on how to cultivate Black chess talent. Twenty years later, this demographic segment is still looking for ways to mobilize. Perhaps one idea would be for us to provide better mentorship. Far too many of our chess talents get distracted, frustrated at the pace of progress, and lose interest.
There are a number of Black GMs, IMs and, female masters in other countries (most notably Latin America). In 2013, England's Sabrina Chevannes earned the U.S. National Master title, becoming the first Black woman (foreign or domestic) to do so. She was saddened to learn that no African-American female had achieved that feat. Unfortunately, U.S. Chess does not keep ethnic data, so we are unsure of the analytics that show improvement trends. By observation, chess growth in the Black community remains very uneven.
WIM Sabrina Chevannes
Photo by British Chess News
Chevannes has been highly critical of how girls and women are treated at chess tournaments. A Women's International Master (WIM) and two-time member of England's national team, she has written and spoken on this topic. Chevannes contends that she has been the target of sexual innuendos and jokes at tournaments, an ongoing problem, especially online. This issue has been covered on these pages as well.
What should we do about moving Black girls and women to the queening square? First, we must create a safe and secure environment and check sexist behavior as soon as it happens! Secondly, we must learn from Baraka Shabazz's case and avoid overexposure and increased pressures. Third, let's not create competing camps for the girls/women seeking to become National Masters. Help all of them make it! Lastly, let's encourage Black girls and women to achieve the highest of heights without sending them down a frenzied path trying to chase history.
Young minds are working it out!
Photo by Justus Williams/BlackSquares
It is important that we refuse patronization that occurs when some interviews make it seem to be a marvel that a Black girl can play chess with confidence. They are unnecessary annoyances. Richard Williams famously reprimanded a reporter who (he felt) was creating doubt in Venus Williams' 14-year old mind with his line of questioning.
If you become the first, great! If you become second, fabulous! If you become the third, wonderful!! While it is vital that we record milestones, let us focus on the general goals… more GMs, IMs, FMs, and NMs. Don't worry about what number you are… not now. Just get to the queening square.