Baraka Shabazz: Black Queen of Chess
Baraka Shabazz's demure pose is a testament to her confidence and poise.
This photo was featured in Chicago Metro News, December 4, 1982
as part of Tony Brown Journal segment.
Baraka Shabazz (pronounced ba-roka sha-boz) is a famous name is Black chess lore and a name that exudes power. Her arrival on the scene was as sudden as light shedding darkness, but as fast as she rose, she tumbled into obscurity and disappeared. Baraka's story is so common of young talents who either become disenchanted, lose interest or simply focus on other activities. In Baraka's case, perhaps it was the prospects of a bright future and initial success that may have blinded her.
Originally born in Denver, Colorado, Baraka spent her early years in Anchorage, Alaska, with her stepfather Yusef Shabazz and mother Raqiba Shabazz. Mr. Shabazz bought a chess set for the family and taught his children the moves (December 22, 1977). Baraka showed glimmers of talent. It wasn't long before she began beating her stepfather. In an interview, her mother noted, "Who ever heard of a black girl playing chess?"
Here is the story as Baraka told it in a 1981 interview in The Spokeman,
"He went out and bought us a chess set," Baraka recalls, "and he gave it to my sister and me and said, "Here, play chess." We told him, "We don't know how to play," so he showed us how the pieces work and said, 'You have to get your opponent's king,' and that was the first time I played. Six weeks after February 16, 1978, I entered my first chess tournament and won three games out of five."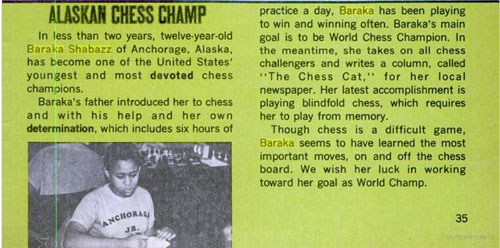 Baraka Shabazz featured in "Ebony Jr." magazine (November 1979)
At that point, the parents Raqiba and Yusef decided to afford her the best opportunities to excel at chess. The initial efforts bore fruit as she began her assault on chess competition and three years, she became one of the top female players in the country at age 15.
Baraka was also the first female player of African descent to reach the rank of "Expert" or a 2000 rating in the U.S. Chess Federation system. Many supporters chipped in including a private tutor.
According to a 1981 People magazine article,
…Oakland Mayor Lionel Wilson has paid the Shabazzes' rent bill from a community fund, and others—including a black-owned travel agency and entertainer Eartha Kitt—have donated money and services so Baraka can compete in distant tournaments.
Reflecting on future plans, "I'll have time for friends, travel, college. Maybe I'll be a diplomat. I've been taught you go after what you want—I want to be a symbol of achievement for blacks. I'll make it, you'll see." The family made further sacrifices and after two years in California, the family moved to the "Mecca" of U.S. chess, the east coast. There the family settled in the Baltimore area. Here she gained her legend in Dupont Circle. Baraka originally had to overcome sexism and men taking her lightly.
Opponents blew smoke in her face. In another case, a 17-year old boy looked at Baraka and told his mother, "You won't have to wait for me, I'll be back in half an hour." Baraka dragged the game out for hours and hit him with a tactical shot winning the queen. The boy swept the pieces off the board. Success was coming for Baraka and she was indeed living up to her name which means "blessed."
Baraka Shabazz at Dupont Circle.
There were some rumours that her stepfather was overbearing and especially harsh when Baraka lost. National Master Charles Covington reflected on his stint as a trainer for Baraka. During training games, Mr. Shabazz would be watching carefully and was very critical of her. Covington also mentioned that the stepfather would scold her when he suspected she was not focused. Assessing the situation, Covington admitted to being an easier opponent to avoid contributing to her humiliation.
Baraka got an invitation to play in the 1981 U.S. Women's Championship and was #6 ranked player. Alexey Rudolph, now Dr. Alexey Root, was also in that tournament and told The Chess Drum both she and Baraka were the youngest in the tournament. Root was another rising talent and won their individual encounter. Baraka came in an abysmal last place.
After that setback, the family hit hard times resulting in the family having to receive public assistance housing in Maryland's Prince Georges County. According to the article in Jet magazine (December 17, 1981), the family's case was taken up by Delta Sigma Theta's Dr. Grace Hewell who charged, "this wouldn't have happened to a Black who can sing, dance or excel in sports."
It was a sordid ending to a bright moment in history. No one knows the current whereabouts of Baraka Shabazz, but Covington has gone on record to say that she became disenchanted and wanted nothing more to do with the game. However, Baraka's story is one that is important to know. She was a young talent with promise, but did not have the proper combination of resources to help realize her talent.
Baraka will go down as a historic figure in Black chess. Her drive is inspiring, but the story contains many lessons for the ages. She stated that she wanted to be a symbol of achievement for Blacks. While she never became a World Champion, or reached Master level, she certainly accomplished her goal. The chess community commends Baraka's efforts as one of the first female prodigies in U.S. history.
SOURCES
Martha Wilheim, "Her Folks Pawned Everything to Help Baraka Shabazz Become Chess's Female Bobby Fischer," People, 9 February 1981.
Joseph McLellan, "Young Chess Player Zooming to the Top," The Spokesman-Review, 26 June 1981, 17.
Simeon Booker, "Ticker Tape USA", Ebony Jr., 17 December 1981, 13.