Jessica Hyatt making moves… nets $40K scholarship
Jessica Hyatt is the latest of a string of Black girls to come out of the New York area and destined for chess success. Recently, she won a $40,000 scholarship, but it was not the usual full ride to chess powerhouses like Webster or UT-Dallas. It was the Daniel Feinberg Success in Chess Award that netted her the honor. Aspiring to attend MIT, Hyatt is coached by National Masters Tyrell Harriott and David Mbonu and aspires to attain the coveted title.
Jessica Hyatt (right) playing Rochelle Ballantyne.
Chess can be considered a gateway to success as many players have been able to parlay chess excellence into professional careers. It has been particularly helpful to the Black community as many scholastic stars have gone on to achieve tremendous success. Hyatt joins Medina Parilla, Rochelle Ballantyne, and Darrian Robinson as New York girls in the Black community who have tasted success, all eclipsing the 2000-rating barrier.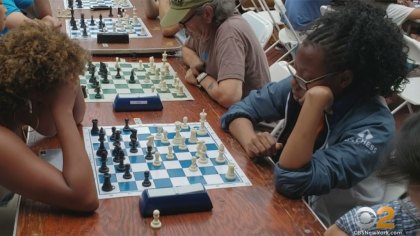 Jessica Hyatt (right) playing Rochelle Ballantyne.
The Success Academy Bed-Stuy Middle School team at the 2019 All-Girls Championship in Chicago. From left to right: Coach Tyrell Harriott, Tabia Davis, Jayleen Badillo, Geah Jean Baptiste, and Jessica Hyatt celebrate its win. Photo from Brooklyn Paper (brookynpaper.com)
For the unassuming 15-year old, MIT is in her sights and will have a lot of support from her mother, Loy Allen, her coaches, New York and of course, Adia Onyango, an expert-level player and community chess advocate. Given this support, Hyatt hopes to continue expressing her passion for chess and to live her dreams.