Expert Adia Onyango… New York's chess charm
For the past several years, Adia Onyango has been on a quest to improve her chess performance. She had already created a wildly popular "Chess Connections" Facebook group which currently has more than 1200 members. In addition, she embarked on 30-day green smoothie challenges, took to a daily biking regiment and maintained a tireless passion for chess. In addition, she is a central force in organizing chess meet-ups around the New York area. It is not often to see a woman playing such a complete role in a male-dominated domain, but Adia had broken new ground. She relishes the role and her leadership is respected.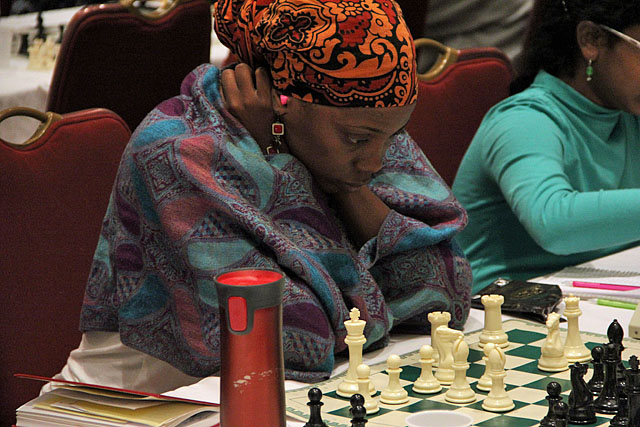 Adia Onyango
Photo by Daaim Shabazz
Straight off of her World Open performance, she is reflective of the tournament where she finally eclipsed the 2000 rating mark known in U.S. chess parlance as "Expert." It is above all of the class categories of players and represents players in the upper 2% of the country. Of course, the hard part about being an Expert is maintaining that playing standard. As one gets stronger, so does the competition. However, Adia is continuing to charge forward.
Sean Miller and Adia Onyango. Photo by Elizabeth Spiegel
Adia Onyango chatting with James Jeffrey and his friend, Dionne.
Photo by Daaim Shabazz
Adia Onyango and Stephanie Ballom
Photo by Daaim Shabazz
After reaching the rating of 1968 back in August 2014, there was a bit of a stagnation in her level of play which prompted a plan of improvement. She became driven and even started a Facebook group focusing on health, nutrition and fitness for chess excellence called, "1.c4 Chess Connections Cardio Challenge" which began with her videotaping her workout sessions and posting them on Facebook. She also led cycling outings (even in snow) and challenged others to participate in her smoothie challenge.
Adia Onyango and her smoothie challenge.
Determined to succeed!
Above photos by Adia Onyango (Facebook)
While not realizing the full extent of her influence, Adia encouraged a number of players to make changes in their overall view of nutrition and fitness. In addition, she constantly supports local chess players in their own initiatives and has been a constant support of young talent in the New York area which includes the progress of girls. Back in her ancestral home of Kenya, she has maintained ties with the chess community and is supportive of the Diaspora that resides in U.S. In essence, Adia is a galvanizing force that is badly needed in a sport that has been wrecked by divisive politics, bickering and confusion. So in commemoration of her latest accomplishment of becoming an "Expert," we salute you!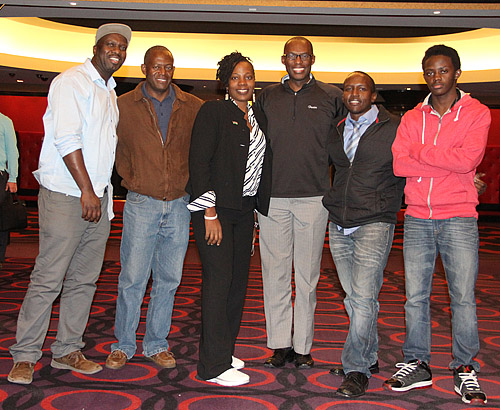 Daaim Shabazz with Kenyans at 2014 Millionaire Chess Open. Pictured from left to right are: Akollo Odundo, James Apiri, Adia Onyango, Daaim Shabazz, Mbugua Bo Githoro and Collins Apiri. Photo by Daaim Shabazz



2015 Millionaire Open:Adia Onyango, Stacey Moore and Alisa Melekhina
flanking Maurice Ashley and Amy Lee.
Photo by Daaim Shabazz
Daaim Shabazz with Adia Onyango at the 2015 Millionaire Chess Open.
Photo by Daaim Shabazz
Adia Onyango showing one of her games at 2016 World Open.
Photo by Daaim Shabazz