Bassem Amin & Shahenda Wafa… 2022 African Champs!
WGM Shahenda Wafa (gold-women's), GM Abdelrahman Hesham (bronze-open), GM Bassem Amin (gold-open). All photos by Babatunde Ogunsiku (Africa Chess Media)
Egypt's Bassem Amin wins his sixth continental title after winning the 2022 African Individual Chess Championships in Lagos, Nigeria. He edged out compatriot and fellow Grandmaster Ahmed Adly who had led most of the tournament. To sweep the medal stand, 2016 African champion Abdelrahman Hesham came in third. Both Amin and Adly will secure spots to compete in the World Cup tournament (possibly in South Korea). Shortly after the tournament, Amin celebrated…
????? ??? ??? ??????? ???? ????? ??????? ? ?????? ???? ?????? ???????

2022African chess Champion for a record 6 time & qualified for World Cup 2023 pic.twitter.com/0OlH4MHSR9

— GM Bassem Amin (@GMBassemAmin) September 27, 2022
Awarding Gold Beforehand
The 2022 African Championships were billed as one of the most successful in recent years and featured up-and-coming stars as well as wily veterans. There wasn't as many Grandmasters as in previous years, but the hunt for medals was no less fierce. It is also perhaps the only chess event where a medal was given before the first move was made. Nigerian International Master Odion Aikhoje was a gold medalist at the 1998 Elista Olympiad but never received his medal.
After years of lobbying through various administrations, Aikhoje would finally receive his honor. It was received during the Opening Ceremony after 24 years of waiting. FIDE President Arkady Dvorkovich presented the Nigerian legend with the medal in front an appreciative audience. Well deserved!
IM Odion Aikhoje receives 1998 gold medal from FIDE President Arkady Dvorkovich
Photo by Nigerian Chess Federation
It is noted that since 2008, FIDE awards medals based on performance rating instead of winning percentage. Kirsan Ilyumzhinov sought the change to appeal to professional players who complained about the medal criteria after players from smaller nations were winning board prizes. This means that currently, it is virtually impossible for an African to receive an individual Olympiad medal unless they play for a top federation.
Highlights from Opening Ceremony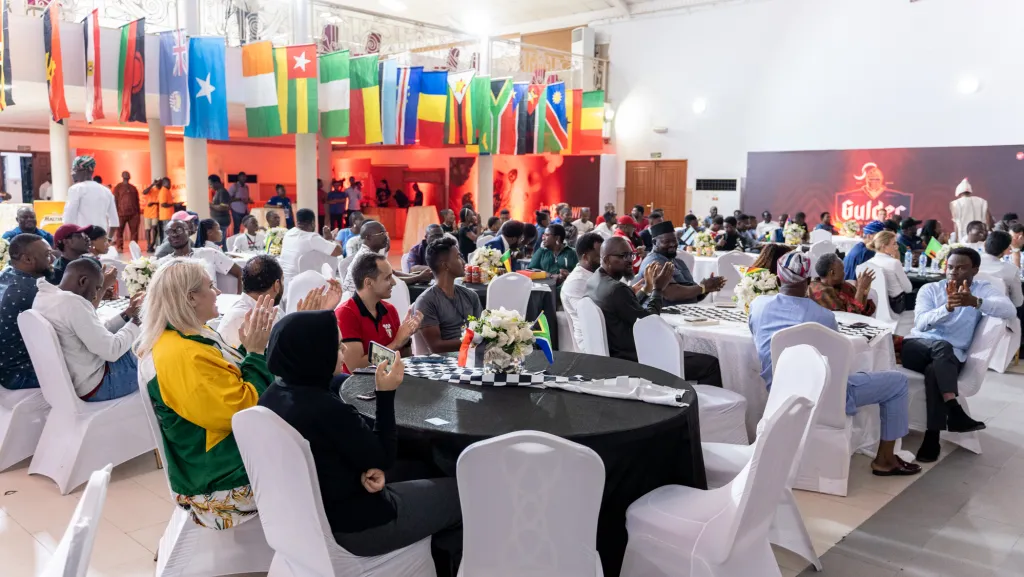 FIDE President Arkady Dvorkovich presents the gold medal to IM Odion Aikhoje.
Photos by Babatunde Ogunsiku (Africa Chess Media)
Open Section
Amin and Adly are perennial favorites at any African event as the two world-class players on the continent. There were hardly any surprises in the first round except for the fact that GM Kenny Solomon was unable to arrive by the first round and was not paired. However, excitement was high as the games were being broadcast on lichess.
Players anticipating the start of the 2022 African Championships at the Orchid Hotel in Lagos.
Adly got off to a quick start with the demolition of his Nigerian opponent. The game featured attacks on opposite wings and was a very instructive example of countering flank attacks with central breaks.
In the first eight rounds, Adly had only given up one draw and that was to Amin (round 4). It appeared as if he would coast to victory again. On the other hand, Amin stumbled early on with a draw against IM Mariano Ortega from the Cape Verde Islands. He remained 1/2-point off the pace until the last round.
The third Egyptian Grandmaster Abdelrahman Hesham had a slow start being held by Zambia's Timothy Kabwe and suffering a round four loss to Madagascar's Fy Rakotomarharo, a university student in France. After losing, he notched four wins in a row and ended with a draw against Angolan International Master David Silva. This would give him 7/9 and the bronze medal.
Here is an exciting draw against Kabwe, a game where Hesham avoided an upset with tenacious defense. Kabwe missed several winning continuations
African Battles!
The AICC was highly anticipated and there was buzzing on social media as everyone was speculating about the tournament. Most knew that the Egyptians would be the players to beat. They have been dominating for the last two decades and routinely take home a cache of medals. However, this time there were a number of warriors fresh from their Olympiad experiences.
International Master Richmond Phiri (Zambia)
Nigeria's Callistus Eyetonghan Denyefa defeated two IMs, a GM and ended on 5.5/9. Following are three of his games, winning with the Caro Kann.
Bassem Amin received his championship trophy from Tshepiso Lopang, President of the African Chess Confederation. FIDE Vice President Olalekan Adeyemi looks on. Amin ended on 8/9 edging Adly on tiebreaks.
There were other sidenotes. Ortega won the "Fair Play" award when he could've won by walkover against IM David Silva. When Silva was not present, he decided to go find him before the round so he could avoid the "zero tolerance" forfeit rule.
IM Mariano Ortega of Cape Verde received the "fair play" award from ACC President Tshepiso Lopang.
Ortega held Amin in this exciting Scotch Game in round three.
Amin's crowning game came against Grandmaster Kenny Solomon, the 2014 African champion from South Africa. That game was a brutal reminder that Amin once scaled "Mount 2700" and has been the only African player to reaching the lofty Elo of 2700.
With Amin having won quickly, Adly had to win against Namibian International Master Dante Beukes, a student at the University of Texas-Rio Grande Valley. That game was a tense affair and actually, Beukes had winning chances throughout. Beukes scored 6/9 and foiled Adly's attempt to defend his crown in the last round.
GM Bassem Amin crossing the stage to receive his trophy and medal. Also on the stage were: FM Joel Adebayo (Nigeria), IM Dante Beukes (Namibia), IM Mariano Ortega (Cape Verde), IM Fy Rakotomaharo (Madagascar), IM David Silva (Angola) and GM Abdelrahman Hesham (Egypt).
Congratulations Bassem Amin!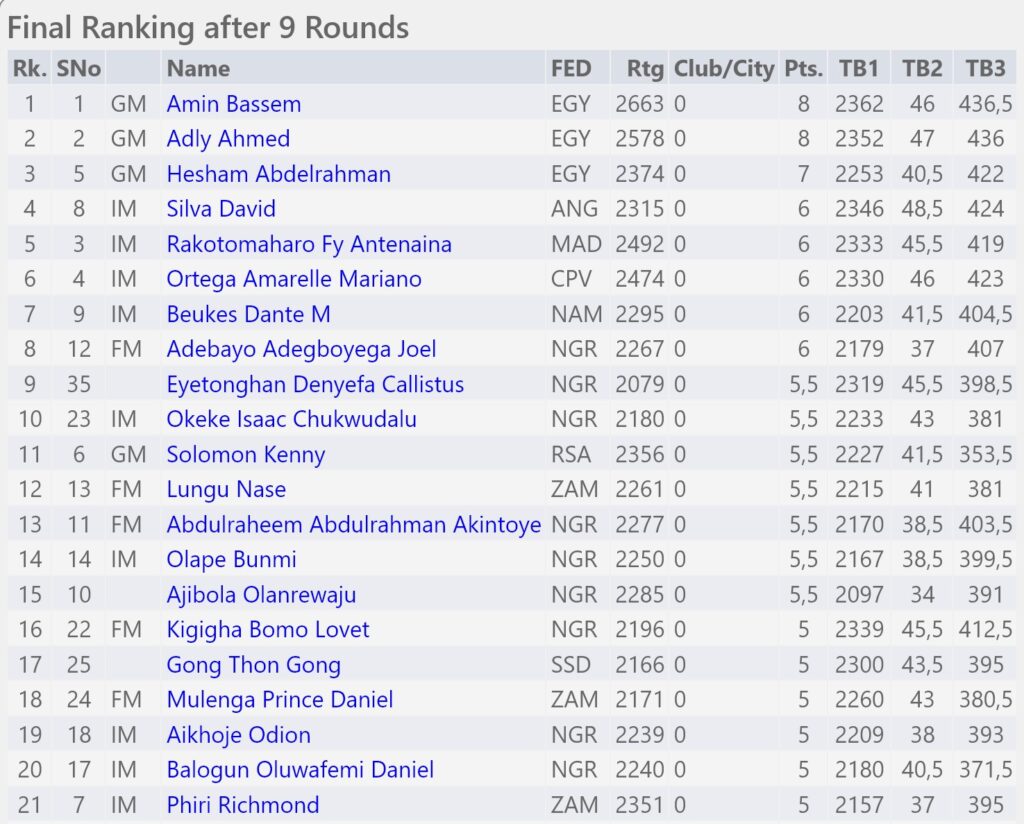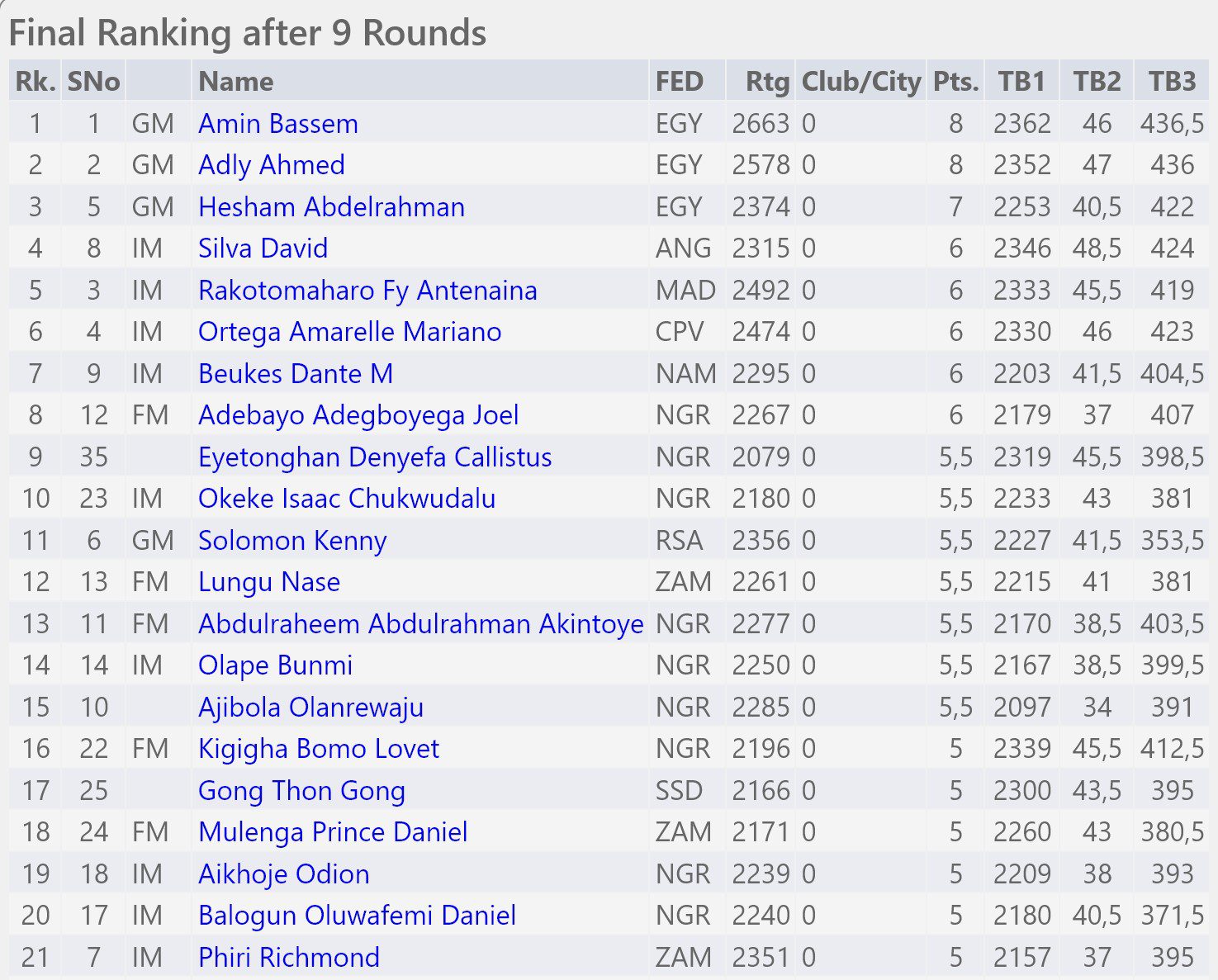 Women's Section
WGM Shahenda Wafa
The women's section is always intriguing given that from year to year there is no odds-on favorite. In general, the Egyptians have been at the top of the crosstables in previous years, but Jesse February of South Africa was the defending champion. Shahenda Wafa would be the current top seed with a number of top players not traveling for this tournament.
Nigeria had seven of the top 11 players including Olympiad veteran Rosemary Amadasun and two national team players Toritsewuma Ofowino and Joy Iyefu Onoja who were both at the Chess Olympiad in Chennai. Angola had three of its national team members as well. Their beautiful dresses were the talk of Chennai.
ANGOLA!
WIM Caxita Esperanca, WIM Luzia Pires, Jemima Paulo
Fourteen countries were represented from every corner of the continent with Nigeria having eight, Angola, Ivory Coast, Zambia having three players and South Africa having two. Egypt usually sends a full delegation but had only had Wafa, who was the top seed. Nine federations sent one player. Interestingly enough, players playing black won 54 games, while white had 43 wins and 29 draws.
Nine-year-old Ayemou Akissi Victoire Sinchie from the Ivory Coast was the youngest participant.
Wafa started the tournament with 5.5/6, but lost to her nemesis Toritsemuwa Ofowino who has beaten her two other times (2019 African Individuals, 2019 All-Africa Games). It's not certain why Ofowino is such an uncomfortable opponent for Wafa, but let us see for ourselves. In the following game, the Nigerian plays a theoretical exchange sacrifice.
This would actually be Wafa's only loss. At this point, both Wafa and Ofowino were tied on 5.5/7 with two rounds remaining. Tragedy hit for the Nigerian as she lost her last two games! The game that knocked the Nigerian off the medal stand was the loss against South Africa's Charlize Van Zyl.
South Africa's Charliza Van Zyl
Meanwhile, Van Zyl got silver and Bridget Michael of Nigeria earned the bronze. Michael won her last three games including a big win over Angola's Caxita Esperanca. She ended the tournament with a bronze after winning against another Angolan in Jemima Paulo.
All Wafa needed was a draw already being a point ahead of the field. The game against Luzia Pires was rather quiet, but a sporting battle… no ten-move draws by repetition!
Shahenda Wafa poses with her championship medal and trophy, now her 3rd.
All photos by Babatunde Ogunsiku (Africa Chess Media)
Bridget Michael (Nigeria), Charliza Van Zyl (South Africa), Shahenda Wafa (Egypt)
Top Six: Joy Iyefu Onoja (Nigeria), Shakira Ampaire (Uganda), Luzia Pires (Angola), Bridget Michael (Nigeria), Charlize Van Zyl (South Africa), Shahenda Wafa (Egypt)
More Expressions
All photos by Babatunde Ogunsiku (Africa Chess Media)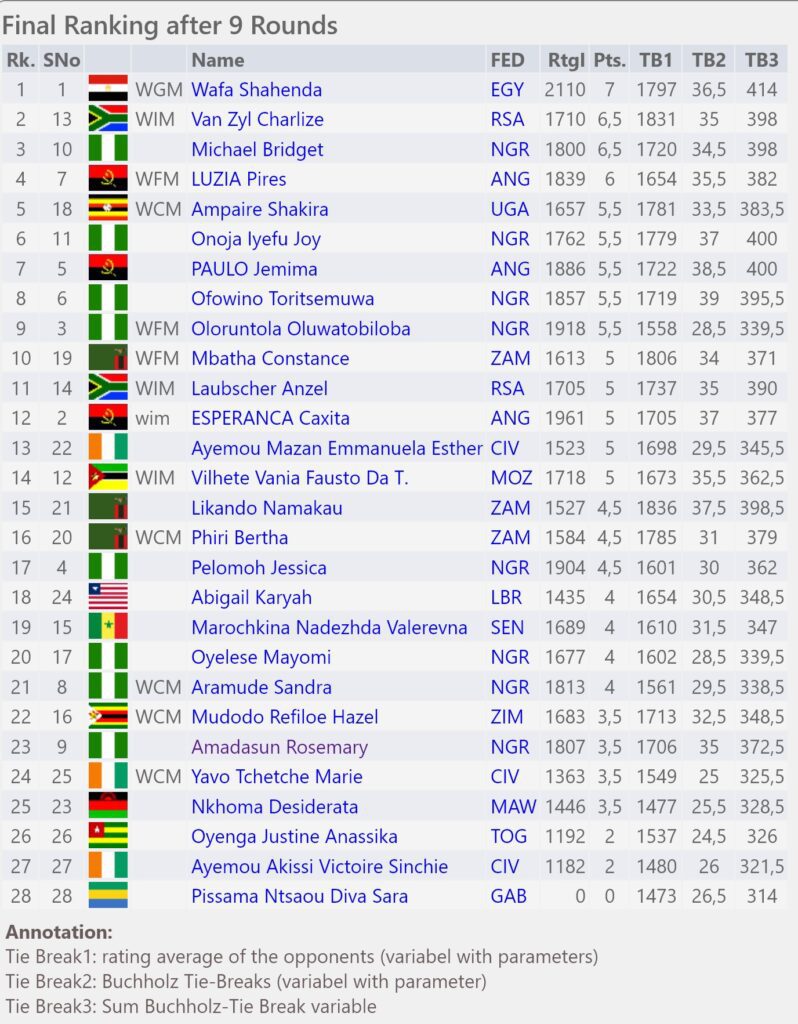 2022 African Individual Chess Championships (tables & games)
Open: http://chess-results.com/tnr679966.aspx?lan=1&art=1 (75 players, 27 countries), PGN games
Women: http://chess-results.com/tnr676649.aspx?lan=1&art=1 (35 players, 13 countries), PGN games