2021 African Individual Chess Championship
Susan Namangale
President of Malawi Chess Federation
This past year has been one with a bit of intrigue as the continent of Africa seemed to increase chess activity online. There were a number of staged "cage matches" and many federations organized friendly matches. Social media groups were abuzz about the prospects of African chess and the possibilities post-pandemic. One discussion that often surfaces is how the rest of Africa will break the stranglehold Egypt seems to have on the region's supremacy in chess. Will the 2021 continental championships show a bit of intrigue as the sub-Saharan activity seemed to be lively?
Leading up to the championship there was great anticipation for the African Individual Chess Championship (AICC). After one year of combating the coronavirus players from around the continent assembled to vie for qualification spots for the 2021 World Cup tournament.
The AICC took place in Lilongwe, Malawi, from 18th to 28th May 2021. The country was the site of the 2007 Africa Junior Championships and they would look to increase their chess profile. From all accounts, the organization was stellar and the pandemic protocols were in place to ensure a safe event. Malawi Chess Association President Susan Namangale gave her assessment:
"The tournament surpassed our expectations, considering that it was only confirmed two months ago. We had a total of 93 players from across the continent, there were no appeals, and all participants seemed enthusiastic."
Twenty-one nations were represented with Egypt bringing the big guns fielding four Grandmasters, including 2700-rated Bassem Amin. As expected, host Malawi had the most participants (in both sections combined) with 18 along with Nigeria (12), Senegal (11) and Kenya (10) in double-digits. Continental President Lewis Ncube gave these historical comments about registration at the Opening Ceremony:
Video by Khisho Chess Africa TV
In 20 years of coverage at The Chess Drum, Egypt is still at the top of the food chain of African chess, but is the gap really closing? By all accounts, the games showed that there is some improvement in the overall quality of African chess. In the end, it was the Egyptians again who rose to the occasion in the Open Section, taking the top four positions.
A victorious Ahmed Adly presented the championship trophy by Minister of Youth and Sport Ulemu Msungama with Egyptian Ambassador Maher Ely-Adawy (left) and President of African Chess Confederation Lewis Ncube (right).
The Egyptian quartet was led by Ahmed Adly who won his 4th championship (2005, 2011, 2019, 2021), Bassem Amin (2009, 2013, 2015, 2017, 2018) Adham Fawzy (2019 African Jr. champ) and Hesham Abdelrahman (2016). All will qualify for the 2021 World Cup to be held in Sochi in July 6th-August 6th.
(Note: In a new twist for World Cup qualification each of the federations in the top 100 will have a chance to nominate a player to compete in the 206-player tournament. See regulations)
Here are Adly's games from the tournament:
Egypt
National Anthem




Despite, Egypt's dominance, the favorite son of the host nation saw their national champion FM Joseph Mwale place 5th with 6/9 along with fellow Malawian Chiletso Chipanga. Others scoring +3 were Zambia's IM Gillan Bwalya, Angola's IM David Silva, South Africa's FM Daniel Barrish and Algeria's GM Bilel Bellahcene. The France-based Algerian was left off the medal stand this year and suffered and upset loss to Mwale. This sent shock waves through the tournament hall and the local media.
Joseph Mwale on his way to upsetting Algerian GM, Bilel Bellahcene
A moment of pride for Malawians as Mwale received his well-deserved commendation.
Namangale looks on.
I am very excited about this win. Everyone I have talked to is excited. This is history, it's rare for someone of Joseph's ranking to beat a grandmaster. I truly cannot express just how happy I am. My team has made me proud.

~Susan Namangale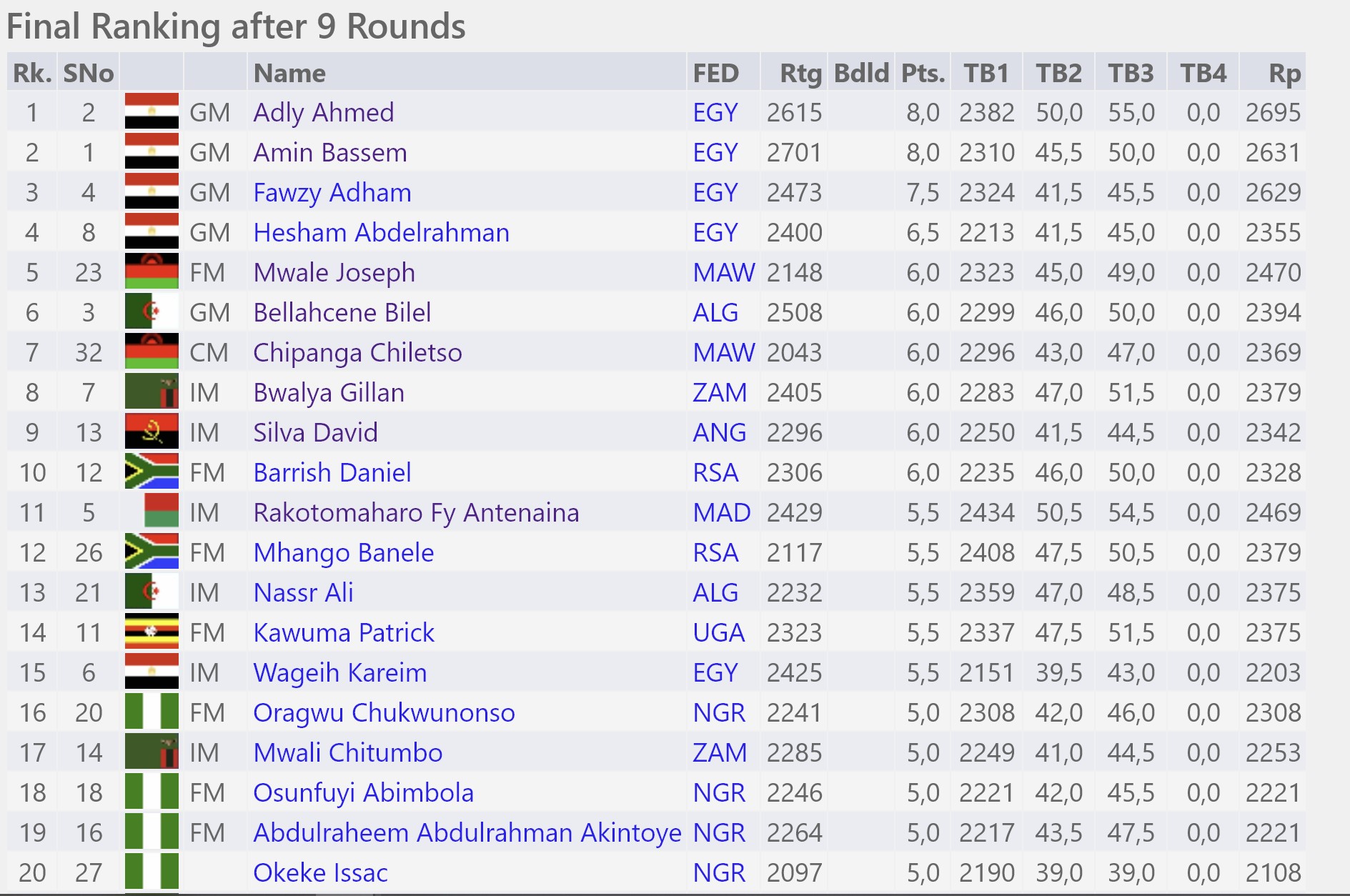 Results: http://chess-results.com/tnr560476.aspx?lan=1&art=0&flag=30
PGN Games: https://www.thechessdrum.net/games/AICC2021-open.pgn
The women's championship had eight players from host Malawi and five from Senegal including national champion Nadezhda Marochkina, originally from Russia. South Africa and Kenya were represented by three women. While the numbers were up in this year's edition, there were key players missing from the field. Shrook Wafa (four-time and defending champion) was unable to make the trip, but her sister Shahenda Wafa would be a main competitor and top seed. Would the Egyptians hold onto the title?
As it happened, South African women's champ Jesse February broke through the pack in the 6th round scoring a key win over Wafa after the Egyptian blundered. Here games are presented below (except round five).
Because she scored 4.5 in the last five rounds, it appears that her win in the penultimate round gave her enough cushion to draw in the last round and clinch the title in the event of tiebreaks.
And she did it! @Jesse_Feb is the Women's 2021 African Individual Chess Champion ???

Along with the win, she becomes a WGM-elect, which means that when her FIDE rating crosses 2100, she will be the second-ever South African to get the WGM title. Well done Jesse ?? pic.twitter.com/wlQkJ1aFWg

— HashtagChess (@hashtagchess) May 27, 2021
South Africa

National Anthem

One of the questions we raised to a WhatsApp African chess group is when African ladies will begin to play for general titles rather than the "W" titles. This appears to provide women incentives to gain accolades, but it does not encourage higher achievement. This does little to give the impression of equality in chess and the gap will persist.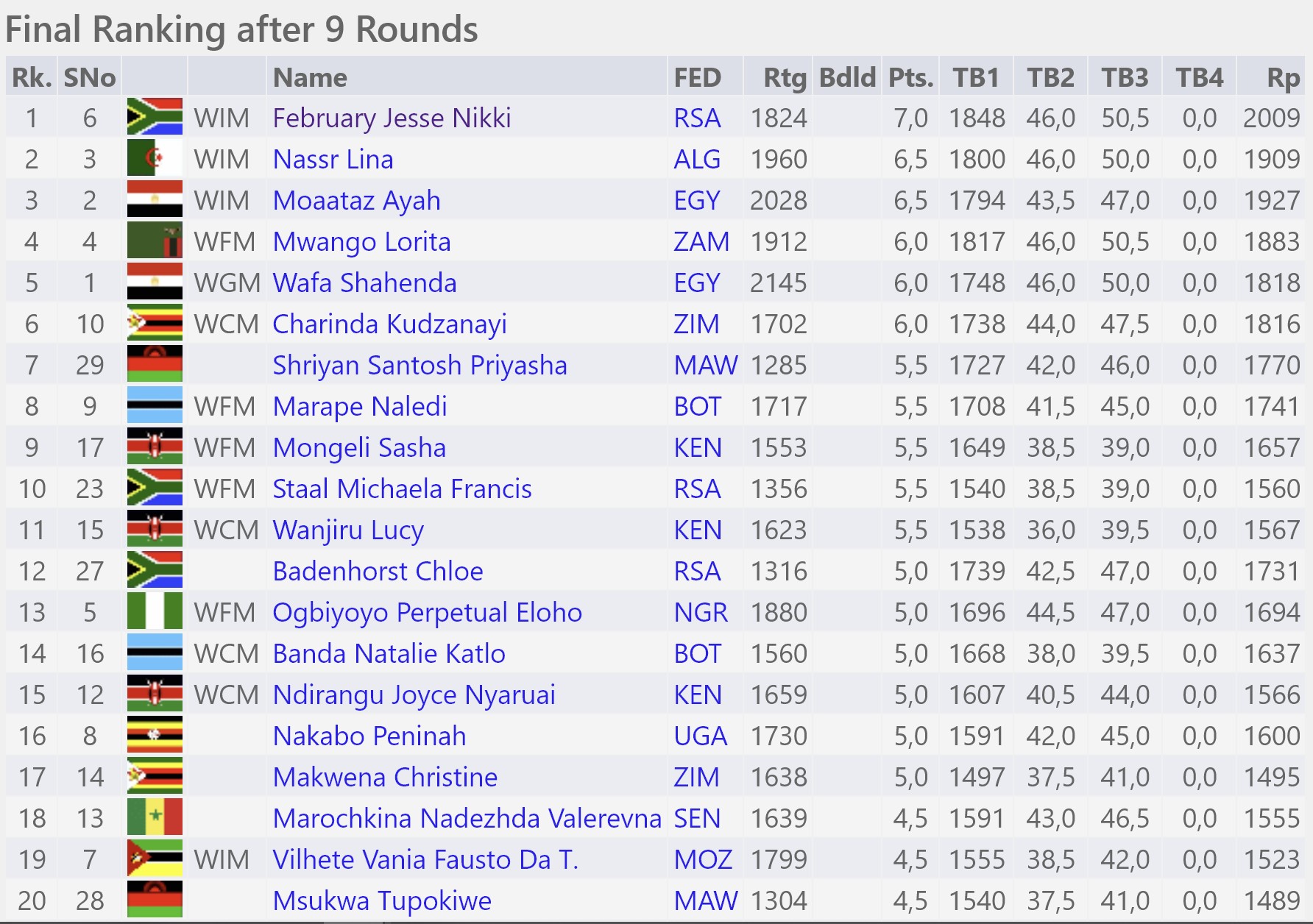 Results: http://chess-results.com/tnr560477.aspx?lan=1&art=0&flag=30
PGN Games: https://www.thechessdrum.net/games/AICC2021-women.pgn