King Solomon reigns at 2014 African Championship!
It has been a long journey for Kenny Solomon. Following in the footsteps of his older brothers, he charted a course to chess excellence. His destiny would be etched in history when he learned chess at the age of 13. His story has been captured in countless interviews including one appearing in the South African Press Association.
IM Kenny Solomon
Photo by Daaim Shabazz.
In another interview with The Chess Drum back in 2003, he stated… "My goals are plain and simple… to become a GM and then take it from there." Nearly a decade later, he earned his first GM norm at the 2012 Open Internazionale "Città di Padova" and then earned a double GM norm at the Chess Olympiad in Istanbul. This qualified him for the title if he reached the 2500 ELO mark. The road has been a bit bumpy for the South African as he has found the ELO points hard to come by having added a family as part of his responsibilities.
Nevertheless, at the 2014 African Individual Championship, Solomon won on tiebreaks over GM Ahmed Adly giving him his first continental title and qualifying him for the World Championships cycle. Solomon defeated Adly in their head-to-head battle in round five. Adly on the other hand, lost another game to FM Calvin Jong Klaasen of South Africa and had to win all other games to earn his qualification. IM Ali Farahat of Egypt came in third on 6.5/9.
GM Ahmed Adly (left) was upset twice, but still got 7/9 and qualified for the world championship cycle. Here he is shown winning against Nigeria's John Fawole.
There was a bit of confusion over whether Solomon had earned his GM title. He has the required three norms, but FIDE requires a 2500 rating to confirm the title. In the past, winning the African Championship would earn the IM title (outright) and a GM norm. However, there was a condition stated at the opening ceremony that the winner would receive the full GM title for winning outright. Had Solomon won clear first he would have forgone the last 100 ELO points and earned the title. This would have been the first such occurrence in the African Championships (Note: Solomon confirmed that FIDE will confer the title.)
Solomon gave his wife credit for the motivations to play in the tournament. As far as his immediate plans are concerned, he told AfricaChess.net.
I will return home and rest for some days, as it has been a tough tournament then I will participate in Gibraltar in January. I will be traveling home today (Tuesday 23 December) from Windhoek to Johannesburg then to London then Venice.
In the women's championship, WGM Wafa Shrook (Egypt), WIM Anzel Solomons (South Africa) and WFM Epah Tembo (Zambia) took honors. Shrook tallied 7.5/9 to defend her title from last year's tournament. She will compete in the Women's Chess Championships in March 2015. In an interview with Oliver Shalala, she had this to say…
From the time I got the WGM title in Tunisia [during the last African Chess Championships], I have been proud to be the second WGM in Egypt. [The other WGM is Mona Khaled who has a rating of 2125] But I want more. I wanted to play in the African Junior Chess Championships in Angola earlier this month in the Open section. A win there would have given me an IM title. I want to be an IM and then a GM eventually.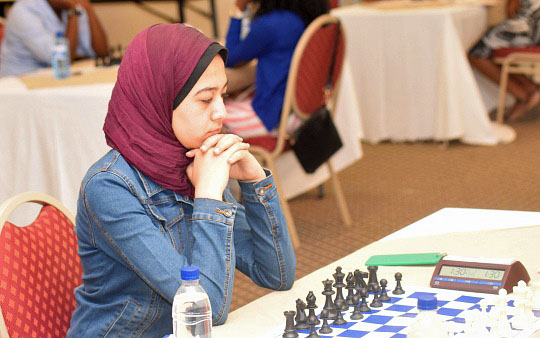 WGM Wafa Shrook dominated the field to defend her title.
Unfortunately, the overall tournament was considerably weaker than the 2013 version and had only one GM, but was well-represented with 14 nations competing (Sao Tome & Principe, Ghana, Libya, Namibia, Botswana, Togo, Ivory Coast, Kenya, Algeria, Seychelles, Malawi, Egypt, Nigeria, Zambia and South Africa). This is indeed a good sign for future participation. However, the game scores were filled with errors as players did not take care to record the moves correctly. There must be an adherence to this FIDE rule to avoid any problems.
The Chief Arbiter for the event was International Arbiter Gunther van den Bergh (South Africa) with FIDE Arbiters Simbarashe Murimi (Zimbabwe), El-Shaddai Aluteni (Namibia) and Webster Muyabi (Zambia).
* * *
MEDALS
MEN
GOLD- IM Kenny Solomon (South Africa)

SILVER- GM Ahmed Adly (Egypt)


BRONZE – IM Ali Farahat (Egypt)


WOMEN
GOLD – WGM Wafa Shrook (Egypt)


SILVER – WIM Anzel Solomons (South Africa)

BRONZE – WFM Epah Tembo (Zambia)

Standings (Men, Women)
Games (Men, Women)