Carlsen quits against Niemann… the saga continues
Yesterday, Magnus Carlsen quit against Hans Niemann after playing his first move. Playing black… after 1.d4 Nf6 2.c4 Carlsen resigned and simply logged off abruptly. The cheating insinuation by Carlsen had been simmering down, but this latest action has thrown gasoline on the fire of a controversy leaving it open to more speculation than before.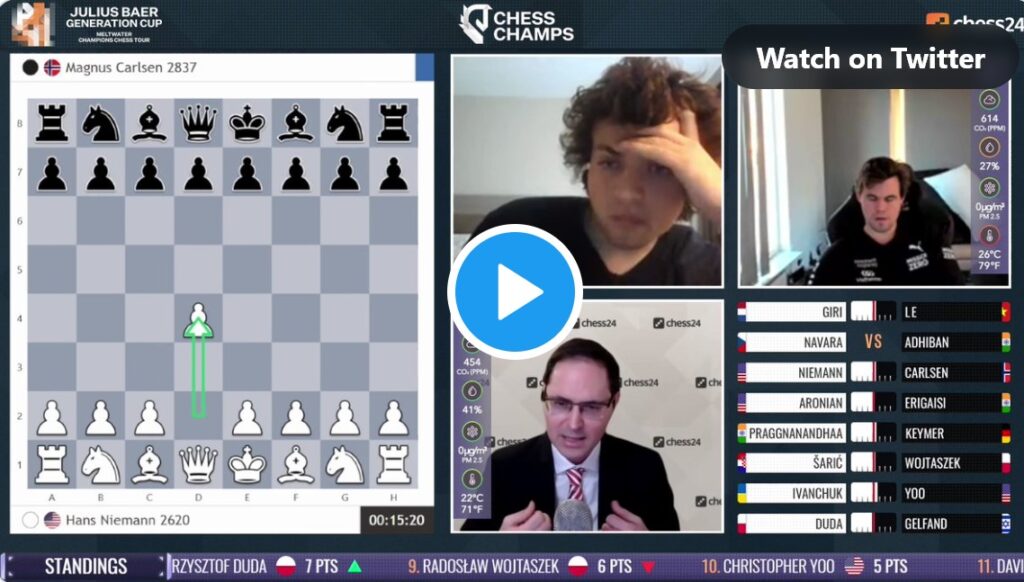 The last six months have been quite a roller coaster for the chess world starting with the announcement that world champion Magnus Carlsen would not be defending his title against the winner of the World Candidates. Ian Nepomniachtchi had earned the right for a rematch against Carlsen but was denied the opportunity to redeem himself after the lackluster performance in Dubai. Yet Nepomniachtchi took his match loss well, worked hard, won the candidate's tournament, and earned the right.
Before the candidates, Carlsen was unsure if he would defend his title unless a player from the new generation was the challenger. He mentioned Alireza Firouzja by name. Firouzja did not have a great tournament coming in 6th out of eight players. However, the French-naturalized Iranian has had a wonderful year winning the Grand Chess Tour and most recently the Sinquefield Cup which was mired in controversy.
Carlsen withdrew from the tournament hinting that Hans Niemann had done something unethical in their game. He never explicitly stated this fact and did not release a direct statement to the organizers or FIDE. The chess world descended into gossip, innuendo, insult, and conspiracy theories. Some think it's good for chess, but with theories of anal beads, hand signals, and fan girls passing moves through signs, the game became a laughing stock and even ended up on comedy shows.
Cheating at chess using anal beads? Even if you lose, you still kind of win. pic.twitter.com/2MGFKDXhEn

— The Daily Show (@TheDailyShow) September 19, 2022
Yes… Trevor Noah is a great comedian and has had Maurice Ashley on the show before, but this is no laughing matter.

Where's FIDE?
After the Sinquefield Cup ended, the chess world wondered what would happen next. Would there be a forthcoming statement? From Carlsen? From FIDE? Nothing. Tournaments continued as if nothing had happened. Arkady Dvorkovich was in Nigeria to grace the African Individual Chess Championship and to tour Tunde Onakoya's "Chess in Slums" program. However, there was no statement.
FIDE President Arkady Dvorkovich visited Makoko today and met with Tunde Onakoya (@Tunde_OD), the founder of the @chessinslums initiative in Africa, to witness first-hand the work being carried out. pic.twitter.com/597irFz1KM

— International Chess Federation (@FIDE_chess) September 18, 2022
Julius Baer Generation Cup (part of Magnus Carlsenstarted with 16 players including Carlsen and Niemann. They were paired against each other on the second day of the tournament. Here's what happened:
Another shocker as @MagnusCarlsen simply resigns on move 2 vs. @HansMokeNiemann! https://t.co/2fpx8lplTI#ChessChamps #JuliusBaerGenerationCup pic.twitter.com/5PO7kdZFOZ

— chess24.com (@chess24com) September 19, 2022
Carlsen continues his protest against Hans Niemann, but this is absolutely objectionable behavior by the world champion. The reactions to his tossing a professional chess game were swift and harsh with most calling for an explanation and some calling for a ban. Jon Ludwig Hammer was perhaps the most direct when he called for sanctions against his own teammate! While we will not post a list of comments here, it goes without saying that something must be said and done. It is his own personal tournament series so he certainly will not be thrown out, but these bouts of quitting are destroying the image of chess. Will FIDE weigh in on the issue?
Magnus protests against Niemann. Resigns after move 1. What bothers me the most is that there has been no statement made by @FIDE_chess or @ACP_Chess on their websites. Is there an ongoing investigation? It is past time for the chess world to hear something definitive. pic.twitter.com/lkFXXtzA4j

— Daaim Shabazz (@thechessdrum) September 19, 2022
Again… What Next?
Eventually, Carlsen will have to make a statement because he is losing whatever moral high ground he once had. These tirades come off as immature and as one who either lacks the ability or maturity to speak in a direct way. Carlsen has not directly accused Niemann of cheating, but only implied it. However, his action of protest is bizarre. Some were invoking Bobby Fischer's name. While Fischer was bizarre in his demands, he was a professional while on the board.
The Fischer comparisons are a bit dubious, but if Carlsen continues to quit games, tournaments, and matches, it will most likely signal that something is wrong with the world champion. He is the first world champion to quit a tournament in the history of the game. To be fair, Carlsen has played a heavy schedule and remains in top form. Is it time for a break away from chess?
We all remember Carlsen growing up and his father Hans carrying his favorite orange juice. It was endearing. It was this support that has helped Carlsen become the champion that he is. His father still accompanies him to tournaments (as his manager), but one wonders what he thinks of the recent actions of his son. Will Carlsen's abandonments continue? Will organizers and FIDE continue to allow his status as world champion trump their ability to set the tone for fair play? So far, there has been nothing.
Some speculate that we are seeing the sunset of Carlsen's career at age 31. However, he still plays at a high level despite losing some high-profile games to young stars. While some argue that this scandal is what chess needs, it deserves better. If there was cheating at the Sinquefield, let's expose it and make the sport better. For Carlsen to hold chess hostage is both unfair to the game and unbefitting of a champion.
"Carlsen's move was the latest explosion in a scandal that has rocked professional chess this month. " https://t.co/CSeVINz4CQ

— Tarjei J. Svensen (@TarjeiJS) September 20, 2022