Hesham wins 2016 African Championship!
IM Abdelrahman Hesham
All photos by Paras Gudka
Uganda was host to the 2016 African Individual Chess Championships held from 16th July 2016 up to 27th July 2016 at Tick Hotel in Kampala. Players from twelve countries came with visions and dreams of winning the title of African Champion. The event comprised two categories, the Open and Ladies category and had classical, rapid and blitz rate of play in each.
The tournament was competitive even through last year's tournament was a bit stronger with GM Bassem Amin headlining the field with GM Ahmed Adly second seed. This year Adly would try to hold the board one position, but it is known that he has had trouble in first round matchups losing to less-fancied players. In the first round he was held by FM Patrick Kawuma of Uganda after going into complications that yielded black an exchange. Adly had to escape with a draw.
This would upset the charts and give other seeds a chance to hold the top table. It appeared that the top Egyptian players were being nicked by other players (or each other) and after four rounds, no one had a perfect score. GM Samy Shoker would also be in the hunt and he showed his mettle with this win over last year's World Cup qualifier, IM Arthur Ssegwanyi. In this game, a queen sacrifice was on the board.
After five rounds, Adly was back at the top along with IM Arab Adlane, GM Essam El-Gindy and FM Andrew Kayonde. The Zambian Kayonde would become a GM-killer in the next round beating Adly and the Egyptian would never recover.
Meanwhile, Kayonde was now in first place heading for the title. He then beat El-Gindy staying ahead of the surging Egyptian IM Abdelrahman Hesham who had won four in a row. Kayonde was on 6/7 followed by Hesham's 5.5/7 and the two would match up in an eighth round battle.
So Hesham would take the lead with the championship and GM title in sight. Kayonde also had such dreams, but had to take down another Grandmaster in Shoker who was trying to get one of the qualifying spots for the World Cup. All Hesham needed was a draw to clinch and he agreed to a rather effortless draw with South African IM Daniel Cawdery. Kayonde also split the point and would have to settle for the IM title. Nevertheless, the Zambian chess community was elated at his performance. In the end, the top four on the final table would be: Hesham on 7/9 followed by Kayonde, Adly and Arab on 6.5/9.
OPEN (Classical)
GOLD- IM Abdelrahman Hesham (Egypt)


SILVER- FM Andrew Kayonde (Zambia)

BRONZE – GM Ahmed Adly (Egypt)


FM Andrew Kayonde, IM Abdelrahman Hesham, GM Ahmed Adly
WGM Shrook Wafa
All photos by Paras Gudka
In the women's section, a similar field from the previous year assembled, but without Africa's top women's player and defending champion, WGM Mona Khaled. Nevertheless several of the top competitors would be returning for another shot at glory. The top seed this year would be Shahenda Wafa and her sister two-time former champion WGM Shrook Wafa.
Both would be favorites along with Algerians WIM Amina Mezioud and WIM Sabrina Latreche. Last year's 5th place finisher WFM Eman Elansary would be in the inner circle as would Zambia's WFM Lorita Mwango. South Africa was sending five players with hopes to create some upsets. As it were, the favorites would hold their positions.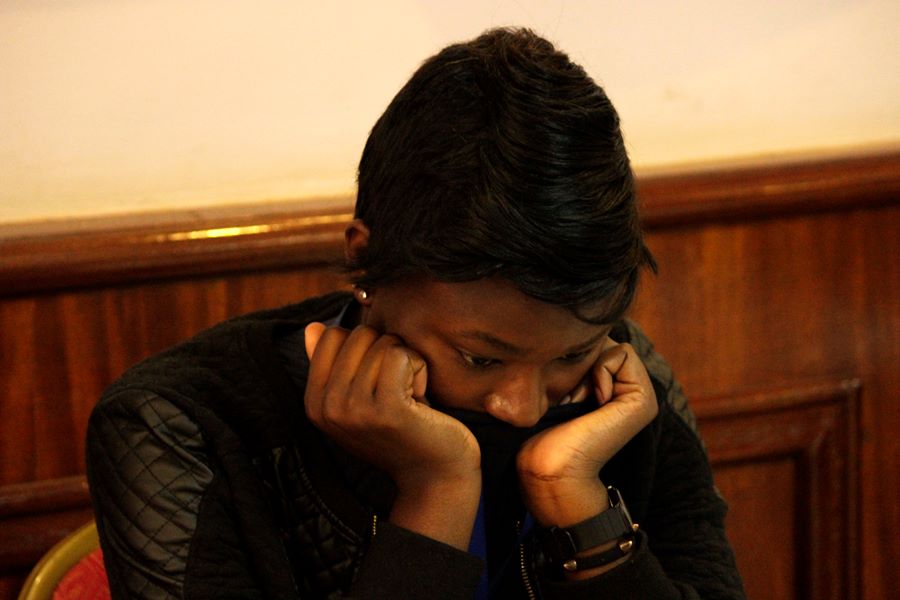 Zambia's WFM Lorita Mwango
The initial round saw no upset, but in the second round Mwango was stopped by South Africa's WIM Anzel Laubscher. However, it would be Mwango who would upset the pairings. After the upset loss, she with 3/5 against the top five seeds including a win over Shrook Wafa. However, Shrook was buoyed by her five wins to open the tournament and she got help from none other than her sister Shahenda who won a thrilling game against Mwango in round eight.
Botswana's WIM Tshepiso Lopang, a long-time national player is now taking the role as organizer and arbiter in international tournaments.
Women in action!
Shakira Ampaire showing the Ugandan charm.
After eight rounds, Shrook Wafa was ahead of Shahenda Wafa and Eman Elansary by half-point. All three had already clinched medals, but the only thing left was to determine the 1-2-3 order. Shrook only needed a draw against Angola's Esperanca Caxita to clinch the title which she duly earned. The other games were a formality, but of course South Africans Denise Frick and Robyn Van Niekerk were looking for upsets. While Wafa-Caxita was drawn, Wafa-Frick and Elansary-Van Niekerk went in favor of the Egyptians finalizing the clean sweep of the medals… Wafa, Wafa and Elansary.
WOMEN (Classical)
GOLD – WGM Shrook Wafa (Egypt)


SILVER – WIM Shahenda Wafa (Egypt)


BRONZE – WIM Eman Elandary (Egypt)


WGM Shrook Wafa, WIM Shahenda Wafa, WFM Eman Elansary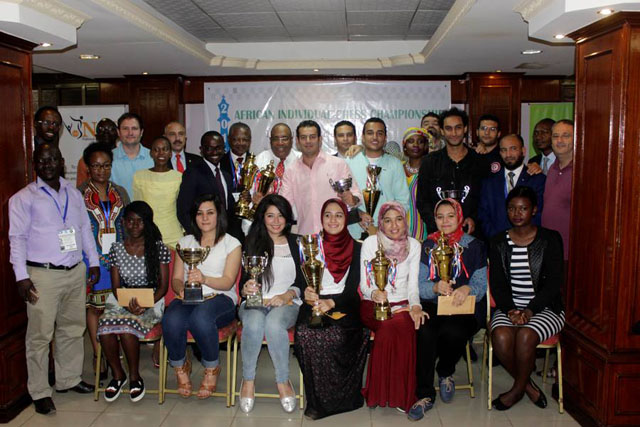 2016 African Championship winners