The 47th World Open ended in an exciting tiebreak with Vietnam's Le Quang Liem winning over Jeffery Xiong. Both ended the tournament with a sterling 7.5/9. Five players following on 7/9 were: GMs Hrant Melkumyan, Ray Robson, Aleksandr Lenderman, Saven Andirasian and Fidel Corrales Jimenez. More than 1000 players trekked across the U.S. to compete in this marquee tournament.
Le Quang Liem faces Illia Nyzhnyk while Jeffery Xiong faces IM Andrew Hong. GM Isan Ortiz watches the action. Photos by Daaim Shabazz/The Chess Drum
Illia Nyzhnyk actually bolted out to the lead with 4/4 and 5.5/6. He then suffered consecutive losses including one to his friend and teammate Le Quang Liem. The two played last year when the Vietnamese player had the advantage only to blunder into mate by exposing his king. Nyzhnyk went on to win the 2018 World Open title. As fate would have it, Le exacted revenge by taking advantage of Nyzhnyk's exposed king!
Xiong kept pace with an important win over IM Andrew Hong, who was having a strong tournament. Robson, Lenderman, Andriasian and Jimenez all won in round 7.
Fidel Corrales beat Vasif Durarbayli
putting him in joint first after seven rounds.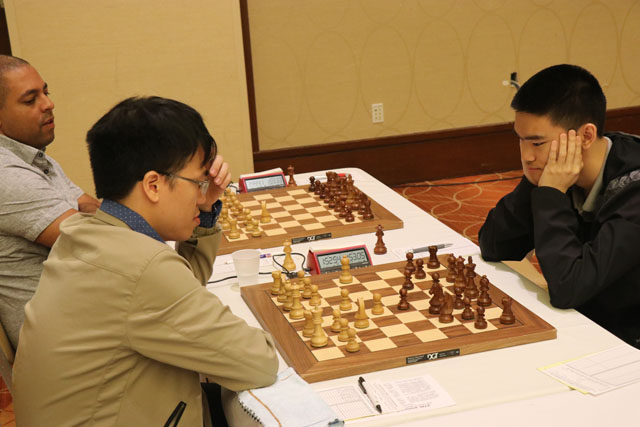 Le-Xiong would be a gripping Ruy Lopez. Ortiz watches as he waits for Jimenez.
Photo by Daaim Shabazz/The Chess Drum
In the penultimate round, Xiong and Le faced on board 1. The game was a Ruy Lopez their encounter earlier that day in a gripping struggle that saw Le seize an initiative only to let it slip. In a post-tournament interview with USChess Online, Xiong stated that he was fortunate to save the game. In other action, Corrales won his fifth game in a row over fellow Cuban Grandmaster Isan Ortiz and had pulled into first place going into the last round with 7/8. Both Le and Xiong were on 6.5/8.
U.S. Hall-of-Famer, GM John Fedorowicz
Photo by Daaim Shabazz
The last round was bloody with six decisive results on the top boards. Jimenez lost to Xiong knocking him out of contention while Le took care of Quesada. One game that had a bit of intrigue was Ray Robson playing John Fedorowicz. Chess fans may remember that James Tarjan, another American legend of the 70s, made a recent comeback and beat Vladimir Kramnik at Isle of Man. Fedorowicz was the next of the "Old School" to square off against the younger generation of players. He won his first World Open in 1977 as an 18-year old when first place was $3,000.00.
This is definitely a battle between generations and "Big John" or "Fed" was a legendary player of the 70s and 80s rising in the same manner that his young opponent did… through the scholastic ranks. Both were part of an era of players… Fedorowicz was one of the products of the "Fischer Boom" and Robson part of the new computer age in chess. Both are Olympiad medalists with Fedorowicz winning a team silver in 1990 Novi Sad and team bronze in 1986 Dubai. Robson won silver in 2018 Batumi and the historic gold in 2016 Baku.
Their game was a Sicilian, a nostalgic opening very much in vogue in the 70s and 80s. One can clearly see the impact of computer preparation in Robson's play. Fedorowicz never fully equalized even after sacrificing pawns for activity. It was a rather clean win for Robson. Despite the loss the U.S. Hall of Famer acquitted himself quite well. He scored wins over Aleksandr Lenderman and Aram Hakobyan. His 6/9 was a fantastic result given his inactivity.
It seems interesting that in the past it was the former Soviet emigres who were winning the top places in the major events. Now they are dominated by foreign players who are attending American universities. Not to mention that the open section is crowded with hungry scholastic players who are looking for IM and GM norms.
Not long ago Jeffrey Xiong was in that crowd. Now at 18, he has entered the upper echelon of U.S. players now at #6. He caused a sensation in 2015 by winning the Chicago Open (as an IM) and is now was the co-winner of the 2019 World Open. Both he and Le finished on 7.5/9 and were set to play the tiebreaker to see who would get the title and the additional $500.00.
Le Quang Liem and Jeffery Xiong chat before tiebreaker.
Photo by Daaim Shabazz/The Chess Drum
As the crowd assembled around the board, there was an apparent delay in starting the match. Le and Xiong stood by the board in a rather amicable conversation about the previous game. Dr. Wayne Xiong was on hand to watch his son battle. Xiong had the better tiebreaks so he choose to take the white pieces. After the tournament director explained the rules to both players, the players settled in their chairs and here is what happened.
Video by Daaim Shabazz/The Chess Drum
The tournament was festive as usual with more than 1000 players. Unfortunately, there were complaints about the noise levels. In fact, watching the video you can hear the crescendo of noise in the background. At one point Xiong shook his head perhaps reacting to the buzz of children in the background. The tiebreak was held concurrently in the same room with the blitz tournament. In addition, the regular rounds also had noise issues and cell phones of non-competitors went off on occasion. Also in the back there was a lot of noise just outside the doors where people were congregating.
Market Street, Downtown Philadelphia
As far as parents and coaches are concerned, it is understandable that they escort children and students to the board, see the opponent, make sure their child/student fills out the score sheet, and give their last pep talk. However, if they linger around, they can get in the way of the other players trying to find their boards. After the round has started, many non-competitors remain around the boards. Perhaps there needs to be announcements to non-competitors in open tournaments to ensure the environment is kept free of congestion and distractions.
The World Open is changing before our eyes. In the days of the Adams Mark Hotel, the players were much older. Now approximately half of the tournament is scholastic players. There will have to be changes in how the tournament is managed to keep up with the changing demographics and expectations and demands of the diverse crowd.
For now, the World Open is still a popular tournament with plenty of side events and maintains a festive and family-friendly atmosphere. It is where chess dreams sometimes come true. Norms, scalps and personal best performances are often achieved here. Despite the heartbreaking sights of homelessness and mental illness in downtown area, the iconic city still remains a great host. The Magic of the World Open still remains.
Section Winners (Nine Rounds)
Open: Le Quang Liem, Jeffery Xiong, 7.5
Under-2200: Rocky Pabalan, 8.5
Under-2000: Joshua Lewis-Sandy, 8.0
Under-1800: Rama Yalavarthi, 8.0
Under-1600: John Myles Flynn, 8.0
Under-1400: Daniel George, Arav Patel, Guy Carwell, 7.5
Under-1200: Sebastian Dstair, 8.0
Under-900: Ekeoma Osundu, Soham Patel, 8.0
Unrated: Yonathan Sosa: 8.5
Tournament Website: https://chessevents.com/worldopen/
PGN Games: https://www.thechessdrum.net/games/worldopen2019.pgn
World Open (Drum Coverage): 2019, 2018, 2017, 2016, 2015, 2014, 2013, 2012, 2011, 2010, 2009, 2008, 2007, 2006, 2005, 2004, 2003, 2002, 2001
One Response to "Le Quang Liem edges Xiong at 2019 World Open!"
Photos can be found at The Chess Drum (Facebook)
https://www.facebook.com/thechessdrum/
Leave a Reply!