World Open shines in new home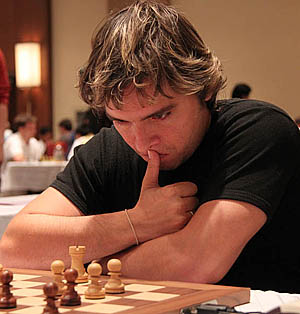 Cuba's GM Lazaro Bruzon
The World Open has found a home in Philadelphia for more than 25 years. The 41st edition took place in its new home of Arlington, Virginia. The tournament attracted more than 1200 players and it seems as if players were satisfied with the new venue.
Every year there is usually a strong Indian contingent, but it appears that they decided to play in the Commonwealth Open in South Africa. However, the biggest surprise may have been the presence of Cuban Grandmasters Lazaro Bruzon and Quesada Yuniesky. Both were vying for the championship until the very last round.
Varuzhan Akobian drew with Sergey Erenburg in round six ending the tournament with four draws and a 10-way tie for first.
At the end, Varuzhan Akobian sat atop an incredible 10-way tie along with the following players: GM Lazaro Bruzon (Cuba), GM Viktor Laznicka (Czech Republic), GM Tamaz Gelashvili (Republic of Georgia), GM Quesada Yuniesky (Cuba), GM Sergey Erenburg (Pennsylvania, USA), GM Parimarjan Negi (India), GM Alejandro Ramirez (Texas, USA) and GM Yury Shulman (Illinois, USA).
Akobian, who recently moved to Kansas, has traded the warm climes of California for the frigid winters of Kansas, but he seems to have adjusted. The Armenia-born player coasted in his last four rounds to earn a share of first and then defeated Yuniesky Perez in the tie-break blitz encounter. Other winners were:
under-2400: Richard Tuhrim, 7.5/9 ($12,025.00)
under-2200: Jimmy Broja, 8/9 ($12,025.00)
under-2000: Bronson Gentry, 8.5/9 ($12,025.00)
under-1800: Paul Yanc Guthrie, Leo Poppante, Ralph Monda and David Zhou, 7.5/9 ($5,382.00)
under-1600: Jerry Catuy, 8.5/9 ($10,175.00)
under-1400: Wei Feng, 8.5/9 ($7,400.00)
under-1200: Clark Rogers, 8.5/9 ($4,625.00)
under-0900: John Montfort, 7.5/9 ($786.00)
IM norms were scored by Sean Vibbert, Luke Harmon-Vellotti, Arthur Shen, Kevin Wang and Christopher Gu.
Official Site: https://www.worldopen.com