Nyzhnyk triumphs at 2018 World Open
More than 1,000 players and a few hundred spectators came to the Downtown Marriott in Philadelphia to compete in the 46th World Open. As much as journalists struggle with correctly writing the name of "Illya Nyzhnyk," they will have plenty of practice after his topping the field at the 2018 World Open.
The recent Webster graduate rebounded from a lackluster Chicago Open to win the tournament after key wins over Samuel Sevian and former teammate Le Quang Liem. He wrapped up the tournament with a quick draw with his friend Alex Shimanov.
Le-Nyzhnyk battling in the penultimate round. Dariusz Swiercz and Alex Lenderman drew. Photo by Daaim Shabazz
Nyzhnyk's game against Le was a fortuitous turn of events. After dominating throughout the game, the Vietnamese player blundered at a critical stage. Nyzhnyk told Jamaal Abdul-Alim about the turning point after Le's 84.g4?? "As he was about to finish me off, he made a terrible blunder and lost the game in one move," said Nyzhnyk. One of the players at the World Open had a t-shirt with the message on the back… "The harder you work, the luckier you get." Certainly, one can argue that there is no luck in chess, but its sheer intensity create such opportunities to capitalize off of human error.
After Nyzhnyk's quick draw in the last round, the attention went to the game between Cuba's Lazaro Bruzon and Sevian.
Lazaro Bruzon trying to win his way into a tiebreaker against Sevian.
Photo by Daaim Shabazz
The Marshall Gambit followed theory and the game was quickly drawn in 20 moves. After that Nyzhnyk could breath a sigh of relief and there would be no tiebreaks. The Ukrainian national finished with an impressive 7.5/9. The runner-ups were Shimanov, Lenerman, Tigran Petrosian and Liem finishing on 7/9 ($4700). GM Irina Krush would win joint 1st (2300-2449) with IM Joshua Sheng scoring 6.5/9. IM norms were achieved by FMs Brandon Jacobson, Levy Rozman and Justin Wang.
In the under-2200 section, the battle came down to the top two boards. Actually Marc Dicostanzo and Davis Zong played in another location. Dicostanzo won leaving the remaining two games to determine if it would be clear or joint 1st. Kanan Hajiyev was anchored on the top boards with five consecutive wins before losing to Abhimanyu Banerjee.
Hajiyev started another streak before ending up on board two against Ernesto Malazarte. This was a very positional grind, but Malazarte told The Chess Drum that he made an uncharacteristic blunder of a piece. Fortunately he had maintained pressure on a pinned knight. In fact, white was left to shuffling pieces around. When black finally won the piece he had an overwhelming advantage and finished him nicely.
A crowd assembles at the top boards of the under-2200 section with Kanan Hajiyev-Ernesto Malazarte (0-1) and Kireet Panugant-Roderick Scarlett (0-1). Photo by Daaim Shabazz
Panugant-Scarlett ended in a flurry.
Scarlett was the beneficiary of the "reenter" option. He played in the five-day, but scored one point out of the first three rounds and decided to pay another registration fee and play in the three-day. This necessitated that he play five rounds in G/35 on Friday. Brutal.
In the end, it worked out. His wife Pauline was on hand to witness his feat and mentioned how proud she was of him. With five children, the winnings will go a long way.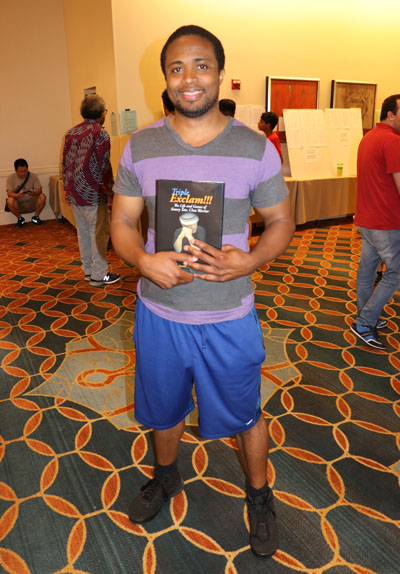 Scarlett with his copy of "Triple Exclam." He was able to play a couple of queen sacrifices in the tournament so the book was an appropriate gift.
New York was well-represented. From left to right: Pauline and Roderick Scarlett, James Jeffery, Alex Assivero, Stephen Colding, Justin Dalhouse
In the under-2000 section, Oliver Lombardi came out of a five-year hiatus to win with a stunning 8.5/9 score. As a result, he goes from a rating of 1890 to 2082! His last tournament was a lackluster performance at the 2013 World Open in Arlington, Virginia. He certainly had the tournament of his life and earned $12,000 first prize.
Open: Illya Nyzhnyk, 7.5/9
Under-2200: Marc Dicostanzo, Ernesto Malazarte, 8/9
Under-2000: Oliver Lombardi, 8.5/9
Under-1800: Gavriel Genger, Nick Groh, Sina Jahandari, Aaron Caveny, 7.5/9
Under-1600: Stephanie Gu, 8/9
Under-1400: John Flynn, 8/9
Under-1200: Avtandil Chanadiri, 8/9
Under-900: Seth Kessler, 8.5/9
Unrated: James G Mccarron, 8.5/9
Results: https://chessevents.com/worldopen/
PGN Games: https://www.thechessdrum.net/games/worldopen2018.pgn