Chess Championship weeks away in Kazakhstan
In three weeks, the 2023 World Chess Championship will begin in Astana, Kazakhstan with Russia's Ian Nepomniachtchi facing off against China Ding Liren. The match will be the beginning of a new era, one that saw Magnus Carlsen hold the title for ten years after wresting it away from (2013) and defending it against (2014) Viswanathan Anand. The Sergey Karjakin (2016) and Fabiano Caruana (2018) matches were tied after twelve games with Carlsen winning both in the rapid tiebreaks. This was followed by a one-sided match in 2021 with Nepomniachtchi who seem to lose his nerve after a tough loss in Game 6.
As the runner-up, Nepomniachtchi got the right to compete in the World Candidates tournament where he surged to victory. It was a sort of redemption for the 32-year-old Russian. However, Nepomniachtchi would not be able to get redemption against Carlsen. After the Candidate's tournament, the five-time World Champion confirmed that he would not defend his title against Nepomniachtchi. The world was in disbelief, but slowly, reality set in and the chess world pondered a world in the post-Carlsen era.
Arkady Dvorkovich makes ceremonial move during last championship match.
Photo by Eric Rosen/FIDE.
Ding Liren, the runner-up in the Candidates would serve as the "challenger" beating out Hikaru Nakamura after the American failed to clinch the berth. So it would be Russia vs. China, two nations with a long history. However, after the Russian invasion of Ukraine in February 2022, there was a concern about sponsorship. Most of the western nations were vehemently opposed to the invasion and corporations had severed ties with Russia. Sponsoring a Russia-China match was not going to be a logical choice to make.
Nepomniachtchi had to make a decision of his own and decided to give a rather diplomatic statement:
??????? ?????? ?????? ?????? ?????????. ?? ??????????? ?????? ??????. #???????? #saynotowar

— Yan Nepomniachtchi (@lachesisq) February 24, 2022
"History has seen many Black Thursdays. But today is blacker than the others."
After choosing to speak out against Russian aggression, he as well as other compatriots had to face constant backlash. Not to be outdone, the Chinese government offered support to the Russian regime making the match even more difficult to market. Argentina, Mexico and China expressed interest, but FIDE finally found a host country and made the announcement only a few months before the match was to begin.
The FIDE World Chess Championship 2023 will take place in Astana, Kazakhstan, from April 7 to May 1.

A new World Champion will be crowned, as Ian Nepomniachtchi and Ding Liren will battle to seize the throne left vacant by Magnus Carlsen's withdrawal.https://t.co/7Y5cwzrNdb pic.twitter.com/bY74yon1Am

— International Chess Federation (@FIDE_chess) January 19, 2023
Global Implications
Some argue that Kazakhstan is still in the Russian sphere of influence and shares the world's longest continuous land border. While the country has not had the chess success of its Central Asian neighbor Uzbekistan, it is poised to put on a great match in the face of regional conflict. The country recently hosted the World Rapid and Blitz in Almaty and once again, the world will be watching this match carefully. It has very important geopolitical implications.

Russia has seen a fallout of chess talent with several players playing under either the FIDE flag or switching federations. For example, the legendary Alexandra Kosteniuk will represent Switzerland (since 3 March 2023) while many others have chosen to migrate to Spain. These defections may be the final nail in the coffin of Russian dominance, now #3 on the FIDE list of countries (March 2023).
Garry Kasparov triumphantly hoisting the Winner's Cup
at the 2002 Olympiad in Bled, Slovenia
Photo by Jerry Bibuld
The country is trying to regain some of its luster after a 20-year drought of Olympiad gold and no open world champions since Vladimir Kramnik. The 13th World Champion Garry Kasparov was still playing when Russia won the last gold medal in Bled 2002, but has been a fierce critic of the Russian regime. He was also critical of the match.
I don't know what kind of title they can carry… so I mean… I definitely will not… will never consider the winner of this match, if this match takes place, as a 17th world champion. So just for me the only way for the 17th world champion to appear, someone to be added to the list that started with Steinitz, it's to beat Magnus Carlsen. Or if he walks away then it's another story, but as long as Magnus is playing, you can't consider any match a real world championship match.

~Garry Kasparov during an interview in Croatia (comment at 11:50 below)
Video by St. Louis Chess Club
Garry Kasparov: "The match between Nepo and Ding is a great show anyway, but it's not a World Championship match" https://t.co/LWZCMk14OF #c24live pic.twitter.com/RNAGsK320L

— chess24.com (@chess24com) March 18, 2023
Of course it is.
Implications on Title
Despite these statements by Kasparov, things are not so clear. Carlsen voluntarily gave up his title, and both Nepomniachtchi (2795) and Ding (2788) are currently #2 and #3, so it is not a complete farce. While he did not mention this, Kasparov abandoned the FIDE cycle and the split lasted from 1993-2006. He continued to play as the #1 player while Kramnik held the unofficial title. The reality is that Carlsen no longer has the drive for championship matches, an honor that only a chosen few get to experience. It is better to have a champion who wants to be the representative of chess than one who doesn't want to hold that honor.
"I am not motivated to play another match. I simply feel that I don't have a lot to gain, I don't particularly like it, and although I'm sure a match would be interesting for historical reasons and all of that, I don't have any inclination to play and I will simply not play the match."

~Carlsen during a 2021 podcast
It may be best not to discuss Carlsen any further (in this vein) unless he rejoins the cycle. It's not fair to elite players who have worked hard for decades just to get a shot at the world championship only to have a player who can continue on as the defacto world champion because he is the #1 player. It creates a terrible precedent for negotiating with future champions who may not feel the need to defend, no matter how arbitrary the reasoning is.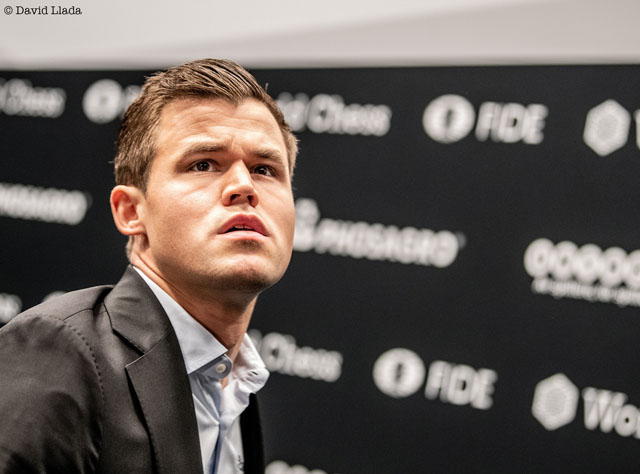 Magnus Carlsen
Carlsen's announcement not to defend was not for health reasons, a raging war, or a breakdown in negotiations but simply that he didn't feel like playing another match. Of course, he can make this personal choice, but champions should be expected to defend the title (unless there is an extenuating circumstance). If there is no such circumstance, then there should be consequences. These disruptions are (have been) devastating to the brand image of chess, its legacy, and the legitimacy of the world title. Carlsen's shadow will remain as long as he plays and remains the #1 player.
If we reflect, Carlsen confirmed his decision not to defend in July 2022 which was less than a year before the match was to begin. The chess world expected FIDE to be able to make announcements of sponsorship and playing venue within months of the announcement. Scheduling for major events is always done in a matter of years, not months. In addition to the best player not playing, this World Championship carried extensive political baggage that many sponsors simply were not available. Between Argentina, Mexico, China, and Kazakhstan, FIDE President Arkady Dvorkovich made the announcement about the €2 million match.
"As much as we would have loved to hold a world event in the American continent, the time difference would have seriously impacted the audience in this particular case. Kazakhstan is a thriving country with a flourishing economy and a privileged geographical situation, which made it perfect for hosting this match."

~ Arkady Dvorkovich, President of FIDE announcing the match
A New Era
Political uneasiness in Russia post-1990 may have contributed to the erosion of Russian dominance. Thus, a Russian victory may provide an impetus to throw support behind chess as they transfer to the Asian region. Being the global pariah, Russia will still be an albatross that Nepomniachtchi will have around his neck. He will most likely stay clear of comments on the Ukraine issue.
Some of the biggest "what ifs" will come if Nepomniachtchi wins. Will the Russian government use the victory as a way of reclaiming some of its chess glory? Will they use it to win a political argument? Will Nepomniachtchi (as champion) be in a difficult situation as a Russian citizen? These are possibilities, but a win by Ding will also send a message of Chinese might on the global stage. The country is already flexing its might economically, but a world championship in chess will certainly send a message about its tremendous power in chess. Regardless of who wins, chess is turning its attention more toward the east than the west.
It certainly is a new era and this match will have a lot of side notes. Very interesting to cover, perhaps even more so than the last championship match in Dubai… or even the last three matches. It will be the most interesting championship story since Carlsen challenged Anand for the title. Chess will move on just as it always has, and there are bright stars that want to shine on the horizon.
Astana, Kazakhstan