2022 World Rapid & Blitz (Almaty, Kazakhstan)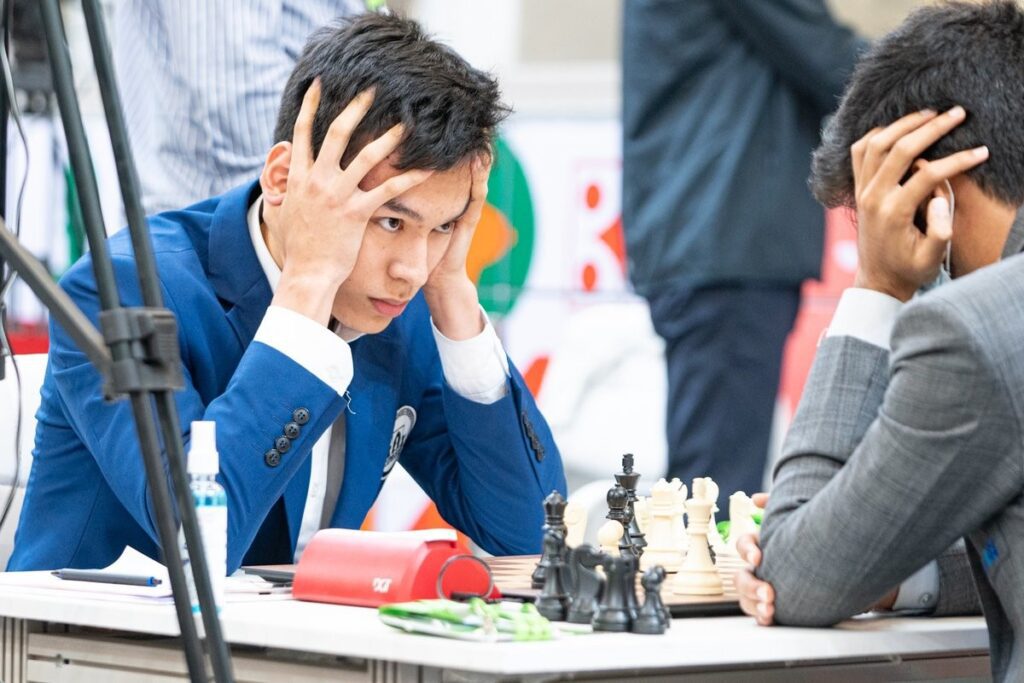 Defending world rapid champion Nordibek Abdusattarov of Uzbekistan represents the new generation of elite chess players. After leading his young team to Olympiad gold, will he be able to unseat blitz titans from around the world? Photo Maria Elmiranova
The 2022 World Rapid & Blitz Chess Championship has begun in Almaty, Kazakhstan with so many backstories preceding it. The main story is the participation of Magnus Carlsen and Hikaru Nakamura who just finished a classic gladiator blitz battle on chess.com. Nakamura won the event by the narrowest of margins (14.5-13.5) and will carry that momentum into the Almaty event. ChessBase India did a tour of the venue.
Chess by Sagar Shah/ChessBase India
Carlsen has recently pronounced that most of the top-level events should be held online, but arguably that would reduce the prestige of chess along with its social nature. There was also a very tentative handshake between Carlsen and Nakamura who are both being sued in a $100 million defamation case. Nary a word was said, but one could certainly understand why such a gesture was intriguing.
Magnus Carlsen ve Hikaru Nakamura birbirlerini farkediyorlar ve gülümseyip el s?k???yorlar pic.twitter.com/qKolILt224

— Sabri Can Onay Yontar (@sabopasha) December 25, 2022
Who's Missing?
Most of the top players will be in the field with one glaring omission… Alireza Firouzja. The French-naturalized Iranian has been a bit quiet. What is the real reason for the prodigy's absence? There is no definitive answer circulating in social media. He also skipped the Chess Olympiad. but of course, he will be paying close attention.
Ding Liren, Wesley So, Viswanathan Anand, Sergei Karjakin, Teimour Radjabov, and new father Levon Aronian are also missing. However, Abdusattarov is coming off of a convincing win at the Gashimov Memorial and will be looking to defend his rapid crown. Rameshbabu Praggnanandhaa and Dommaraju Gukesh are not in Almaty.
According to ChessBase India, "Pragg" is preparing for the 2023 Tata Steel and Gukesh is recovering from a lackluster Gashimov tournament. Nevertheless, India has a powerful contingent as pointed out in social media. Big things are expected out of Nihal Sarin, touted by Carlsen as one of the elite performers in quick formats.
We have 22 Indians at the @FIDE_chess World Rapid and Blitz 2022!

Read the curtain raiser:https://t.co/aDQz863WrD pic.twitter.com/YcUYNmrXJB

— ChessBase India (@ChessbaseIndia) December 24, 2022
Mix of Youth and Experience in Women's field
After winning 2nd place in the rapids and 1st place in the blitz last year, Bibisara Assaubayeva of Kazakhstan will have an entire nation behind her. Photos by Anastasia Korolkova
In the women's section, Alexandra Kosteniuk will defend her title and will be joined by powerful Russian compatriots Kateryna Lagno, Valentina Guinina and Aleksandra Goryachkina. All will be playing under the FIDE flag. China has only sent three players (TOTAL) and two are women. Tan Zhongyi will vie for the women's crown and will be joined by a talented 12-year-old Lu Miaoyi.
Humpy Konery and Dronavali Harika will lead the Indian contingent which also boast Olympiad players Tania Sachdev and Padmini Rout. The Ukrainian women will not have the Muzychuk sisters to compete but will be fielding five players including former women's champion Anna Ushenina.
You can catch the action of the 2022 World Rapid & Blitz event at the links below:

Official Site: https://worldrapidandblitz2022.fide.com/
Chess.com: site, TV broadcast
Chess24: World Rapid, Women's World Rapid, World Blitz, Women's World Blitz
Opening Ceremony