2021 World Chess Championship: Game #6
2021 World Chess Championship
Dubai, UAE (November 24th-December 16th)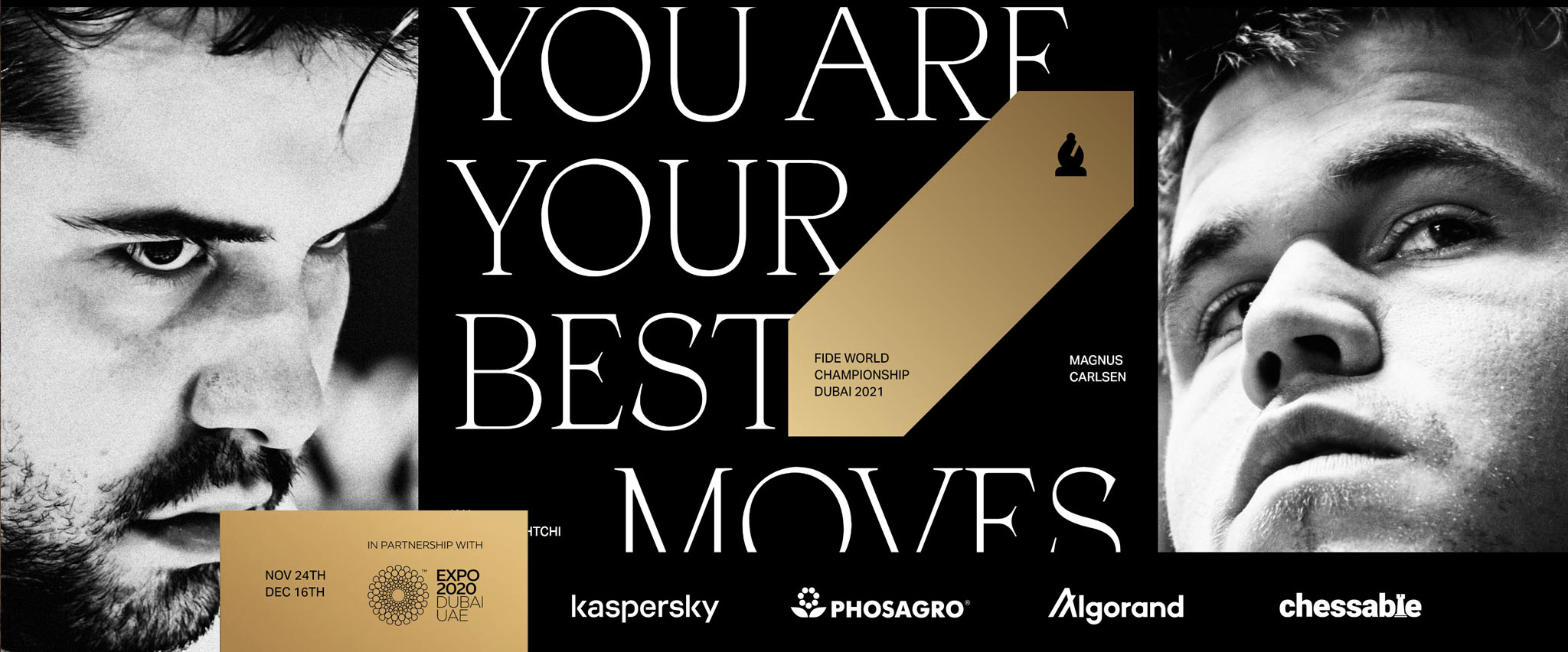 Game 6
Match Score: 3½-2½
Official Site:
https://fideworldchampionship.com/
2021 World Chess Championship: Game 6
Friday, 3 December 2021
Titanic struggle… breaks drought… set records
Today's #CarlsenNepo Game 6 was instructive for so many reasons. I'm not sure sponsors will understand how thrilling this record-breaking game was, but they got their money's worth in viewership. Absolutely fantastic! pic.twitter.com/KPgaBuuFHI

— Daaim Shabazz (@thechessdrum) December 4, 2021
After today's game, no one will complain about the level of chess being played in this world championship match. It was an absolute thriller as both players walked a tightrope to avoid pitfalls. The onus was essentially on Magnus Carlsen to prove that his offbeat opening could yield dividends. It took a record-breaking 136 moves, but the World Champion reeled in the full point against challenger Ian Nepomniachtchi. Instead of discussing the game in detail, we will go to the press conference to get the reaction.
Video by FIDE
Other records mentioned were that the game was won over a two-day period. The game ended past midnight for a total of 7 hours and 47 minutes, another time record. There were other championship facts given mentioned such as the previous six world championship matches starting with six draws. This match also started with five draws, but Carlsen broke the streak. There had not been a decisive game in a World Championship match for five years.
This begs the question… would we have gotten such a gift to history in another format? Could such a masterpiece be played in rapid or blitz? It's highly unlikely. Do we want to see more errors to obtain decisive results? That would be unfortunate. In addition, the fans would not have benefited from an unfolding tale of two wills grappling with the twists and turns of battle. It was like a dramatic play over eight hours.
Carlsen explained the tense moments during the press conference.
Photo by Niki Riga/FIDE
After the fifth consecutive draw, Carlsen was asked about the string of draws in championship play. He remarked that while draws can seem to be an annoyance, we have not crossed the rubicon where something drastic must be done. Of course, classical chess should remain a permanent fixture in World Championship and Game 6 is the reason why. Should rapid, blitz, and Chess 960 be part of the match? It is an interesting debate.
The game has many lessons and appeared to be several games into one. There was so much tension, but there is a lesson to be learned here. Even elite players commentating can miss ideas. Notice this moment when Fabiano Caruana and Danny Rensch suggest 80.Rg5+ as an only move just before Carlsen uncorked 80.Rxf7+!
Carlsen plays 80.Rxf7 and dives into an endgame with knight, rook, and three pawns vs. queen and one pawn!

Can he win this?? #CarlsenNepo pic.twitter.com/3yprbXyKxm

— ChesscomLive (@ChesscomLive) December 3, 2021
After 80.Rxf7+! Kxf7 81.Rb7+ Kg6 82.Rxa7, the masterclass had begun… two pieces and two pawns versus a queen. The engines kept saying the game was 0.00 equal, but as the pawns started to march forward, it became more difficult to maintain accuracy. Dutch Grandmaster Anish Giri gives commentary on this game that will go down in the ages as a masterpiece.
Video by GM Daniel King
Video by FIDE
Video by chess.com