The African beat of the 2016 World Open!
The World Open is the biggest stage of American chess where the stars here and abroad come to vie for the $225,000 guaranteed prize fund. The landscape of chess in America has changed over the last 40 years, with a number of bright young stars mixed with a potpourri of international Grandmasters and aspiring prizewinners. The playing hall is dotted with a number of scholastic players mostly with roots from China and India.
The fact that the tournament has gotten younger is in contrast to the stereotype of old men looking through bifocals and peering over the board. The landscape has also gotten richer with an array of colors, figuratively and literally. While the game of chess has gone back to its "Asian" roots, what role do the sons and daughters of Africa play in today's game of chess? The World Open is usually a stage where the top players of African descent come to test their mettle.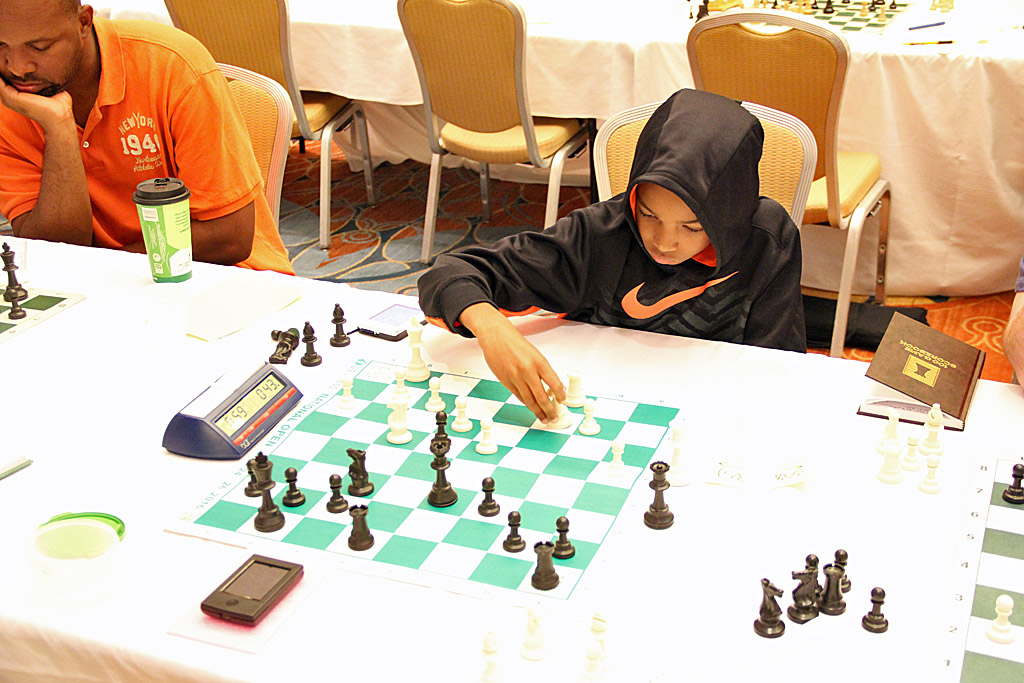 Nine-year old Prince Eric Bopala (Montreal, Canada) got 7/9 in under-1800.
His parents are from Central African Republic.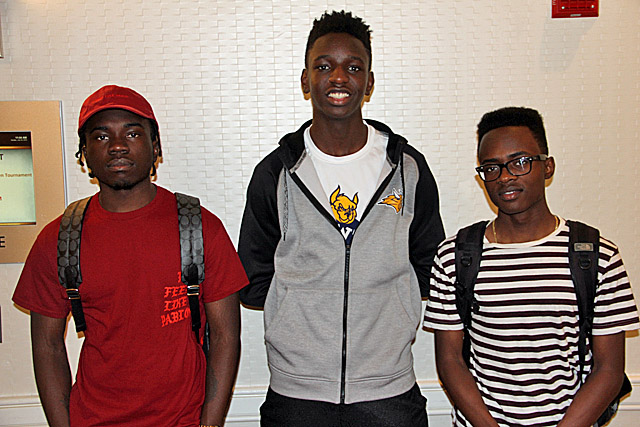 New Yorkers FM Justus Williams, Shawn Swindell, FM Josh Colas
of Webster University.
Darrian Robinson is a 2016 graduate of the University of Chicago.
Zimbabwe, Trinidad, Nigeria, Canada, Kenya, Jamaica (and others) all came to play. National champion FM Kevin Cupid was on hand as well as Jamaica's Duane Rowe. While Nigeria didn't have IM Oladapo Adu, there was FM Oluwafemi Balogun representing the green and white. Zimbabwe had IM Farai Mandizha representing. Spanish-speaking countries have a strong African presence and William Del Castillo of Ecuador and IM Dionisio Aldama of Cuba were present. Majur Juac of South Sudan has been a fixture in this tournament and has a personal story that will warm the hearts of anyone with one.
Players such as Noah Fields from Seattle Washington and New York contingent were hoping to make a presence. FMs Josh Colas and Justus Williams were in the field representing New York. Also from New York are the women who: Darrian Robinson, Rochelle Ballantyne and Adia Onyango. Then there are the up-and-coming talents like Tyrone Davis III.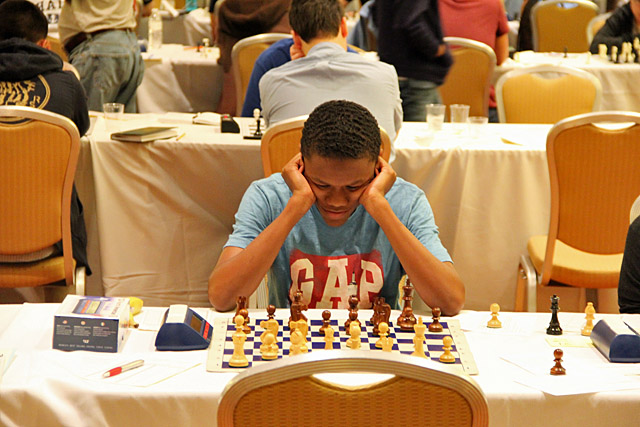 15-year old Tyrone Davis III of New York is a rising talent and
is about to earn his National Master title.
Joshua Alexander (Oklahoma) got 7/9 in under-2200.
FM Oluwafemi Balogun (Nigeria)
What does all of this mean? It means that chess continues to expand into all demographics which is a great marketing tool for its promotion. While Black players make up a small percentage in open tournaments, some of the performances are notable despite low numbers. Onyango broke the 2000 rating barrier for the first time as did Ian Wiggins who got 7.5/9 in under-2000.
Joshua Alexander got 7/9 in under-2200 losing a heartbreaking last round game to the winner. Nine-year old Prince Eric Guipi Bopala got 7/9 in under-1800. Morrison and Colas got IM norms in Open section. The point here is that chess supersedes all boundaries of ethnicity, nationality, class, income, education and religion. While neanderthal ideas that certain ethnicities cannot accomplish intellectual feats should be put in the dustbin of failed eugenics theories, they persist.
With the changing of the guard and many new players emerging, it remains to be seen if the current crop of players will break into the ranks of Grandmasterdom. In America, only Maurice Ashley has earned the coveted title back in 1999. Colas has one GM norm and aspires to be a professional player in the future. Players like Justus Williams (two IM norms) and Tyrone Davis also show tremendous promise. Veterans like FM William Morrison (three IM norms) are still in the game.
FM William Morrison showing his win over GM Irina Krush
clinching his 3rd IM norm.
Tom Murphy (Chicago) blitzing with "Brooklyn Jerry" (New York)
All photos by Daaim Shabazz.
There is something to be said about the hustlers who come from around the country to play blitz for stakes. Groups of players from Chicago, DC, Maryland, New York, Atlanta and Detroit come to Philadelphia for marathon blitz sessions in the grimy confines of the skittles rooms. Players come toting all types of fancy nicknames and a swagger like no other. While these self-proclaimed "Street Masters" prefer blitz to the longer form of tournament chess, they are certainly entertaining and their passion is inspirational. It would remind you of the same energy seen on the basketball courts in any major city.
Jonathan Corbblah (right) was a regular attraction in blitz battles.
Corbblah's father is Ghanaian.
Blitzing with Peter Pritchett of Memphis, Tennessee
Corbblah (left) with Herbert Carswell.
All photos by Daaim Shabazz.
Jonathan Corbblah, a professional gameshow player, was giving someone odds of five minutes to his 40 seconds for $5/game. Others like the DC legend Tom Murphy opted for a more sane approach of 3:3 games. There were challenges of $100/game, but of course, none of these high stakes games could take place before the red-coated security came to crash the party. That would be for another time. Certainly, there is flair added to the chess halls when colorful personalities come to the World Open. At what point does the public learn that chess has such a far-reaching social impact on so many demographics? One day they will learn.