Darrian Robinson in the news!
The Chicago Tribune ran an interview with Darrian Robinson who The Chess Drum will have read about. Now a rising 19-year old junior at the University of Chicago, she has a well-defined path to success in the public sector. Last summer, she interned at the White House Office of Public Engagement and Intergovernmental Affairs.
The daughter of Attorney Cenceria Edwards, the Public Policy major still has ambitions in chess and still competes in tournaments in her native New York. One of the most defining contributions that chess made to her growth was the exposure it gave her.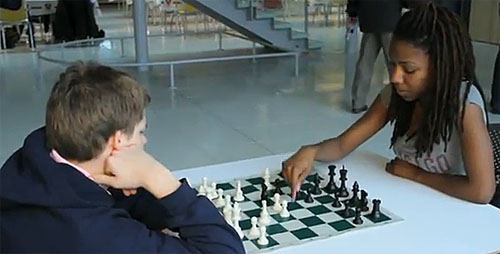 Darrian Robinson analyzing after
one of her games at 2012 Pan-Am Intercollegiates.
She has also told this story to The Chess Drum audience.
I think being the highest-rated African-American female chess player in the U.S. has helped me stand out from the crowd. It's something most people don't have under their belts. It helped me get into college. I remember the person who read my application to the University of Chicago came up to me during the meet-and-greet for incoming first-year students, and he remembered me immediately and that I played chess competitively.
A very candid interview. We are very proud of Darrian!
Read it HERE!!
Chess Scoop (Interviews @ Pan-Am Intercollegiate)