Williams gets 2nd IM norm
FM Justus Williams
Last year,
Justus Williams
earned his first FIDE title
after losing out on tiebreaks to
FM Akshat Chandra
at the North American Youth Chess Championship (NAYCC). Williams earned the FM title and returned this to the NAYCC year with the intent of completing his goal of earning the IM title. In the end, he tied for 1st again, but came in second on tiebreaks again. Frustrated at not earning the title, he did notch his second IM norm.
Williams was tied with Alexander Katz and Andrew Tang on 6.5/9. However, Katz had the better primary tiebreaks of head-to-head match by drawing Williams and beating Tang. Williams drew both and of course Tang got a loss and a draw.
Williams finished his sophomore year at Bronx School of Science and Technology and is continuing his march toward his goal of becoming a Grandmaster. He will take his talents to St. Louis to compete in the U.S. Junior Closed where he will face nine other top juniors in the country.
Besides the undying support of his mother Latisha Ballard-Williams and his grandmother Pamela "Nana" Ballard, he has enlisted the support of the entire New York chess community including ChessNYC and the MacEnulty Foundation. Certainly all eyes will be on him in the U.S. Junior Closed which begins on tomorrow.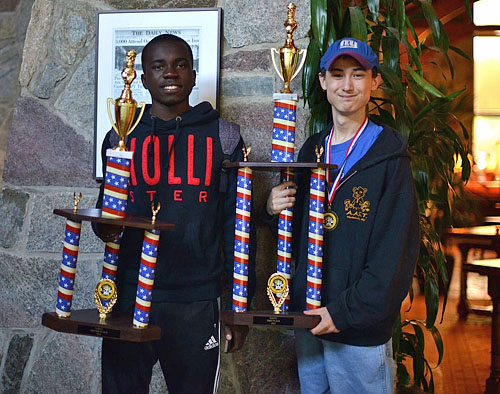 Justus Williams and Alexander Katz
Official Website: https://www.chesseducators.com/
Results: https://chess-results.com/tnr137867.aspx?lan=1&art=4&wi=821