When it was announced that Africa would be one of the hosts to a leg of the Grand Chess Tour (GCT), there was a bit of a celebration throughout the continent's chess community. Magnus Carlsen will compete May 8th-12th in the Rapid and Blitz event in Abijdan, Cote d'Ivoire. He shall be the first sitting World Champion to compete on the African continent.
Magnus Carlsen will compete in
GCT Rapid & Blitz in Abidjan, Cote d'Ivoire.
Photo by David Llada
Arkady Dvorkovich made a pledge to spread elite chess to other continents besides Europe. Speaking in Nairobi, Kenya during his campaign Dvorkovich stated,
"We need to change the geographical location when it comes to big tournaments, I will ensure that the game is staged not only in Russia and Europe but to other regions like Africa, Asia, Latin America and the Arab speaking countries to bring diversity." (link)
This is something we have sought in The Chess Drum community for two decades and is the reason the site seeks more inclusion of the African Diaspora. Nevertheless, others have had similar ideas including former World Champion Garry Kasparov. It was actually Kasparov's endorsement of Cote d'Ivoire combined with the passion of Dr. Essis Essoh that help to create this initiative. The country had hosted the CIV Rapid and Blitz, an event modeled after the Grand Chess Tour's Rapid and Blitz event. It was a rousing success.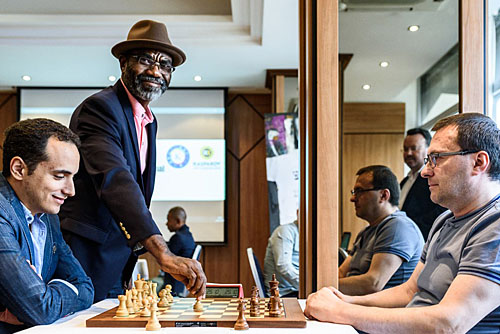 Dr. Essoh Essis, President of the Ivorian Chess Federation will host one of the rapid and blitz events as part of the 2019 Grand Chess Tour. It will be the first elite event held in Africa since the 2004 FIDE Knockout in Tripoli, Libya. Egypt's Bassem Amin (left) has earned a wildcard nomination to participate. Photo by Alina L'Ami.
There were questions swirling around in social media whether a sitting World Champion had actually played in Africa. There are no known records of Emanuel Lasker, Jose Capablanca, or Alexander Alekhine ever visiting Africa. Apparently, none of the Soviet champions (from Mikhail Botvinnik to Boris Spassky) had visited there for chess.
There have been a number of visits by Viswanathan Anand who visited South Africa, Botswana, Kenya and Tanzania. These were visits where he addressed the business and chess communities and conducted chess exhibitions. There was no chess competition or matches in which he participated. Anand has (by far) been the most conscientious sitting World Champion when it comes to promotion of chess in Africa. It has meant a lot to the continent.
Anand giving simultaneous exhibition to schoolchildren in Durban, South Africa.
Photo courtesy of Keith Rust
Tshepo Sitale, then-President of the Botswana Chess Federation,
receives Viswanathan Anand. Photos by Booster Galesekegwe
Reception committee at Nairobi International Airport from left – WFM Sanjana Deshpande, Chess Kenya Chairman Benard Wanjala, GM Viswanathan Anand, Satish Deshpande, Sumit Deshpande & Sandhya Deshpande. Photo credit Allan Victor of Arongoey Photography. (Kenya Chess Masala)
Prior to Anand, Anatoly Karpov visited South Africa in 1993 as part of the International Solidarity Conference featuring 500 delegates. He conducted lectures and simultaneous exhibitions. This was during the time that the world crown was being disputed between FIDE and the PCA. Incidentally, Karpov was the guest of the African National Congress (ANC) and President Nelson Mandela!
Bobby Fischer played in Sousse, Tunisia in 1967 during his rise to the 1972 crown. Rustam Kasimdhzanov was not yet a sitting champion when he won the FIDE Knockout Tournament in Tripoli, Libya in 2004. At that time, FIDE was still divided and that tournament determined the FIDE World Champion. Carlsen actually played in Libya as a President's nominee, but was eliminated in the first round by Levon Aronian.
It just so happens that one former World Champion has played in Africa, but it was not during his reign. Dr. Max Euwe, 5th World Champion (1935-1937), played in the Johannesburg Open in 1955. He returned in 1974 in the capacity of President of FIDE on a three-week fact-finding mission to evaluate allegations of racism within the chess community.
(Note: Months later, both South Africa and Rhodesia were expelled during the 21st Olympiad in Nice, France in 1974. See olimpbase reference.)
Keith Rust also weighs in…
I remember playing against Dr Max Euwe when I was still a schoolboy, in a simul held in Durban in 1974 (my game ended in a draw). In 1974 Dr Euwe was touring Southern Africa on a fact finding mission, when he was the president of FIDE. Dr Euwe also played at the Johannesburg international tournament in 1955 and gave numerous simuls throughout SA in 1955.
Dr. Max Euwe's giving a simul on his trip to South Africa.
Photo courtesy of Keith Rust
Also according to Rust, Euwe played in 12 simuls with a score of +259=34-11. While that is an impressive score, it would be interesting to know who the winners were!
So Magnus Carlsen stands to be the first sitting World Champion to compete in Africa and perhaps set the stage for more professional activities on the continent. For decades, it had been thought that African players must travel overseas to play in Europe. Many have done so.
Players like Bassem Amin (GCT wildcard) and Ahmed Adly, both of Egypt, have represented the continent very well. Amin stands as the only African player to have reached 2700. He's currently at 2706 on the live rating list. However, conventional wisdom would say that it may be more sustainable for FIDE to give African players more access to professional chess on the continent itself.
The Rapid and Blitz in Cote d'Ivoire has a chance to be a ground-breaking event and the world will be getting their first glimpse into African chess organization. While South Africa missed getting the Olympiad bid for 2018, there is hope for the future. Given the success of recent events, the Ivorian Chess Federation will spare no effort to ensure that this event will be the standard by which other GCT tournaments are measured.
3 Responses to "Magnus Carlsen in Africa, May 8th-12th!"
Concerning the issue of South Africa, here is the account from Olimpbase:

At the FIDE congress meeting in Helsinki, 1973, the decision had been made to investigate whether or not the treatment of coloured chess players in Rhodesia and South Africa was in violation of the principles of FIDE. Dr. Euwe went to both countries and prepared a report which was circulated at Nice (France). Nowhere in his report does he offer any evidence of discrimination against coloured players in either country, neither does he even suggest that he feels either country should be excluded from FIDE.

On the agenda of the Congress meetings at Nice was a proposal introduced by Moroccan Chess Federation to exclude both countries. Their proposal was signed by the representatives of Tunisia, Syria, Iraq, Jordan, USSR, Hungary, Bulgaria, Yugoslavia, Mongolia, Poland, Czechoslovakia, Argentina and Cuba. From reading Dr. Euwe's report one might have expected him to be completely opposed to this proposal and he is a powerful enough figure for his views to carry much weight with Congress. But there was another issue at stake. The office of president was open to re-election and opposing Dr. Euwe was vice-president R. Mendez from Puerto Rico.

At the start of the Olympiad it was thought that Euwe was likely to lose the election as Mendez had the support of many of the smaller countries. But the Soviet Federation saw a way to use the situation to their advantage – they offered Euwe a deal whereby he would get the votes of the Eastern Bloc countries if he supported the exclusion of Rhodesia and South Africa. Euwe agreed. As soon as the exclusion was announced South Africa withdrew from the Olympiad.

Interesting article with so much history.

on 26 Mar 2019 at 9:15 am

3

Makhosi Nyirenda

powerful, inspiring educative read!
Leave a Reply!