Viswanathan Anand remains one of the few world champions in history and perhaps the only sitting champion, to visit the continent of Africa. "Vishy" Anand visited South Africa, Botswana, Tanzania in the past and he will return to Africa when he visits Kenya next week for a gala dinner during the Zone 4.2 championship. He will arrive in Kenya on 21st April 2017 for a 4-day visit. These visits provide quite a boost to the continent and will certainly invigorate a beleaguered Kenyan chess community. According to chessmasala.com,
Two gala dinners have been organised which are expected to be well attended by corporate magnates, chess players and members of the large chess loving South Indian community.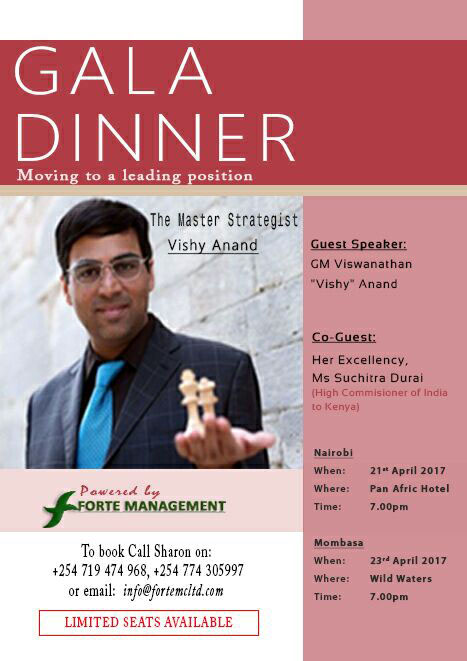 Kim Bhari, an archivist of Kenyan chess memorabilia produced a photo of John Mukabi playing Anand during the 1988 Chess Olympiad in Thessaloniki, Greece. Bhari found this in the December 1997 issue of KENCHESS.
Link: https://www.kenyachessmasala.com/2017/04/gm-viswanathan-anand-visit-kenya.html
3 Responses to "Anand to visit Kenya during 4.2 subzonal"
Former World Chess Champion GM Viswanathan Anand lands in Nairobi

GM Viswanathan Anand with his Maasai "shuka".
Photo credit Allan Victor of Rongoey Photography.

Link: https://www.kenyachessmasala.com/2017/04/former-world-chess-champion-gm-viswanathan-anand-lands-nairobi.html

on 22 Apr 2017 at 6:56 pm

2

Mikhail Patzerinski

He just came in third (combined score) at the Korchnoi chess challenge. Third in classical and second in blitz!

…and he is a true ambassador. He is probably the only World Champion who acted as a populous figure to promote chess in places that usually don't get any attention. Kasparov has done it decades after his reign, but no other champion served as a global ambassador of chess as Anand has done.
Leave a Reply!