South Africa welcomes Vishy Anand






African chess experienced a brush with greatness the past week. Viswanathan Anand's recent visit to Africa has been the subject of conversation this past week. What was not emphasized in the media was his short stop in the Kwa-Zulu Natal province in South Africa prior to Botswana. The World Champion stopped in Durban, a city with a large Indian population. Anand was welcomed by the Consulate General of India in South Africa.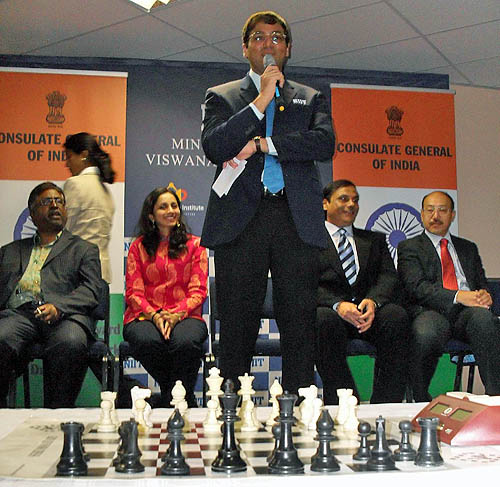 The Consulate General of India welcomes the World Champion.
Photo courtesy of Keith Rust.
Keith Rust was on hand and he gave this account:

After the speeches were over Vishy gave a simultaneous exhibition against 8 of the strongest juniors in KZN. Players included the South African under-12 and under-14 ladies champions, as well as members of the South African under 16 team. Strong resistance was expected, but after only an hour or so the exhibition ended with a full score to Vishy.

The previous day Anand was whisked off to Mandeni College, about an hour and a quarter's drive from Durban, where he met with education officials and a group of learners. There was also time for some chess, with a simultaneous exhibition versus about 24 children.
Anand giving simultaneous exhibition to schoolchildren.
Photo courtesy of Keith Rust.
What is clear is that Anand's visit will have a lasting effect on the children in South Africa, particularly the young Indians. Of course, Anand is a universal figure and is admired by many. His selfless expressions are what has been missing in chess the past three decades. With all the rankling and fighting within the World Championship cycle, Anand stands and an able ambassador and will be known as champion that help to unify the sport of chess.
Source: https://mysite.mweb.co.za/residents/keithru/anandvisit.html