Reflections of 2017 St. Louis Rapid/Blitz
Since the inception of The Chess Drum, I have written on hundreds of events. However one of the most rewarding experiences is to cover an event live. Being present gives access to the excitement in the atmosphere, the away-from-the-board drama and the personal interactions with players. It is one of the the factors that make covering live events so rewarding and also challenging.
Interviewing Levon Aronian after the closing ceremonies.
Photo by Peter Doggers
For example, I have covered five Olympiad tournaments live (2014, 2012, 2008, 2006, 2004) and it is by far the most challenging event. There are so many players and so many teams that a journalist literally has to devise a strategy of what they will focus on each time of the day. For me, I have to shoot photographs, set up and conduct interviews, file stories and handle social media.
When covering events at the Chess Club and Scholastic Center of St. Louis (CCSCSL or St. Louis Chess Club), it is more manageable given that the event is confined to the beautiful venue. While the building that houses the club is a bit cozy, it is well-managed and the staff very professional. I have covered perhaps five or six CCSCSL events and have visited the club on a few other occasions while visiting my centenarian great-aunt in E. St. Louis, Illinois.
THIS time there was something a bit different. The media was buzzing about Garry Kasparov's "return" to professional chess. I knew better. There is no way the 13th World Champion would endanger his legacy by jumping back into the shark-infested waters of professional chess. Nevertheless, him playing in a competitive event adds intrigue and I decided to attend a couple of days.
Garry Kasparov making his grand entrance before the round.
Photo by Daaim Shabazz
The many faces of #GarryKasparov at the #STLRapidBlitz pic.twitter.com/8ShRQXZono

— SaintLouis ChessClub (@CCSCSL) August 18, 2017
I must admit… St. Louis Chess Club has been so successful that it may have already outgrown its beautifully-renovated building in the Central West End area. The place has a wonderful ambiance and every square inch has been optimized to enhance one's experience. In addition, there are always plenty of blitz games going on outside the club.
Ironically, many of these players are oblivious to the world-class players walking into the club. That is what makes chess such an enigma. I played a stately-looking young lady in a game who shared that she was from Nigeria. It was an interesting game that made it into the endgame… although I gave her one takeback. The place is a veritable magnet of personalities, far and wide.
Impressions at CCSCSL
CLICK to see larger images. Hover to get descriptions.
All photos by Daaim Shabazz (unless otherwise stated).
When I covered the U.S. Championship in April, all the journalists had was a long table… and wherever we could sit our computers. I missed the 2017 Sinquefield Cup, but before coming to the Rapid & Blitz, I was glad to learn that journalists were being placed in one of the three "chess houses" owned by the Sinquefields. These buildings are literally 1-2 minutes walk from the club and the Kingside Diner, a chess-themed eatery also owned by the Sinquefields.
With Elton Arrindell, a friend from grad school
at the Kingside Diner. He works for the State of Illinois.
I met a close friend in the Central West End and explained the ongoing activity with the world's top players. We watched a bit of the live broadcast before heading to the Kingside diner next door. He showed me pictures and video of his family back in St. Maarten. Elton, his marathon-running lawyer wife Geri, and two children Zachary and Zoe live only minutes away from the club.
Elton knew Rex Sinquefield because his son is in the Boy Scouts and Rex has made handsome contributions to the local troop. My friend knew the area well and had eaten at the Kingside diner, but never had any exposure to chess. It was interesting to watch my friend take an interest in the atmosphere. What can we do to make chess more than something nice to pass by on the street?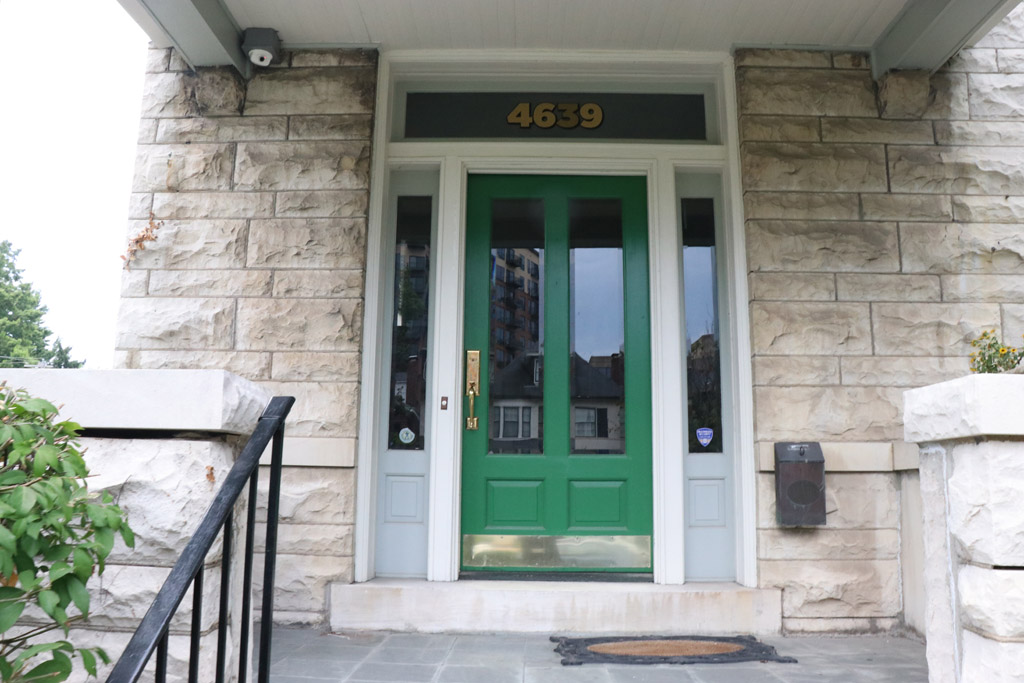 The Chess House… the place where fun happens after hours!
The chess houses may be the journalists' haven, but it also doubled as a place of bughouse battles, drinks and laughter. It is almost unimaginable to see Levon Aronian and Sergey Karjakin playing bughouse, but they holding court beating everyone in sight. Aronian is one of those persons easy to like. Even when he's talking trash, he does it in such a loving way that you cannot possibly get upset at his sarcasm.
Here I will recount some of the things that stood out in the few days at the Grand Chess Tour event. These five points are not in order of importance.
Seeing Triple Exclam sharing space with Reality Check and Play like a Girl!…
During the 2017 U.S. Chess Championships, I appeared on the live broadcast and sales spiked immediately. Copies of Triple Exclam have been available at the St. Louis Chess Club and the profile of the book is buoyed by the prestige of the venue. Coming into the club and seeing the book displayed with Alisa Melekhina's Reality Check and Jennifer Shahade's Play like a Girl! is interesting because all three books highlight growth segments in chess.

Reality Check (Alisa Melekhina), Triple Exclam (Daaim Shabazz),
Play Like a Girl! (Jennifer Shahade)

Taurus Bailey, Maurice Ashley's manager

Breakfast with Ashley and his manager Taurus Bailey…

Not too many better things to do than to hang out on a Saturday morning at a coffee shop. I had met Taurus for the first time the previous day after years of communicating via Facebook. Maurice had just come from a workout and joined us at a Starbucks. We talked about old chess times, martial arts, Triple Exclam, the state of chess and his pending trip to Jamaica.

Maurice even shared a couple of Emory Tate stories. Back in 1988, Emory had come from Baltimore and showed up at his Brooklyn doorstep urging him to come with him to play in Chicago. What followed was an eventful 16-hour drive from New York to Indiana to Chicago. Maurice recalled Emory fading at the wheel, but they made it to Elkhart, Indiana. It turns out that Maurice was smitten by one of Emory's four gorgeous sisters, but they had to get to the tournament. It would've been good to have this episode as part of the Tate biography!

Observing fellow journalists…
Chess journalism is a very small community of loyalists of many different backgrounds. Some report for personal websites, others report write for chess organizations while a few report for mass media outlets. There were not many in the press corps. John Henderson of Scotland was reporting as well as IM Eric Rosen, who was handling social media for U.S. Chess. I also met Isaac Steincamp of Chess Summit. While the Rapid & Blitz is impossible to cover round-by-round, chess.com reporters Mike Klein and Peter Doggers teamed with Mario Emelianova for a series of wonderful daily reports. Sitting next to them, it reminded me of other press rooms I have been in. Chess journalists are basically chess players who like to extol the excitement and sporting value. It is good to see journalists working to promote chess in a positive light. Mike always briefs me on press room issues. 🙂

Peter Doggers and Mike Klein interviewing Sergey Karjakin.
Photos by Daaim Shabazz.

One may not appreciate the process, but…

…can appreciate the final product!

Video by chess.com

Watching top-level players in action…
While I'm truly not starstruck when I see top level chess players, I can appreciate their accomplishments and emotional diversity they bring to the game. You have Viswanathan Anand who looks like the prototypical engineer, has a even temperament, but has the chess style of an assassin. Garry Kasaparov is a torrent of energy and it shows in his outwardly expressive manner. It is also interesting the way the players interact with the fans.

Levon Aronian seemingly never refuses an autograph.
Photo by Mike Klein.

Nakamura has one of the largest fan bases in the world and is much more engaging than his reputation. Fabiano Caruana gives the impression that he doesn't realize he is a top five player. He moves easily among all types of people and seems happy to pose for selfies with gushing fans. David Navara is perhaps the most polite player on the circuit. He presents himself with a formality and humility that is very refreshing. I enjoyed a short chat with him. On the other hand, Kasparov eschewed the crowds and slipped away quickly after the games were done. Very little fan interaction except in the signing of his new book, Deep Thinking: Where Machine Intelligence Ends and Human Creativity Begins.

Finally, I also got to see top players playing bughouse! I was actually a fly on the wall (pun intended). 🙂

GM Bughouse… Karjakin and Aronian vs. Moradiabadi and Akobian.
Very interesting scene folks!!

African donations… One statement that caught my attention was when Kasparov said he would donate his winnings to further chess development in Africa. Of course, many will know that Kasparov has been active on the continent promoting chess with his Kasparov Foundation for Africa with Graham Jurgensen as his Executive Director. He has made inroads, but progress has been rather gradual. Politics aside, it shows that his pronouncements during the 2014 FIDE Presidential campaign have continued. In a continent that finds difficulty in raising sponsorship, such help by a high profile player is more than the typical speech and giving of a simul. No other organization is furthering initiatives in such a way.
The five areas of focus are…
Grand Tour Chess… I have never had a conversation with Rex Sinquefield, but if I did I would ask him about the variety of the field. In the latest New in Chess (2017/5) 22-year old Indian Grandmaster Vidit Gujrathi (2693 ELO) was asked, "If could change one thing in the chess world, what would it be?" He answered, "Have more tournament where the top players don't just play amongst themselves. It's more fun to see a mixed field." Indeed.


In a recent interview, GM Vidit Gujrathi of India advocated for a more diverse field in the elite circuit.

There have been some rumblings about the homogeneity of the elite tournaments… same players, different venue. To the credit of the Grand Chess Tour, they continue to try new format and the new Rapid & Blitz (Yasser Seirawan calls it "R&B") was a smashing success bolstered by Garry Kasparov's return. The Sinquefield started in 2013 with four players and has blossomed into ten players. They have added the Paris and Leuven events after Norway Chess pulled out after one year.

There are even discussions about expanding the tour even more. It will hopefully include a variety of players. Ding Liren played in last year's Sinquefield, but apart from his inclusion, the field represents the same combination of players. None of the young Indian talent, who by some accounts will dominate the chess landscape in the near future. Anand will certainly need a replacement.

Venue Layout… The tournaments were splendid and got a lot of visitors. The Rapid/Blitz ended up getting 1 million unique online viewers. In terms of the venue layout, the organizers opted for the long as opposed to the square. It apparently provides more space for the spectators and players, but it appears that the room has a limited capacity.

Crowds were packed deeped into the viewing area.
Photos by Daaim Shabazz

Packed at #STLRapidBlitz

It's like Moscow '84 in St. Louis!

Except you can't pay entrance fee in rubles, only bitcoin.@GrandChessTour pic.twitter.com/Jr470sPHCA

— Mike Klein (@ChessMike) August 18, 2017

Another problem was providing space for journalists who were covering the tournament. Grand Tour events have continued to grow making space more limited. At the Rapid & Blitz, only two photographers were allowed behind the ropes, understandably so. There simply wasn't enough room for more photographers.

There were some avoidable problems. One particular arbiter stood in front of cameras (and people) and waved his hand flippantly when he was told he was blocking the view. There were other locations he could've stood. With this attitude, you run the risk of alienating the fan base who are paying admission fees. People paid money to see the action and arbiters have to understand this.

WIM Ivette Garcia Morales of Mexico handled the Spanish broadcast with GM Alejandro Ramirez.
Photo Ivette Garcia Morales (Facebook)

Commentary… Great as usual. The Spanish team with GM Alejandro Ramirez and WIM Ivette Garcia also did well. Although I don't speak Spanish, I watched the broadcast for 20 minutes just to see how much more expressive Alejandro Ramirez is in Spanish than in English. Yasser, Jennifer Shahade and Maurice Ashley handled the daily broadcasts with class.

There were still the tired comments about the use of engines. Of course you have to use engines to get through variations quickly and avoid making obvious errors. It is a live show which means you have less time go through lines accurately. What is worse than a 1200-rated player (with an engine) pointing out that a Grandmaster missed a tactic? It's an avoidable nightmare.

The feature of viewers calling in is always interesting because it shows how far the coverage reaches. It is common that fans are following their favorite players and there is usually several calls as far way as India. The quizzes and the puzzles are welcome features and time fillers and of course Yasser's stories are jewels.

Certainly there are complaints about delivery and style, but one cannot deny that Jennifer, Yasser and Maurice make up one of the best commentating teams out there. Of course, we should dispense with boorish insults as Steve Giddins was roundly rebuked for some improper comments about Jen.

I don't know why the US bothered waterboarding Islamist suspects, when they could just have played them tapes of Jennifer Shahade's voice.

— Steve Giddins (@GiddinsSteve) August 14, 2017

Ugh.

Giddins offered no apology and even after her brother IM Greg Shahade demanded that he remove this tweet, it is still public meaning he is unrepentant. Not sure he knows of Jen's father FM Michael "Iron Mike" Shahade. He definitely looks like he could've been someone's bodyguard. Giddins would do best to stay clear. Seriously.

Michael Shahade would not be pleased with Giddins right now.
Photo by SugarHouse Poker Blog
The tweet was wrong on a number of levels. Interesting how people can post such comments in an open forum and not realize the damage, not only to the person targeted, but to their own reputation.
So another event in the books. Mike Klein made the comment that I always manage to pop in for a couple of days. Alas… it is the life of an academic. In the midst of my faculty meetings, it is difficult to string days together. However, the two days on site is more valuable than none at all. It's always good to see the action and to interact with elite players, chess fans and journalists.
I was able to conduct a few interviews including with winner Levon Aronian. It is my third interview with Levon and each time it was after a glorious result. You have to get players when they're in a good mood. Certainly the closing ceremonies is when you can get players to open up a bit.
Posing with Maurice at his Hall of Fame plaque
Photo by Daaim Shabazz
OK… some of you are probably wondering about my 102-year old great aunt. I usually include a photo of her at the end of my St. Louis reports. Well… unfortunately I ran out of time to see her. On the day I was leaving, it was too early for her. She makes 103 in November so perhaps I will visit her and play in the Thanksgiving Open! Certainly the St. Louis Chess Club is the place to be and I'm already looking forward to the next event.
Until next time…
…keep the beat going!