Nakamura eyes 2016 Candidates
Hikaru Nakamura recently won the 2016 Gibraltar International after defeating Maxime Vachier-Lagrave in a playoff match. Both ended on 8/9 after a thrilling finale featuring wins by both players. If there were a Chess Oscar being awarded for 2015, Hikaru Nakamura would be on the short list of candidates… very short list. He played consistent chess in the campaign with wins in Gibraltar, Zurich and tying for first in the FIDE Grand Prix series. He also won the U.S. Championship, placed joint 2nd in Norway, 2nd in Sinquefield, won Millionaire Chess Open before "middling out" in London and the Grand Chess Tour.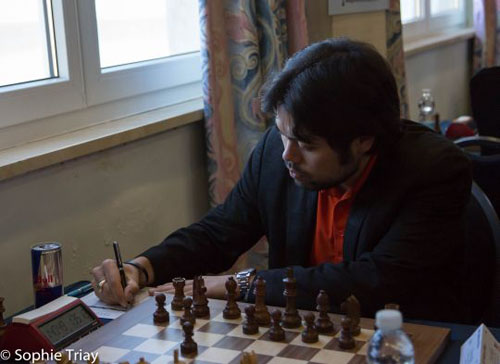 Hikaru Nakamura shown here winning 2016 Gibraltar and
now preparing for the biggest tournament of his life.
Photo by Sophie Triay.
Nakamura had a solid result in St. Louis including a stunning attack against Wesley So. Photo by Daaim Shabazz.
In 2016, Nakamura has had his mind on the Candidates Tournament which starts March 10th in Moscow, Russia. The Gibraltar was a warm-up tournament for his quest at the championship crown. He qualified via FIDE Grand Prix and will now faced the biggest challenge of his career. It has been an interesting journey for the 28-year old.
For a long time he was a pariah in the chess world… the "bad boy of chess". Brash and sometimes irreverent, he even dared to play 1.e4 e5 2.Qh5 against top Grandmasters. However, in recent years he has matured and his fan base has steadily grown. Likewise the number of skeptics have shrunk. Where are those who stated he'd never make 2700 because he was only a fighting blitz player?
Perhaps his image as a fighter has served him well. The one hurdle facing Nakamura has been the one standing between him and immortality… World Champion Magnus Carlsen. In the New in Chess (2011/2), Nakamura stated that he was a potential threat to the European dominance of chess. A couple of years back in New in Chess (2014/1), back Nakamura stated, "I do feel that at the moment I am the biggest threat to Carlsen." It appears when he makes a comment, it ends up on the cover of a chess magazine and people use it as a subject of derision.
In fact, he may very well be right about both statements despite the +0-12=18 record against the Norwegian. In fact, Carlsen knows that eventually Nakamura will break through. The question is when. It would be better that it happened in a tournament rather than a championship match. Carlsen has done well to avoid getting nicked in Nakamura's shark pool. However, before we get ahead of ourselves, Nakamura has a big challenge in winning the Candidates next month to earn the right to face Carlsen. The World Championship will be held in the U.S. which is all the more reason for Nakamura to seize on the opportunity. Unlike Carlsen and Anand, Nakamura would relish "home-court advantage".
Hikaru Nakamura after winning 2015 Gibraltar with fiancé Maria De Rosa.
Photo by Sophia Triay.
Nakamura's stepfather FM Sunil Weeramantry
is also part of the supporting cast.
Photo by Kwabena Shabu.
Not to be outdone, American native Fabiano Caruana will also be in the field and looking to bring the crown back to U.S. soil since Bobby Fischer defeated Boris Spassky in 1972. Both Nakamura and Caruana will be in Moscow and will receive massive support. It will be interesting to see how these two polar opposites in temperament will handle the pressure.
Nevertheless, Nakamura has talked about this moment for a long time. He will have the support of his fiance' Maria DeRosa and of course his stepfather FM Sunil Weeramantry. There will also be a bevy of fans waiting to see if Nakamura will finally earn a chance to face Carlsen in a match. Should be an exciting tournament.