Nakamura, Krush leading U.S. Chess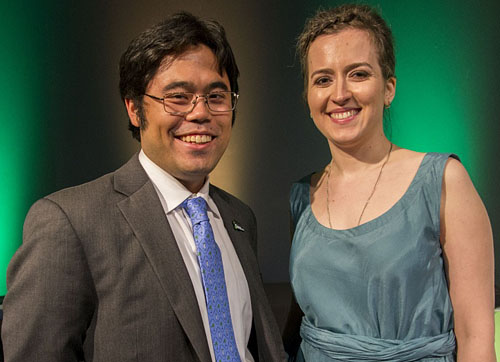 Hikaru Nakamura and Irina Krush…
2015 U.S. Chess Champions!
On a crisp Monday night of April 13th, Hikaru Nakamura and Irina Krush were crowned as the U.S. Champions. It would be the 4th for Nakamura and the 7th for Krush. It also reinforces the notion of where the power lies in American chess. While there is home-grown talent on the men's side with Ray Robson, Samuel Shankland, Daniel Naroditsky, Conrad Holt, Kayden Troff and Samuel Sevian there is the ominous presence of Wesley So, the Filipino-born sensation who changed his federation with much fanfare last year. Uzbekistan-born Timur Gareev created moments of "reckless danger" for opponents.
Was this a curtain call for the legendary Kamsky?
Photo by CCSCSL.
Not to be outdone by the "young bucks" and "old heads" Gata Kamsky, Alexander Onischuk, Varuzhan Akobian, Nakamura showed his supremacy in positions where he had to be resourceful. While he was certainly critical of his play early on and was in a little trouble against So, he was able to avoid a major crisis and help stave off the heroics of aspirants. Robson had a breakout tournament and has shown that he will be a force in the future along with his friend Wesley So.
Irina Krush has continually shown she is a class above everyone else in American chess. One of only two full Grandmasters in the U.S., her nemesis IM Anna Zatonskih was not in the field and she was surely "missed". However, there was fierce competition with newcomer Nazi Paikidze and Katerina Nemcova. In fact, Nemcova led for most of the tournament until her lost to Paikidze.
Hikaru Nakamura bagged his 4th title. His first was 10 years ago.
Krush is now a seven-time champion!
Photos by Lennart Ootes.
On the women's side you have a number of emigres (past and present) who double as college students such as Sabina-Francesa Foisor, Nazi Paikidze, Katerina Nemcova and Anna Sharevich. You have two emigres in Rusudan Goletiani and Viktorija Ni who are involved in chess education. There were three juniors (Apurva Kirkud, Annie Wang and Jennifer Yu) and perhaps one of the quintessential role models for women's chess, Alisa Melekhina, a newly-minted lawyer and entrepreneur.
What does the future hold for American chess? The scholastic aspect of chess has exploded and there are thousands of players developing from coast-to-coast. As more support is given to the efforts of Chess-in-Schools initiative, organizations like Chess Club and Scholastic Center of St. Louis and new events like Millionaire Chess, chess hopes to draw a higher profile. The environment may also give new players a chance to express their talents.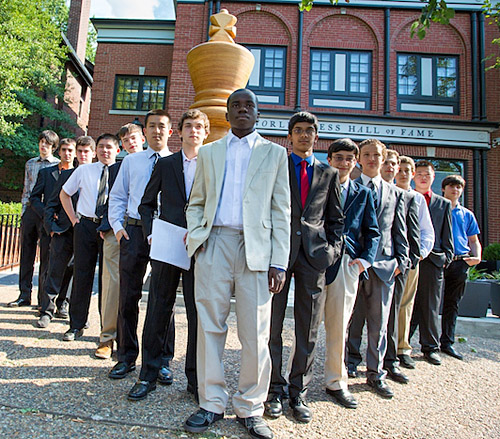 The future of American chess? Three of these 2012 Junior Closed participants competed in the 2015 U.S. Championship. Photo by CCSCSL.
Both Nakamura and Krush both came up through the American scholastic system and have turned into important figures in the American chess scene. One day they will be in the Hall-of-Fame. Young players are now emulating them and many project that the U.S. will remain as a world contender for Olympiad medals. At this point, Nakamura has a legitimate chance to compete for a world championship title and is now the #3 player. Is it time to start getting excited about the potential of another "boom" in American chess? Most definitely.
Official Site: https://www.uschesschamps.com/
Livestream: https://new.livestream.com/ccscsl/USChessChampionships
Chess24.com: https://chess24.com/en/watch/live-tournaments/us-championship-2015#live
Drum Coverage! https://www.thechessdrum.net/