Nakamura soaring in early 2015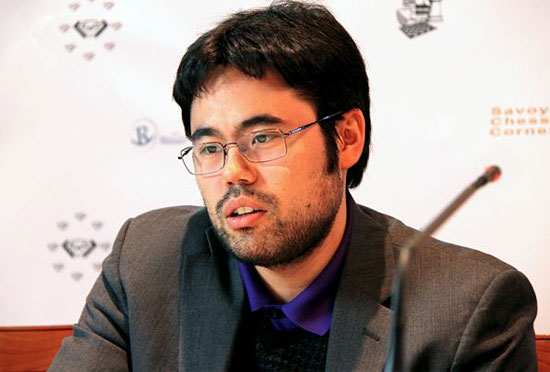 Hikaru Nakamura has started strongly in 2015.
Photo by Eteri Kublashvili.
Hikaru Nakamura started the year trying to rebound after a mediocre result in the London Classic and being relegated to America's #2 position after Wesley So's impressive showing at the Tata Steel. While there were no public comments by Nakamura, there was a sense by fans that So's rise had motivated Nakamura in a positive way. There was also the chess.com "Death Match" (dominated by Nakamura) and their eventual showdown in the U.S. Championship that stokes a rivalry for years to come. However, Gata Kamsky is still the defending champion with a coterie of young American-grown talent rising quickly.
Hikaru Nakamura celebrated Gibraltar win with fiancé Maria De Rosa.
Photos by Sophia Triay.
With Nakamura winning both Gibraltar and Zurich, he crossed the mythical 2800 barrier and is currently at 2797. It appears he is headed for a successful qualification for the championship cycle after two strong showings in the FIDE Grand Prix (Baku and Tashkent). At age 27, this is a prime time for Nakamura… he is rising as several of his colleagues are plummeting. With his good form, he is now #4 in the world and will be doggedly determined to solve the Magnus Carlsen riddle. It is a matter of time before he gets the win, but will that momentum be enough to defeat Carlsen in a match?
Nakamura and Levon Aronian are going in opposite directions,
but both remain serious challengers.
Photo by Eteri Kublashvili.