Naledi Marape: Botswana's rising talent
Botswana's Naledi Marapa


Photo courtesy of The Midweek Sun.
Some months back there was story about an adorable chess player out of Botswana named Naledi Marape… and adorable she is! The young player was the subject of articles in local newspapers about her accomplishments as a 9-year old promising player. Her father Dr. Marape Marape describes his daughter as "shy" but she does not seem to have that persona over the chess board.
She was awarded the Woman Candidate Master (WCM) title at the Africa Schools Individual championships in under-9 category. She didn't stop there. In the African Youth Championships she took the silver amassing 7/9. Naledi had equal score of the eventual winner WCM Chabane Lina, but the Algerian had better tiebreaks and thus was awarded the gold medal. Naledi didn't stop there. She competed in the Botswana Open International and matched up with more seasoned players. She ended on 5.5/9 and had national team member WIM Boikhutso Mudongo on the ropes.
Naledi Marape on the attack against WIM Boikhutso Mudongo.
Photo by BOTLHALE KOOTHUPILE.
When we met, she gave me a hard time as she attacked me relentlessly. I had to pull myself together because I realised that if I do not raise my game, I am going to lose. She is a brilliant young player who plays with the maturity of a seasoned chess player.

~WIM Boikhutso Mudongo
Experience triumphed over youth as Mudongo pulled out a victory and emerged the winner of the ladies open. It was a warning shot from the young shark that she will be looking to supplant someone for a spot on future national teams. The question may be whether all of this exposure is damaging to a 9-year old. Of course, one would be skeptical of calling such a young player a "prodigy" after less than two years of play.
What is different is that in Africa such publicity carries a different meaning. While the rest of the world would be more interested in Naledi's ELO rating, the quality of her games, or how she compares with a 9-year old from a strong federation, the meaning of Naledi's accomplish is much more ground-breaking. The point of celebrating her accomplishment is that chess can show a tremendous impact in one's life.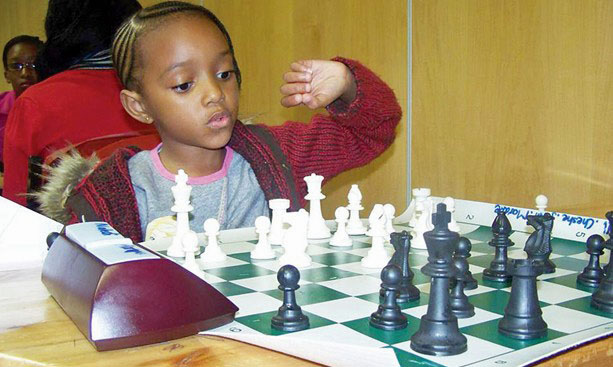 Naledi on the move!
Despite all the talk about "Chess in Schools," this is where the chess world misses so many fascinating stories about the youth. For the many decades, the chess media only focused on professional chess in Soviet Union, U.S. and Western Europe. That was until they discovered there were talented players in other regions. In addition, chess takes on a new role in developing regions such as Africa.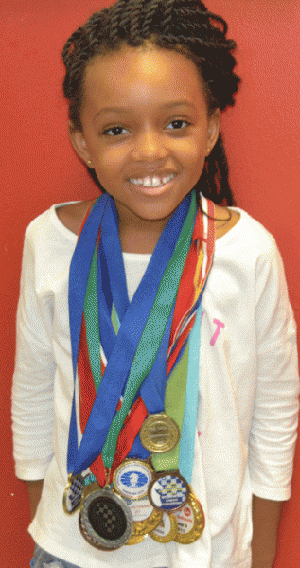 Botswana's Naledi Marapa
Photo courtesy of www.thevoicebw.com
(PORTIA NGWAKO)
Chess becomes more than a game, but a path to upward mobility. One only needs to read Phiona Mutesi's "The Queen of Katwe" to see the impact of chess on African youth. Phiona gave a fascinating interview on the impact chess had in helping her see a world beyond her impoverished village of Katwe, Uganda. No… Phiona did not have a high ELO rating, but what a wonderful story! Such feats give children confidence to seek higher heights which is extremely important on a continent where it is easy to be discouraged.
While the media should be cautious of labeling Naledi, or any talent a "future world champion" or "next Bobby Fischer," there is positivity in seeing a 9-year old thriving and growing in her knowledge. Her ELO rating is 1272, but one is forced to play the competition that is available to them. She will hopefully gain more opportunities after which she can gauge herself accurately against stronger international competition. Let's hope we will see Naledi on the Women's Olympiad team in 2018!
See Botlhale Koothupile's, "Marape – Botswana's youngest chess prodigy," Sunday Standard, 15 October 2015.