Dear friends and supporters,
On February 12, 2015, The Chess Drum turns fourteen years old! It is amazing when reflecting how many stories have graced the site over the years. Some of these stories have been forgotten, but some have inspired and remain as part of a collection of stories that make chess exciting, enriching and exhilarating.
This past year was a productive one for The Chess Drum with a career-high 240 stories posted which includes onsite coverage of major events such as the World Open, U.S. Open, Olympiad, Sinquefield Cup and the historic Millionaire Open. There was also daily coverage of major events like the World Championship, U.S. Championship and reports on tournaments in small towns like Tallahassee, Florida. 🙂 There were also the obituaries, human interest stories and exclusive interviews which can only be found here.
Certainly, it is not always an easy task to cover an event, but what makes it worth the time and effort is the amazing personality that chess has. Most of what drives The Chess Drum is the idea that chess is a lot more interesting when its colorful personality is shown by presenting an equally colorful and diverse picture of its community. If find that chess can be even more vibrant in places without a long tradition. Typically many sites will all cover the same stories and that does not make for full expression of our noble sport.
I have traveled to a number of countries and have visited chess communities in many of these places. I have also had a chance to cover five Chess Olympiad tournaments. This event is perhaps the clearest example that chess has a special quality. In my opinion, it should not be marginalized by being included in the Olympics. Imagine being in a building where 3,000 people from 175 nations are playing chess… many of whom have nothing else in common. These events showcase the best of what chess is and it is a joy to be a part of this celebration.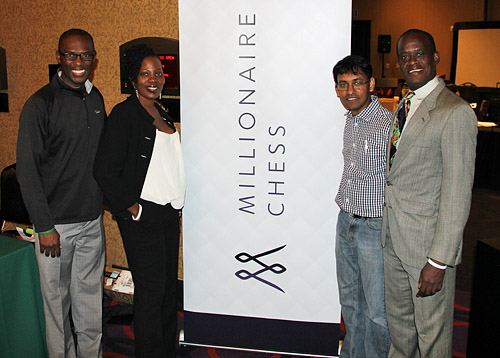 Always good to cover historic tournaments. The Millionaire Chess Open was such an event! The Chess Drum ran no less than 30 articles about the event. Above I'm standing with staunch supporters Adia Onyango, Ashik Uzzaman and Jones Murphy, Jr. Photo by Daaim Shabazz.
Where does The Chess Drum go from here? Given the slow migration from websites and blogs to social networking and mobile devices, there will also be more emphasis on these platforms. The market for chess has become so fragmented and many have migrated to Facebook, Twitter and Instagram as a way of disseminating chess news. However, websites are still the "bread-and-butter" of the Internet and will continue to be important reservoirs of information.
The Chess Drum cannot be all things for all people, but I am looking for new ideas. In coming years, there will be some interesting literary book projects that will come out of tens of thousands of pages here. Nevertheless, The Chess Drum will continue its niche for covering players of the African Diaspora while focusing on general chess news and international tournament coverage.
The "eternal" birthday cake presented to me in 2003 by Kay Umeakunne. This was the nicest gift I had ever received in appreciation for The Chess Drum! It was delicious! 😀
Again… thanks to those of you who have supported the site over the years. I still meet people who tell me they have been following the site for many years. Yet there are many who have only recently learned of the site. As the creator of The Chess Drum concept, I encourage you to comment on the blog posts and establishing a connection through Facebook and Twitter. Thanks for your support and…
…keep the beat going!
Dr. Daaim Shabazz, The Chess Drum