2014 Froemke Memorial (Tallahassee)
A short tribute was paid to Eric Larsen who was a mainstay in Tallahassee chess. Photo by Daaim Shabazz.
This report was written by Steven Cullifer who has been the chief organizer for many Tallahassee events including the annual Robert Froemke Memorial event. Approximately 20 players took part. Cullifer runs a nice tournament as evidenced by the photo below, but he also offers all type of snacks and drinks throughout the event and presents a very enjoyable atmosphere for chess.
This event came in the aftermath of the tragic loss of Expert Eric Larsen, who was a regular participant in local events and was set to play in this tournament as well as the upcoming U.S. Open in Orlando. A Massachusetts native, he was 59 years old.
Larsen had arrived home from playing chess on Wednesday night when his wife found him unresponsive the next morning. Tallahassee suffered a big loss, but the tournament was definitely played in Larsen's own fighting style as no one went unscathed.
Ben Silva had this to say…
Over the chessboard Eric was a true mentor and a challenging opponent from which I learned much. Off the board he was a role model, his accomplishments many. Most of all I will remember his unwavering good humor and knowing wide smile.
---
The 4th Annual Robert L. Froemke Memorial
chess tournament was a huge success!
Written by Steven Cullifer
This past Memorial Day weekend 3 masters, 2 experts, 5 A-class, plus others lower-rated (but no less dangerous) fought tooth and nail for cash prizes and honor. There was a $500 guaranteed 1st place prize as well as 2nd and 3rd place prizes and 1st-3rd place U1600 prizes.
Nobody left the tournament unscathed. We saw an early 1st round surprise when Tallahassee's William Ebaugh (rated 1546) drew with master Toby Boas (rated 2255).
The second round had 2 more surprises when Ben Silva (1908) drew his game against top seed master Michael Carallo (2263) and Hariharan Sivaji (1898) drew against master Bryan Tillis (2214).
With Jon Sanford, Daaim Shabazz, Bryan Tillis, Alan Smith, Wendall Whitaker, Michael Corallo and Toby Boas at 516 North Adams Street, Tallahassee, FL 32301.
With Alan Smith, Yusef Ali, Tim Bond, Hariharan Sivaji, David Liu, Jackie Liu and Ben Silva at 516 North Adams Street, Tallahassee, FL 32301.
The masters then won each of their 3rd round games, but not all were easy wins. The game between Hariharan Sivaji (playing the black pieces) and Michael Carallo (playing white) was a complicated Najdorf Sicilian. Harry (as we call him at the club) was up an exchange for one pawn. There was a drawing line late in the game, but Harry said he was still going for a win!
Two of the masters drew in their 4th round games and the third master, Bryan Tillis, pulled out a win in a drawn position. A chess master has vast knowledge, especially in end games. They are able to maneuver and put difficult decisions to less experienced players, giving them an opportunity to make a mistake. That's exactly what happened in his 4th round game against Wendall Whitaker. It came down to a Rook+Pawn vs Rook endgame.
After the game, Bryan told me he knew it was a dead draw and that he spent 25 minutes on one position finding the line(s) that would present Wendall with the most opportunities to make a mistake. Wendall did make a mistake and Bryan seized upon the opportunity to win the game. It's a hard lesson to learn but it is also a lesson that will not easily be forgotten by the defeated player. All games you play are learning opportunities and those that we lose seem to offer the best lessons.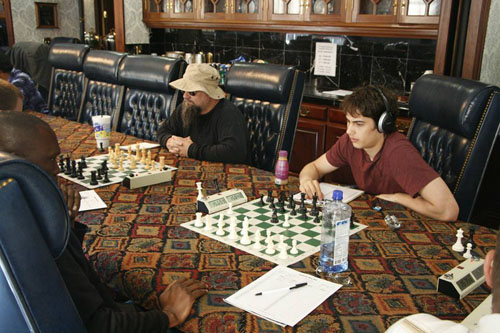 Wendall Whitaker (1398) could have gotten the "Lucena" position for a draw, but Bryan Tillis (2214) was able to trick him and get the full point. Daaim Shabazz (2093) survived a dead lost position to get the draw against Toby Boas (2255).
SWISS SYSTEM DANGER!
These players gave several scares to higher rated.

Going into the final round, Bryan Tillis was leading the tournament by half a point at 3.5/4. Michael Corallo, Toby Boas, Jon Sanford, and Daaim Shabazz were all at 3.0/4.0. Bryan Tillis played Michael Corallo which ended in a draw. Toby Boas was able to win his game against Jon Sanford. Daaim Shabazz won his game against Ben Silva. After the game, Daaim said he felt he was losing at one point, a bad move by Ben Silva allowed him to have a winning advantage.
Final standings overall was a three-way tie for first between Toby Boas, Bryan Tillis, and Daaim Shabazz (4.0/5.0).
Bryan Tillis has now won, either outright or via a tie for first, all four of the Robert L. Froemke Memorial tournaments. For those that might be wondering, IF we had used tie-breaks to award a "crown" or trophy then Bryan and Toby were tied at the first tie-break (11.5 each using modified median), and Bryan won the second tie-break (13.5 vs 13.0 using the Solkoff). You can read more about tie-break systems in a Swiss-system tournament and the USCF recommended order on Wikipedia.
In the contest for Under 1600 prize money, Dr. Paul Reynolds won 1st U1600 with 3 points. Alan Smith one 2nd U1600 with 2.5 points. And, there was a 5 way tie for the 3rd U1600 between William Ebaugh, Bill McTigue, Wendall Whitaker, David Liu, and Brendan Savage.
David Liu and older brother, Jackie Liu
Dr. Paul Reynolds (left) won the under-1600 prize with 3/5. William Ebaugh (1398) held Toby Boas (2255) to a draw in the 1st round. Photos by Steven Cullifer.
If you weren't able to come out and play in the tournament or come by and just observe some of the games, then you missed some exciting chess this weekend. I'd like to thank the players that traveled from out of town as well as the local players that came out to support this annual tournament.
Standings: https://main.uschess.org/
Photos: https://www.facebook.com/TallahasseeChess/