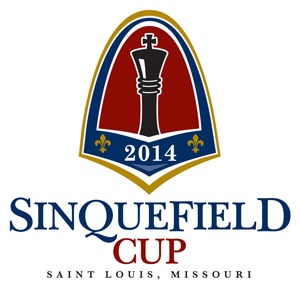 Six of the world's top ten chess players will assemble in what has recently been claimed as America's "Chess Capital". St. Louis will host the 2nd Sinquefield Cup beginning today touts the strongest ever tournament on American soil. With the average rating at a stratospheric 2801.67 it is the first tournament whose average rating tops the 2800 level. Last year the inaugural event was a rousing success and this year the event will possess more firepower with a widened field.
Magnus Carlsen, the world's highest-ranked player headlines the event with the second highest in Levon Aronian, the third in American-born Fabiano Caruana and top American player Hikaru Nakamura. Rounding out the field is former World Champion Veselin Topalov and rising French superstar Maxime Vachier Lagrave (known as "MVL"). The players will be competing for a total $315,000 prize fund, with $100,000 going to the winner.
Plenty of star power with World Champion Magnus Carlsen heading the lineup.
St. Louis Chess Club – Venue of Sinquefield Cup
Photos by Daaim Shabazz.
The venue is the incomparable Chess Club and Scholastic Center of St. Louis or merely "St. Louis Chess Club". Across the street is the World Chess Hall of Fame which will also host a live commentary booth. Lester's Restaurant will also have live commentary as well. GM Yasser Seirawan, WGM Jennifer Shahade with GM Maurice Ashley adding the color analysis from the telestrator. Definitely a historic event!
26 Responses to "2014 Sinquefield Cup (St. Louis, USA)"
2014 Sinquefield Cup
August 27th – September 7th, 2014 (St. Louis, USA)
Round #1 – Wednesday, 27 August 2014

1
Vachier-Lagrave

FRA

½-½

Carlsen, M

NOR
2
Aronian, L

ARM

½-½

Nakamura, H

USA
3
Topalov, V

BUL

0-1

Caruana, F

ITA

Official Site

"Fire on Board" in MVL-Carlsen… Topalov toppled.

Carlsen had to find the resourceful Nb4!? creating dizzying complications.

There was certainly an inferno in the first round of the 2014 Sinquefield in the game between Maxime Vachier-Lagrave playing white against Magnus Carlsen. Out of a Scotch, the game went into some deep prep by MVL, but Carlsen was up to the task and play the improbable. 13…Nb4!? MVL went into a deep think after playing briskly. While most felt that white's position was dangerous, the engines liked black's position. Frankly, it was hard to know what was going on, but after 20…Bb7, the game was completely equal. The game was such a thrill that MVL set to Twitter…

Well, that was an interesting start @CCSCSL

— MVL (@Vachier_Lagrave) August 27, 2014

Aronian-Nakamura was an unbalanced battle, but nothing remarkable happened. Out of a Semi-Slav, the players followed theory, but it appeared as if Aronian has a slight pull in the position. That was neutralized by Nakamura's solid fortress. Perhaps 35.Qc3 Qxc3 36.bxc3 is better, but it is doubtful white can make much of his structural advantage.

Topalov's early g4 came back to haunt him as black totally shredded white's king side.

Veselin Topalov is coming off of his gold medal performance at the Tromso Olympiad in good form, but he went up in flames against Fabiano Caruana. This was a rare Four Knights English, but Topalov's 17.g4?! was based on a faulty idea of using the h2-b8 diagonal, but severely weakened the kingside.

Black plowed in and within ten moves black had a decisive edge after 27…Qg4+ 28.Kh1 c4 29.Qc2 Re8! With pressure bearing down, the Bulgarian blundered with 30.dxc4? when 30…Qh5! was the powerful blow bringing him to his knees. The game ended after 31.h4 Qg4 32.Qd3 bxc4 33.Qe3 Rfe7 34.b3 Bb2! The win gave Caruana an early lead in the standings. A great homecoming for Caruana in his first tournament since moving to Europe.

Standings after Round 1

1st: Fabiano Caruana 1; 2nd-5th: Maxime Vachier-Lagrave, Hikaru Nakamura, Levon Aronian, Magnus Carlsen, ½; 6th: Veselin Topalov, 0

Round #1 Full Broadcast (replay)

Video by uschesschamps.com.

2014 Sinquefield Cup
August 27th – September 7th, 2014 (St. Louis, USA)
Round #2 – Thursday, 28 August 2014

1
Nakamura, H

USA

½-½

Carlsen, M

NOR
2
Caruana, F

ITA

1-0

Vachier-Lagrave

FRA
3
Aronian, L

ARM

1-0

Topalov, V

BUL

Official Site

Caruana wins again… Topalov loses again… this time to Aronian.
Nakamura-Carlsen showdown drawn.

Nakamura tried to score against Carlsen.

There was an anticipation in today's showdown between Hikaru Nakamura and Magnus Carlsen, but perhaps people have overlooked Fabiano Caruana. During the interview in which he told the "ice bucket challenge," the Italian-American mentioned that he was glad to be back in the U.S. playing. In the past year, Caruana has marched past a number of players and now sits in the #2 position on the live rating list.

In his game against Maxime Vachier-Lagrave, he sacrificed two pawns for an overwhelming advantage in development. After 8.O-O!? Qxb2 9.Qe1?! (9.Nb5) cxd4 10.Bxd4 Nxd4 11.Nxd4 Bb4 12.Ndb5 Ba5 13.Rb1 Qxc2 white had given up two pawns, but black's king was living dangerously in the middle of the board and the black queen was on the verge of being overwhelmed.

Commentator Maurice Ashley was offering computer lines where black was sacrificing the queen for two pieces. However, black had to sacrifice material in order to get the king out of the center of the board. When the smoke cleared, white was clearly in control with an extra piece and Caruana would be on +2.

Topalov stumbled for the second time in a row. The Olympiad gold medalist has suddenly lost his luster. Photos by uschesschamps.com.

In Aronian-Topalov, the Armenia play an interesting setup ultimately sacrificing the exchange after 13.Nh3 Bxh3 14.gxh3 Bxd4 15. exd4 e3. Topalov miscalculated the position and ended up allowing 21.d5! which gave white a powerful initiative and two raking bishops. This game ended up a total disaster for the Bulgarian as he went down in only 29 moves.

Nakamura-Carlsen was a heavily anticipated battle and there was great tension, but none of the drama that has accented their previous encounters. The game started as a Ruy Lopez, but end up looking like King's Indian without the light-squared bishops. Black tried to conjure up an attack, but it was only an illusion as the bishop sacrifice on g3 only yielded a draw by perpetual check.

Standings after Round 2

1st: Fabiano Caruana 2; 2nd: Levon Aronian, 1½; 3rd-5th: Maxime Vachier-Lagrave, Hikaru Nakamura, Magnus Carlsen, 1; 6th: Veselin Topalov, 0

Round #2 Full Broadcast (replay)

Video by uschesschamps.com.

Round #2 Recap

Video by chess.com.

on 29 Aug 2014 at 1:19 pm

6

Lionel Davis

Daaim i just read Carlsen said some not so nice things before the game do u know what he said? UM just curious.

It had to do with a translation issue. It was originally interpreted that his used the word "inept" but Norwegians state that the word is The "uduglig" which translates with "useless". Still not a good word, but it may have not been meant that way. Carlsen has ten wins without a loss against Nakamura in classical games.

2014 Sinquefield Cup
August 27th – September 7th, 2014 (St. Louis, USA)
Round #3 – Friday, 29 August 2014

1
Carlsen, M

NOR

0-1

Caruana, F

ITA
2
Vachier-Lagrave

FRA

1-0

Aronian, L

ARM
3
Topalov, V

BUL

1-0

Nakamura, H

USA

Official Site

Caruana on fire at 3/3, beats Carlsen!

What a homecoming it has been for the world's #2 player. Fabiano Caruana has cemented his place in the upper echelon of chess by dispatching the #1 player in Magnus Carlsen. This put their last six encounters at 3-3 with Carlsen now admitting that Caruana represents his most immediate threat.

Carlsen-Nakamura was definitely the round of the day!
Even Topalov couldn't resist.

In today's game, Carlsen opted for the Bishop's Opening(!) and got nothing special out of the opening. That was until Caruana seemingly landed into hot water allowing 15.Bxf7+?! During the press conference, he said he thought he may have missed something, but it just seemed that the black king could tuck away to safety after 15…Kxf7 16.Nxe5+ Kg8 17. Ng6 Qg5 18.Rf8+ Kh7. Carlsen stated that he missed 20…Nd3!? which turned out to be Caruana's third best option. At this point, the Ra8 was untouchable due to …Qe3+ so white played 21.Qxd3 and black regained material after 21…Rxf8 22.hxg4 Qxg4 23.Nf3 Qxg3 24.e5+ Kxh8. However, black had the clear initiative.

Perhaps Carlsen is in need of a Tylenol after this game.

While white placed hopes in the passed e-pawn, black had seen further to place his queen on e8. This astounded Yasser Seirawan. After 30…Qh5+ Carlsen made an improbable blunder of 31.Nh2?? (31.Qh2 Qe8!) and resigned in a few moves after 31…Rd1+ which would net black a piece after 32.Rxd1 Qxd1+. Shockwaves reverberated around the room as Carlsen sat dejectedly at the board. The last month of play has not been particularly memorable for Carlsen after losing two games at the Olympiad and playing unevenly at the Sinquefield. Another loss would throw the Carlsen camp into full panic mode before the World Championship.

In MVL-Aronian, a very imbalanced opening occurred out of a neo-Grunfeld. Aronian took a risk of grabbing material, but suddenly white's bishops and open lines exerted immense pressure on black's development. MVL seized the center and put his "Benko rooks" on the a- and b-files and Aronian's queenside crumbled. The game was technically winning at this point, but required a bit of technique which MVL converted.

In Topalov-Nakamura, the American appeared to have gotten everything he wanted out of the opening, but missed opportunities for the initiative. White erred with 21.Ng5 which allowed 21…Bxf2+! However, Nakamura didn't play it!! He said afterwards that he looked at it, but couldn't make out the details. After 21…g6 22.e6!? fxe6 23.Qg4, white started to gain some stability, but black still had raking bishops and an open f-file.

Nakamura missed his chance to send Topalov to a third straight loss.
Photos by uschesschamps.com.

However, 29…e5? was refuted by 30.Rxe5 Nd5 31.Qc4! exploiting a deadly pin. Topalov allowed 31…Bxf2+ and after 32.Kh1 Rb4!? white had to find a response to Nakamura's clever response. Well… Topalov erred with 33.Bxb4?! (33.Qxc6 Nxc3 34.Re8+-) Qxe5 34.Be4 Rf6 and white piling on with 35.Rd1. Nakamura had seen enough and resigned after 35…Kg7 36.Bxd5 Bxd5 and 37.Qxd5. Truly a missed opportunity for Nakamura. However there are still seven rounds remaining and with Nakamura, Topalov and Caruana at the bottom with -2, look for some bloody battles.

Standings after Round 3

1st: Fabiano Caruana 3; 2nd-3rd: Maxime Vachier-Lagrave, Levon Aronian, 1½; 4th-6th: Hikaru Nakamura, Veselin Topalov, Magnus Carlsen, 1;

Round #3 Full Broadcast (replay)

Part 1


Part 2


Videos by uschesschamps.com.

on 30 Aug 2014 at 5:23 pm

10

Lionel Davis

oh thanks for the clarity on the comment, from an Ultramodern perspective its just traditionalism that causes Nakamura and some of the other American competitors problems in theses events!!!

2014 Sinquefield Cup
August 27th – September 7th, 2014 (St. Louis, USA)
Round #4 – Saturday, 30 August 2014

1
Caruana, F

ITA

1-0

Aronian, L

ARM
2
Carlsen, M

NOR

½-½

Topalov, V

BUL
3
Vachier-Lagrave

FRA

½-½

Nakamura, H

USA

Official Site

A tremendous tsunami is moving through St. Louis in the Central West End area. That demolishing force is called "Fabiano". No… it is not particularly a name that will strike fear, but he is making a presence at the Sinquefield Cup. Playing in his first American tournament in eight years, he is currently on 4/4 against the strongest field ever assembled. With a tournament average of 2801.67 his performance rating is certainly around 3500. Perhaps a new star is born, perhaps without the same media hype Magnus Carlsen has received.

In fact, Caruana has risen up the rating charts in a very quiet manner. Never the focus of extensive media coverage, the American-born GM has had to carve out his own identity apart from all the other top ten players who are widely covered and showered with attention. It was only ten years ago that Caruana was competing in scholastic tournaments as a talented, but diminutive star. Now the chess media will finally be forced to pay attention. Some media outlets still do not realize that Caruana was born and raised (until 12) in America.

Seems like a short while ago when a rising star emerged. Here is a 10-year old FM Fabiano Caruana playing at 2003 Foxwoods Open (Connecticut, USA). Photo by Daaim Shabazz.

Today Caruana outplayed Levon Aronian with a daring piece sacrifice (29.Na5!) for lasting pressure. It was a masterful understanding that the black knights lying wayward on the queenside would not be able to make it back into play for many moves. During this time, white would dominate kingside play with a steamroller of pawns after 40.g4 followed by f5-f6-f7. Black's clumsily-placed rooks became fodder.

---


I'm very satisified with it (the result),
but I'm trying not to get ahead of myself."
~ GM Fabiano Caruana after his fourth straight win


---

The other games featured fighting chess as well, but neither resulted in a decisive result. Carlsen-Topalov was another game in which white got nothing from the opening despite being a bit more ambitious than his last round with the Bishop's Opening. Is Carlsen hiding preparation for the match or is he simply playing uninspired chess? Maybe both. In this game he had no winning chances and the game was roughly level throughout. Topalov was still fighting until a humorous end occurred.

Magnus Carlsen and Veselin Topalov going over the post-mortem on a laptop to see if they've missed something. Maybe they are conspiring against Fabiano Caruana. Photo by uschesschamps.com.

MVL-Nakamura had none of the dynamic play that both players had essayed in the tournament. When asked about the play of Caruana, Nakamura spoke of the rest of the field having to "gang up" on him to stop him. Nakamura will have the next crack at it before the first rest day. Certainly, in the second half Caruana hopes to shake his reputation as a poor finisher. Caruana has climbed to 2820 in the live ratings pulling to less than 40 ELO points within Carlsen. He has compiled the 4th highest rating in history!

A caption may answer the question, "How do we stop Fabiano?" Levon Aronian, who was near resignation, seems to be saying, "You're asking me?" Someone will have to find the answer in the next couple of rounds. Photo by uschesschamps.com.

Standings after Round 4

1st: Fabiano Caruana 4; 2nd: Maxime Vachier-Lagrave, 3rd-6th: Hikaru Nakamura, Veselin Topalov, Levon Aronian, Magnus Carlsen, 1½.

Round #4 Full Broadcast (replay)

Video by uschesschamps.com.

2014 Sinquefield Cup
August 27th – September 7th, 2014 (St. Louis, USA)
Round #5 – Sunday, 31 August 2014

1
Nakamura, H

USA

0-1

Caruana, F

ITA
2
Aronian, L

ARM

0-1

Carlsen, M

NOR
3
Topalov, V

BUL

1-0

Vachier-Lagrave

FRA

Official Site

"Fab Five"… unprecedented performance in strongest tournament!

Two products of the American Swiss system facing off!
Are Swiss systems really bad for chess development?
Photo by uschesschamps.com.

The commentators admitted to running out of superlatives to describe Fabiano Caruana's performance so they have started assigning him nicknames. "The Perfect One," "Don Fabiano," and "Fabulous Fab" were a few. Of course, when you get such a nickname, you have to live up to it… and he certainly has done so.

With and improbably 5/5 and an unthinkable performance rating, Caruana has done what no one… absolutely NO ONE predicted. At least two of his adversaries (Veselin Topalov and Maxime Vachier-Lagrave) have stated that the tournament is practically over. Second places is still a possibility for the other five players. Hikaru Nakamura stated that the only way to stop Caruana is to beat him. Coming into this game, Nakamura had a 3-0 score, but with a string of recent draws.

After Nakamura's 42.Bf2, Caruana parted with the lady gaining two powerful rooks with 42…Rxc1!

This Slav Defense resulted in positional battle where black got a solid and playable position. Caruana eschewed sacrificing a pawn with 14…Qc8 instead of 14…Bd6. The game entered into tactical complications which Caruana offered a pawn after 32…Rc4. The f5-pawn is poisoned because of 33.Qxf5?? Nxd4! winning, so white tried to hunker down with 35.h3? gxh3 36.Kh2. This only exposed white's weaknesses as the open h-file gave rise to mating tricks. More than that, white had too many holes on the light squares and on 41…Qe6 42.Bf2 black trade his queen for two active rooks after 42…Rxc1!

In severe time pressure, black missed the computer-like 44…Bh4! and allowed white a chance to complicate. However, after 48.f5? white left his drawing chances slip away. After white's long series of checks ran out the two rooks and bishop were too much to withstand. Caruana was now on an improbable 5/5 but would not admit that the tournament was clearly over. Topalov and Carlsen, the nearest rivals are 2.5 points behind.

Hikaru Nakamura certainly not on point in this tournament.

Topalov won after MVL resigned in a difficult position. In the post-game interview, Vachier-Lagrave was asked why he resigned and he mentioned that after trading queens, black's position is very unpleasant. True, but perhaps he could have played on a few moves. Nevertheless Topalov is in joint second place with Magnus Carlsen on an even score. While the pack is still tight Topalov admits that he is not playing his best chess and only Caruana can make any such claim.

After black's 50…Rxb3 in Aronian-Carlsen, the game should be drawn, right?

Levon Aronian is probably wondering how he lost a seemingly trivial drawn ending. Take the following position after 50…Rxb3. It appears that white needs to hold the a-pawn at bay while probing the black kingside with his monarch. Carlsen mixed up things with a daring try 53…g5! The sacrifice intended to stop the king from invading and at the same time destroying the pawn structure.

It worked like a charm… with Aronian's cooperation of course. A couple of other nice tactics such as 62…hxg3! probably served as a shock to the Armenian who must have had a sinking feeling that this game was slipping away. Unbelievable collapse for Aronian who has also abdicated his #2 position in the world ranking while falling under 2800. Carlsen recorded his first win to merely break even. Everyone seems to be playing for 2nd now.

After flying under the radar for a decade, we should get used to seeing his photo. Rising in obscurity may have been the best for Caruana. Not ruined by all the fanfare and expectations of fans, he has quietly become a world contender. Only in the movie "Luzhin's Defense" have we seen a player of Italian ancestry in such a position. Photo by uschesschamps.com.

Standings after Round 5

1st: Fabiano Caruana 5; 2nd-3rd: Veselin Topalov, Magnus Carlsen, 2½; 4th: Maxime Vachier-Lagrave; 5th-6th: Hikaru Nakamura, Levon Aronian, Magnus Carlsen, 1½.

Round #5 Full Broadcast (replay)

Part 1


Part 2


Interview with Fabiano Caruana

Videos by uschesschamps.com.

2014 Sinquefield Cup
August 27th – September 7th, 2014 (St. Louis, USA)
Round #6 – Tuesday, 2 September 2014

1
Caruana, F

ITA

1-0

Topalov, V

BUL
2
Carlsen, M

NOR

½-½

Vachier-Lagrave

FRA
3
Aronian, L

ARM

½-½
Nakamura, H

USA

Official Site

Fabiano Caruana on a Fischeresque 6-0 blitz…
history books being rewritten.

Let's start this article with the interview of Fabiano Caruana…

So… another wonderful result by the soft-spoken and polite "Fab Fabiano" who is winning fans by the thousands. Having closed the game in such dashing style, he will have to get a personality to market his ferocity. Here was my suggestion…

@FabianoCaruana on 6/6… being so ferocious, yet polite and humble is too unusual. He should grow dreadlocks! #sinqcup

— Daaim Shabazz (@thechessdrum) September 2, 2014

Dreadlocks??? Uh no, but certainly if Caruana doesn't want to wear the mane of a lion he is certainly playing like one. His victory over Veselin Topalov was one for the ages… a crushing attack against a Sicilian king stuck in the center of the board. Carlsen commented that Topalov had played "horribly" but Topalov had stated that Caruana simply made no mistakes.

In this Sicilian Taimanov, white had ill-intent from the beginning with a rather crude 10.e5 Nd7 11.Qg4 and the game got cooking quickly after 11…Kf8 12.Na4. Qa5 13.Re2 h5 14.Qf4 g5!? 15.Bd2! where 15…gxf4 16.Bxa5 is equal. Topalov went for 15…Qc7 and relied on his fence of pawns to shield the king. However, white played 19.c4 creating weaknesses in the black camp.

It still appeared that black was safe until Caruana threw the shocking 24.Bxe6! on the board. Commentator Maurice Ashley was using all types of colorful language to describe the mauling that was to come including "Brooklyn beatdown". Here are some of the images of the moment…

Tension is rising…

What happens on Bxe6? Will he play it?

He played it!!!

Caruana waiting in the wings after delivering the devastating blow.

This was after 28.e6! Ugh!

MVL paying respects…both to Caruana's play and Topalov's king!

Topalov resigns and was gracious in the post-game interview.

So after the crushing attack, cheers erupted around the Internet here are a few.

Caruana not happy only with the winner's trophy. He also wanted the brilliancy prize! Topalov the fighter always a good opponent for those!

— Garry Kasparov (@Kasparov63) September 2, 2014

#FabiJokes After Fabiano was born in 1992, Fischer stopped playing Chess! #WhyILoveChess #NotAJoke #Fact #SuperHuman

— Asim Pereira (@asimpereira) September 3, 2014

#sinqcup @FabianoCaruana Just flawless chess. An honour to see you in action sir. All those bullet games we played have clearly helped!

— Lawrence Trent (@LawrenceTrentIM) September 2, 2014

I'm so glad Fabiano won again today. I didn't want my cooking for lunch yesterday to be the cause to end his streak 🙂 #SinqCup

— Susan Polgar (@SusanPolgar) September 2, 2014

OK… so this is not commentary on the game, but you will be seeing lots of analysis soon.

Yes… there were two other games played today… both drawn in brutal battles. Carlsen-MVL was one of those games that Carlsen usually pulls out of his magical hat, but the game steered into an opposite-colored bishop ending with black posting a blockade. Here was his impressions…

Videos by uschesschamps.com.

In the last game to finish, Nakamura-Aronian played a Berlin and entered a rather staid position. Commentator Yasser Seirawan was critical of white's 20.Qe1 as was Stockfish which expected a trade of rooks and 21.Bd2. In this position, Ashley commented on Aronian's 25…Ne6?! as inferior to 25…Na5. The point is that white does not have 26.b4! Despite the passed d-pawn for black, white surrounded and gathered it and the position lost air quickly. Both players amicably analyzed afterwards.

Four more rounds remaining!
Photos by uschesschamps.com.

Standings after Round 6

1st: Fabiano Caruana, 6; 2nd: Magnus Carlsen, 3; 4th-5th: Veselin Topalov, Maxime Vachier-Lagrave, 2.5; 5th-6th: Hikaru Nakamura, Levon Aronian, 2.

Round #6 Full Broadcast (replay)

Part 1


Part 2


Videos by uschesschamps.com.

2014 Sinquefield Cup
August 27th – September 7th, 2014 (St. Louis, USA)
Round #7 – Wednesday, 3 September 2014

1
Vachier-Lagrave, M

FRA

0-1

Caruana, F

ITA
2
Carlsen, M

NOR

1-0

Nakamura, H

USA
3
Topalov, V

BUL

½-½

Aronian, L

ARM

Official Site

Carlsen surging… dispatches Nakamura.
Caruana continues immortal streak!

Twitter is a chess player's haven. News spreads fast and sometimes comments are unforgiving. After Magnus Carlsen gave Hikaru Nakamura his 11th consecutive loss in classical games, tweets rained in from everywhere mocking the American star and his futility against the Norwegian. Neither @MagnusCarlsen nor @GMHikaru have been very active on Twitter so there are no peek into their thoughts, but Carlsen gave this interview…

In today's game, Hikaru Nakamura "bit the bullet" and tried to go down a known complicated path to catch Carlsen off guard. Somehow he messed up the move order and Carlsen cited 11…Na6 as the culprit. Neverthless, Nakamura fought on but was unable to complicate the game which Carlsen converted without much of a problem. Nakamura seems to be in a funk with his third loss and a spot at the bottom of the standings. All is not loss in that he has another chance to stop Caruana who is simply making everyone his "client".

When will Nakamura find the forumula to upend Carlsen? It wasn't today.
Photos by uschesschamps.com.

In his game with MVL, Caruana played a rather unambitious line, but ended up getting in …f5 and gaining an initiative when white dawdled on the queenside with Qa4. Garry Kasparov, who was watching made a rather biting comment on Twitter when he stated…

I do not believe chess has advanced so much in the 9 years since my retirement that moves like Qa4 and g3 make sense!

— Garry Kasparov (@Kasparov63) September 3, 2014

after which MVL responded…

To @Kasparov63 14.Qa4 was designed to take on e5, put queen on d4 then f3 and Kd2. I missed 14…Qh4 15.0-0 Nf6 at first and panicked then!

— MVL (@Vachier_Lagrave) September 4, 2014

The expression says it all.

Topalov-Aronian played a Catalan game, but nothing happened despite the clash of minor pieces. Black had a slight edge and a better structure, but apparently there was nothing more than a three-fold repetition.

Looking through hundreds of comments on Twitter, you would think that Fabiano Caruana everyone is just discovering him, but this is an unprecedented feat. They say "7" is a lucky number in America, but a romp of 7/7 simply doesn't happen at this level… or ANY level!

Videos by uschesschamps.com.

Tomorrow brings an epic batter of Caruana-Carlsen! Lots of questions will be asked… Will Caruana continue his streak? Will he soon overtake Carlsen in rating? Is he the most credible rival to Carlsen? In the above interview, Carlsen stated that he was be seeking revenge, so look for a fierce battle tomorrow.

Standings after Round 7

1st: Fabiano Caruana, 7; 2nd: Magnus Carlsen, 4; 3rd: Veselin Topalov, 3; 4th-5th: Maxime Vachier-Lagrave, Levon Aronian, 2.5; 6th: Hikaru Nakamura, 2.

Round #7 Full Broadcast (replay)

Videos by uschesschamps.com.

2014 Sinquefield Cup
August 27th – September 7th, 2014 (St. Louis, USA)
Round #8 – Thursday, 4 September 2014

1
Caruana, F

ITA

½-½

Carlsen, M

NOR
2
Aronian, L

ARM

½-½

Vachier-Lagrave, M

FRA
3
Nakamura, H

USA

0-1

Topalov, V

BUL

Official Site

Carlsen breaks streak… holds Caruana to a draw.

Caruana leaving the playing hall after being held.
Photo by Daaim Shabazz.


There will be no Fischeresque performances in the Sinquefield Cup this year. During the streak there was a question posed to Rex Sinquefield whether there would be a "Bobby Fischer" prize in the future. He only mentioned that it would be expanded possibly to eight players. However, this tournament has exceeded expectations and there will certainly be enhancements in next year's edition.

Well… everyone was looking forward to the Caruana-Carlsen showdown to see if the Caruana's streak would be extended and to see if Carlsen could assert his #1 and world championship standing. It appeared as if the fans would get one of these questions answered. The game went into an Accelerated Dragon and everyone was hoping for an exciting battle. Here is the annotated game by GM Alejandro Ramirez.

So it was! Carlsen held Caruana to a draw breaking the streak and finally answering ONE of the above questions. The other… Carlsen was unable to assert his authority and this may be important in later encounters as Caruana won the mini-match 1½-½.

Hikaru Nakamura would want to forget this tournament, for sure. After this loss against Veselin Topalov, the American #1 goes to a -4 and a look of exasperation was all over his face as he left the playing hall with his stepfather FM Sunil Weeramantry and fiance WFM Maria De Rosa. Clearly not the way one would want to defend home turf on the largest stage for chess.

GMs Varuzhan Akobian and Ian Rogers analyzing what would become a debacle for Nakamura. Photo by Daaim Shabazz.

While everyone can see that Nakamura is struggling no one seems to know why. The game went into a Berlin Defense where Nakamura played a novelty that seemed to have promise. One thing that has been noticed is that Nakamura has had problems calculating in critical positions. He missed 30.Bb2 Nd3 31.Rb1 Rg8 32.Kf3 Nxb2 33.Rxb2 Bc8! winning the crucial pawn and snatching the initiative. Topalov continued to press with active bishops and rooks eventually broken through. A devastating loss for Nakamura.

Maxime Vachier-Lagrave dodged a bullet in his game against Levon Aronian. After facing 1.Nf3 d6 2.d4 Nf6 3.Nc3 Nbd7 4.e4 e5 5.g4!? Aronian entered complications and threw 13.Nf5!? on the board and developed a nice initiative. However in a critical position, he erred with 23.Red1? and after 23…Rxh7! white lost his advantage. A three-fold repetition followed thereafter. Here Levon Aronian explained this game…

Videos by uschesschamps.com.

Standings after Round 8

1st: Fabiano Caruana, 7.5; 2nd: Magnus Carlsen, 4.5; 3rd: Veselin Topalov, 4; 4th-5th: Maxime Vachier-Lagrave, Levon Aronian, 3; 6th: Hikaru Nakamura, 2.

Round #8 Full Broadcast (replay)

Part 1


Part 2


Videos by uschesschamps.com.

2014 Sinquefield Cup
August 27th – September 7th, 2014 (St. Louis, USA)
Round #9 – Friday, 5 September 2014

1
Caruana, F

ITA

½-½

Nakamura, H

USA
2
Carlsen, M

NOR

½-½

Aronian, L

ARM
3
Vachier-Lagrave, M

FRA

½-½

Topalov, V

BUL

Official Site

All three games drawn for the first time!

Round nine… hard to believe the tournament is coming to an end.
What a ride it has been! Photo by Daaim Shabazz.


With Fabiano Caruana having already clinched the tournament last round by drawing Magnus Carlsen, the issue was whether Hikaru Nakamura could break out of his funk with what would be a good win for him. Of course it would spoil Caruana's run, but it would salvage a bit of dignity. The game would in fact lean toward Caruana, but he missed a rather elementary win with 40.Rxg6!+ Rxg6 41.e6 winning easily. Here are the respective reactions from both players with Caruana first…

…and then Nakamura.

A HUGE relief for Nakamura who earlier was shaking his head in disgust. A loss here could have been totally devastating for his confidence moving forward. Being one move away from losing and then drawing involved a bit of "luck" but certainly averted a disaster.

Carlsen was close to winning the technical ending with 46.Kc2! instead of 46.h6? His frustration in the press conference was quite unusual.

Magnus Carlsen was also totally disgusted by his miss of a win against Levon Aronian, though not as trivial as in the Caruana-Nakamura game. The rook ending was very tricky and required a bit of accuracy. After 45…Kh7, Carlsen erred with 46.h6 which according to commentator GM Ben Finegold threw away the win. He referred to tablebases which stated that 46.Kc2! would win by keeping the black rook from reaching b3 and working as an active defender.

Carlsen showed his disappointment (to put it lightly) in a lack of composure rarely seen in the world champion. He gesticulated in an animated fashion and his facial expressions were one of disgust. One wonders if he is loses a couple of games to Viswanthan Anand whether he will lose composure. He did however, let out a smile.

Videos by uschesschamps.com.

In Topalov-MVL game, this Reti opening was a tense fight, but the imbalances were not great enough for a decisive result. The entire game was equal. MVL has not had a remarkable tournament, but he has had flashes of good play. He called this tournament a good experience since he rarely gets to play in tournaments at this level. He is certainly a force to be reckoned with.

Maxime Vachier-Lagrave and Veselin Topalov discussing the game afterwards. Topalov's manager Silvio Danilov is seen checking cell phone messages. Photo by Daaim Shabazz.

Standings after Round 9

1st: Fabiano Caruana, 8; 2nd: Magnus Carlsen, 5; 3rd: Veselin Topalov, 4.5; 4th-5th: Maxime Vachier-Lagrave, Levon Aronian, 3.5; 6th: Hikaru Nakamura, 2.5.

Photos from 2014 Sinquefield Cup (Round #9)

on 06 Sep 2014 at 3:59 pm

23

Lionel Davis

Hey Ultranice Daaim!!! thanks bro, im at the Jefferson Library in Buffalo N.Y. tryin to Learn something!lol thanks.

2014 Sinquefield Cup
August 27th – September 7th, 2014 (St. Louis, USA)
Round #10 – Saturday, 6 September 2014

1
Aronian, L

ARM

½-½

Caruana, F

ITA
2
Topalov, V

BUL

½-½

Carlsen, M

NOR
3
Nakamura, H

USA

½-½

Vachier-Lagrave, M

FRA

Official Site

Caruana wins 2014 Sinquefield Cup!

Fabiano Caruana, 2014 Sinquefield Cup champion!

For several rounds, the tournament winner was not in doubt as Fabiano Caruana started with a streak of consecutive seven wins. The last round was anti-climatic as none of the games were the kind of fighting chess we had seen. In fact Chris Bird quipped that there were 29 fighting games (out of 30) which brought laughter and strange looks from Veselin Topalov. His game with Magnus Carlsen was the shortest at 19 moves. Nevertheless, it was a fantastic tournament. Next year will be a larger format, possibly eight players, but that was not been announced. Carlsen has already vowed to return in order to reclaim his honor.

There were a few light moments during the final press conference.

The Carlsen team would soon make a decision on Carlsen-Anand.
Photos by Daaim Shabazz.

Standings after Round 10

1st: Fabiano Caruana, 8.5; 2nd: Magnus Carlsen, 5.5; 3rd: Veselin Topalov, 5; 4th-5th: Maxime Vachier-Lagrave, Levon Aronian, 4; 6th: Hikaru Nakamura, 3.

Round #10 Full Broadcast (replay)

Press Conference

Videos by uschesschamps.com.

Reflections of 2014 Sinquefield Cup

Like everyone else I waited in great anticipation for the 2014 Sinquefield Cup… since the first one ended! The excitement was so high in last year's successful inaugural event that fans were in awe of the names being bandied about. The field this year could not have been much better and it was a collective performance that will be remembered for a long time.

The tournament with the highest average rating in history (2802) would feature the top three players in Magnus Carlsen, Levon Aronian and Fabiano Caruana. It also featured the #5 and #8 players in Veselin Topalov and Hikaru Nakamura, respectively. Throw in Maxime Vachier-Lagrave, the "Grandmaster with the two names" at #9 in the world and you have a historic tournament in the making. However the field itself would not be the most amazing thing to happen.

We knew this tournament would be special because of its billing and the fact that it was being held at the premier chess club in America. What we didn't know is that there would be a history-making performance. If someone would have predicted a player would win seven games in a row, it would most likely have been Carlsen.

One of the anticipated matches was Nakamura vs. Carlsen. Game was drawn.
Photos by Daaim Shabazz.

To the shock of many, it was the American of Italian ancestry who was grabbing news headlines. As I watched the streak unfold from my home, what was amazing was the crescendo of excitement both in St. Louis and among the fans worldwide. For most, it was almost as if they had discovered a shining star!

As each day rolled by, I wondered whether Caruana would be able to keep the streak going until I got there. By the time he lapped the field and won his fifth game in a row, many started talking about all-time great performances and whether he could go 10-0. They then begin to project whether he could catch Carlsen in the ELO race to 2900. Unfortunately, I got there a day later than anticipated and missed his last win before he finally drew with Carlsen.

I have arrived in St. Louis! The famous Gateway Arch was opened in 1965 and remains as the most recognizable icon of St. Louis. Beautiful hibiscus flowers were in full bloom. The Water Tower Inn at St. Louis University was a short drive to the venue.

When I got there I checked into the Water Tower Inn at St. Louis University and then drove over to the venue just as the games were ending. Nakamura and Topalov were still gripped in a fierce battle. To my chagrin, Caruana's winning streak had been broken and I had just caught him leaving the playing hall. With the draw, Caruana had clinched the tournament, but maintained his modesty.

Video by uschesschamps.com.

I decided to take a peek at the Fischer exhibit before returning to see the end of the remaining games. After a long fight, Nakamura had lost to Topalov. It was heart-breaking to watch Nakamura bolt out of the chess club in clear frustration with his fiance Maria DeRosa and a dejected Sunil Weeramantry following. I ran into Rodney Thomas who flew in from Dallas, Texas to witness the event. Thomas is on the advisory board of the famed University of Texas-Dallas chess program. I asked him to go with me to a Lebanese restaurant around the corner. He agreed and we happened to run into Maurice Ashley who had just wrapped up his coverage.

Rodney Thomas speaking with GM Maurice Ashley.

On the next day, I was able to visit the Fischer exhibit more thoroughly, a fascinating collection of documents once owned by Robert James Fischer. What is intriguing is not only the photographs and personal effects of the 11th World Champion, but his scrawlings on the margins of his study materials. His meticulously organized opening manuals that he composed and indexed were impressed and gave a glimpse of the mind of an elite Grandmaster in the pre-computer era. There was even an authentic table from the home of Jack Collins, Fischer's first coach. It was on this table that a future world champion was groomed.

A Memorable Life: A Glimpse into the Complex Mind of Bobby Fischer.
Photos by Daaim Shabazz.

It was time to start the round and it would be my first photos of the tournament. I had covered the event last year and it was a photographer's bonanza. With more firepower this year, I wasn't able to discern if there were more fans in attendance. However, there were certainly lots of incentives with live analysis and room stocked with plenty of delicious foods. The press room was a bit cozy and I nestled a spot next to Cathy Rogers (wife of GM Ian Rogers), with whom I have shared working space at many events including the recent Olympiad in Tromso, Norway. We were given a spot at Lester's instead of the downstairs location at the chess venue. Also present was Mike Klein and Danny Rensch from chess.com and a duo from channel 2 in Norway.

WIM Sabrina Chevannes and FM Alisa Melekhina were reporting for ChessBase. Photo by Daaim Shabazz.

As the beginning of the round approached, journalists left and positioned themselves outside the club to capture the procession of players approaching the St. Louis Chess Club from the Chase Plaza Hotel. It was likened to the Hollywood red carpet spectacle as a crush of spectators waited on the players to approach down Maryland Avenue. Upstairs, a mob of fans was already positioned behind the ropes and the photographers took their positions. I brushed shoulders with Lennart Ootes as well as Dirk Jan ten Geuzendam (New in Chess) and Sabrina Chevannes (ChessBase), all shuffling around the playing pit to take photos. It was a rather raucous experience for a chess journalist.

The unique thing about this year was the reception of players. After the obligatory player interviews, fans literally mobbed the players for autographs and "selfies" which they graciously consented. It was good to see Caruana get such a homecoming reception. His clinching of the tournament against Carlsen perhaps cemented his place as a championship contender. He went from 2800 to 2830 in a single tournament! It was the stuff of legends and I was glad to be a part of it.

While I did not secure a personal interview with him, plenty was said in his interviews with Ashley. He seemed to be living a dream… eyes as big as saucers. It was quite an experience to see it unfold. This was the 4th event I covered at the St. Louis Chess Club. All have been grand. It appears that there may be a tradition started, but how can you top this act? This was the strongest tournament in history. Rex Sinquefield is saying that next year's tournament may expand to eight players. That would be 14 rounds of chess.

I have been to the St. Louis Chess Club on a few other occasions to cover two U.S. Championships (2009 and 2013), last year's Sinquefield Cup and another visit to the World Chess Hall of Fame. The good thing about visiting St. Louis is I'm always able to go across the bridge to E. St. Louis, Illinois to visit my great aunt. She will be 100 in November, so I will return and check out Adisa Banjoko's Hip-Hop and Chess exhibit. The Sinquefield Cup is a jewel and hopefully it will be better next year.

The ten best memories were…

The Bobby Fischer exhibit was one that made an impression on me. To see the meticulous nature of his preparation shows that he was a forerunner of using databases and would have been a beast with the tools available now. Impressive exhibit! Photo by Daaim Shabazz.

…the Bobby Fischer exhibit. Of course Fischer is an iconic figure in American chess and most of us have enjoyed his spectacular games. However, to see the inner working of a brilliant chess mind was something to behold. Amazing to see the original mockups of his Best Games collection which was actually 52 memorable games instead of the now famous 60 Memorable Games. Of course there was memorabilia from the immortal Fischer-Spassky match and several interviews of Fischer at different stages in life including the famous "I've Got a Secret" appearance as a 15-year old and the Dick Cavett interview. I was also able to enjoy the exhibit with Angelo Armistead, an old friend from Chicago who drove down with his wife to attend the Sinquefield Cup.

Angelo Armistead (right) excitedly speaking with Yasser Seirawan and his wife Yvette Seirawan. He immensely enjoyed the experience and described it as being "a kid in a candy store."

…staying at the Water Tower Inn. A pleasant surprise if you don't mind the short drive. At $70/night, I found it to be adequate. Being a professor, I like the fact that it was in the middle of St. Louis University's campus. While the parking lot was uncovered, the crisp air and the sight of the hibiscus in full bloom were pleasing enough. I enjoyed driving through the campus and seeing the daily energy of the students trekking across campus. The hotel was about a 10 minutes drive from the Central West End era.

…procession of Hikaru Nakamura and his fiance, Maria De Rosa. Nothing else needs to be said.

…successfully solving a computer problem. Each and every major tournament, I seem to have computer issues. I remember covering the Chess Olympiad in Istanbul, Turkey and my keyboard malfunctioning. I had to use a USB keyboard with a Turkish configuration. This time a simple mistake of leaving the charger for my laptop at home turned into a nightmare. I discovered I left my charger while in the Atlanta airport where they now have FREE wi-fi access!! I walked down to Brookstone and they had a universal charger for $149.99. Pricey. I thought I'd wait until I get to St. Louis. After arriving in St. Louis, I go to Office Depot to buy a universal charger. When I get to the press room, I found that none of the plugs fit my Samsung. Not so universal after all.

Finding another charger took a wild ride… literally!

I went back to Office Depot, returned the item for a refund and then went to Micro Center, a retail computer outlet. One of the workers there tried a kit and none of the plugs worked. Foiled. By the time I get to Best Buy, it was closed. The next day I call around including the Samsung 800 number. They reported no local Samsung repair shops. I go to the Brookstone in the mall with the intention of springing $150 for the charger I saw in the airport… no luck. I try Best Buy again shortly after they opened. They had the same product I bought at Office Depot. Foiled again. I even considered buying a computer at Best Buy! With options running out, I go back to Micro Center. If I couldn't find a solution, I would have to talk to Mike Wilmering about borrowing a computer. Otherwise, there is no reason for me to have traveled to Sinquefield without a computer. I go back to Micro Center and talk to a couple of guys. We went to the same section. He fumbled around and found a universal kit that worked!! Cost me $50.00. I wasted a day's time, but at least I could use my computer.

…watching Caruana deal with the crush of fans and admirers. It's not every tournament that you get a chance to brush against history. Winning seven games in a row at the strongest tournament in history was quite ride for the 22-year old. This was his first tournament in the U.S. for eight years and what a homecoming it would be.

FM Mike Klein of chess.com interview Caruana while Lennart Ootes captures a head shot.

As the excitement hit a fever pitch, Caruana got more and more attention. He seemed overwhelmed by all the attention, but kept a very humble demeanor. While never receiving the attention of peers such as Carlsen, Sergey Karjakin and Teimour Radjabov, he more than made up for it at this tournament!

…the enthusiasm of Maurice Ashley. The Internet makes real-time chess so accessible. No longer do we have to wait for the Informant for recent games or for magazines whose games are often months old. You can get real-time action and exciting commentary. GM Maurice Ashley is one of the top chess commentators in the world and it is easy to see his enthusiasm. His ability to pull up old games and relate them to live positions was impressive. Some of the games were not easy to assess. The minor piece romp of Maxime Vachier-Lagrave was one of my favorites. You could tell Ashley enjoyed this as well as the performance of "Brooklynite" Caruana.

…sightings of visiting players. Of course, GM Ray Robson and GM Wesley So were seen, but GM Kayden Troff, who hails from Utah, was also spotted. People came from long distances. There was a report of a man from Las Vegas who heard the broadcast and in his excitement, booked a ticket to St. Louis. I did not meet this man, but this type of excitement is a positive sign for chess in the U.S. I have already mentioned my scholastic chess friend Angelo Armistead. I remember us playing in the same tournaments at Chicago Chess Center on 2666 N. Halsted. We also played a the Proviso West Scholastic tournaments. What great times in Chicago chess! I also met Sunil Weeramantry's mother and sister who were in from Sri Lanka for Asuka Nakamura's wedding. Weeramantry is the stepfather of Asuka (pronounced ah-ska) and of course, Hikaru Nakamura.

Sunil Weeramantry with his sister and mother. 🙂

…eating exploration. OK… not much on this front. I did not bring my NutriBullet blender because I'm tired of my luggage being checked because of the large motor in its base. Did not get to try any new restaurants this time. However, I did enjoy the meal at the Lebanese restaurant! Here was my meal!

Tabouli, baba ghanouj and falafel… very tasty!!
There was pita bread too!

…being present during history. I often hear players speak in awe of the players that we write about. Journalists may take it for granted that we get to be on the front lines of the action of major events. While we may have gotten past the awe stage, we were all in awe of Caruana's performance. More or less, we engage in a rather thankless task and are often huddled in crowded rooms competing for desk space and power outlets. Even worse, we are having to string wires across the floor in poorly connected rooms such as the Istanbul Olympiad. Dreadful. There is always something to learn in the press room. All in all, it is a labor of love and few can understand the pressures of getting stories out, but it has always been my contention to build markers in history so that they can be recalled. Google becomes very important!

My great-aunt will be 100 in November!
Photo by Daaim Shabazz.

…Visiting with my Great-Aunt Mattie Malone. This was the highlight of my trip of course. 🙂 My great-aunt will turn 100 in November and she has lived most of her years in E. St. Louis, Illinois, a short drive across the St. Louis bridge. She was glad to see me, but at this point, I have to remind her of how I'm related to her. One once she knows I'm her older brother's grandson, she locks in. While her short-term memory is not the strongest, she will begin spouting off dates and names with astounding clarity. My cousin showed me her diplomas from elementary and high school. Amazing to see documents nearly 100 years old. I'm always ready with my recorder and something to write with. I'll be back to visit the Chess/Hip-Hop exhibit as well.

OK… so not all was good at the Sinquefield. I hated seeing Nakamura struggle with his form. His result prompted the following tweet…

At long last it is over. One of the longest and toughest months ever for me with many moments that will last for a lifetime.

— Hikaru Nakamura (@GMHikaru) September 20, 2014

There are many things one can say here, but a poor tournament performance is not uncommon amongst the elite. Saving the position against Caruana was a vindication that there are often lessons in life that one must take before ascending to another level of personal fulfillment. Nakamura is not the 10-year old rambunctious boy we saw running around in American tournaments. He is now 26-year old, top-ten player who cut his teeth in the mosh pits of Swiss tournaments and marathon blitz battles on the ICC. He will refuel, reload and ready himself for the next battle. Meanwhile Sinquefield 2015 is already in the works!

See you there next year! 😎

All photos by Daaim Shabazz unless otherwise stated.
More can be found at The Chess Drum (Facebook).
Leave a Reply!