2014 Sinquefield Cup (St. Louis, USA)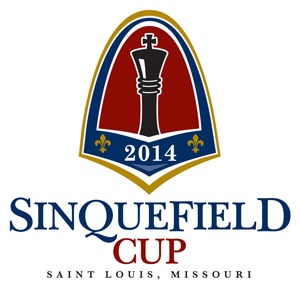 Six of the world's top ten chess players will assemble in what has recently been claimed as America's "Chess Capital". St. Louis will host the 2nd Sinquefield Cup beginning today touts the strongest ever tournament on American soil. With the average rating at a stratospheric 2801.67 it is the first tournament whose average rating tops the 2800 level. Last year the inaugural event was a rousing success and this year the event will possess more firepower with a widened field.
Magnus Carlsen, the world's highest-ranked player headlines the event with the second highest in Levon Aronian, the third in American-born Fabiano Caruana and top American player Hikaru Nakamura. Rounding out the field is former World Champion Veselin Topalov and rising French superstar Maxime Vachier Lagrave (known as "MVL"). The players will be competing for a total $315,000 prize fund, with $100,000 going to the winner.
Plenty of star power with World Champion Magnus Carlsen heading the lineup.
St. Louis Chess Club – Venue of Sinquefield Cup
Photos by Daaim Shabazz.
The venue is the incomparable Chess Club and Scholastic Center of St. Louis or merely "St. Louis Chess Club". Across the street is the World Chess Hall of Fame which will also host a live commentary booth. Lester's Restaurant will also have live commentary as well. GM Yasser Seirawan, WGM Jennifer Shahade with GM Maurice Ashley adding the color analysis from the telestrator. Definitely a historic event!