Reflections on the 1st HBCU Chess Classic
On April 22nd, the 1st HBCU Classic took place at Morris Brown College in Atlanta, Georgia. Students from nine different Historically-Black Colleges and Universities ("HBCUs") came to participate in a historic event highlighting the importance of targeting overlooked segments of the global chess community. It was a beautiful event from so many perspectives. Most everyone who had some type of influence in the African-American chess segment was there. Some drove long distances while others hopped on planes to witness history being written.
It has long been the mission of The Chess Drum to bring attention to this overlooked segment of players. The idea of an HBCU chess network had only been proposed on a couple of occasions and not executed. In fact, as recently as 2020 Howard University had announced an HBCU Chess Championship but COVID-19 put a stop to those plans. In a 2006 essay on these pages titled, "Chess at America's HBCUs," there was a mention of an HBCU Chess League. In the early 2000s, there were a couple of online matches between Howard and Tuskegee. The idea of a tournament had been simmering and now had come to a boil.
How Did It Start?
Last August, an idea has hatched to begin an initiative in the Atlanta University Center that centered around creating an environment for critical thinkers. As a graduate student at Clark Atlanta University, I remember the guest speakers, sidewalk discussions, and open lectures on topics such as religion, metaphysics, history, and geopolitics. It was a vibrant environment and young minds were developing critical ideas about the world.
Alan Cowan and Shaniah Francis (both from Brooklyn) decided to establish a unique organization called The Black Odyssey Chess Society. The idea came to fruition after a year of conversations. Universities typically have many new organizations that emerge with noble beginnings. However, this one would place an emphasis on building intellectual capital.
The Black Odyssey (TBO) mission is to construct community and establish a future in which tomorrow's leaders are encouraged to be critical thinkers in all spaces, with a purpose to serve the greater good.
HBCU Chess in the Atlanta News
Video by 11 Alive News
Alan told me during a ZOOM call that his idea was to create a viable network of chess players across the HBCU community. He envisions TBO chapters at each HBCU. It is a principled idea that has been discussed for decades, but of course, it is a gargantuan task. In an interview with Melinda Matthews of U.S. Chess he stated the rationale:
When it comes to Black attendance or attendance of Black universities, we show up in very few numbers. All we can do, really, is just push and push and push and make sure that the HBCUs, the Black schools, have the options, they have the funding, they have the resources, so they have the ability to be a part of these spaces.
As the mentor/advisor to TBO, iconic Grandmaster Maurice Ashley did interviews about the event including one with Dan Lucas and one with Corbin Seavers, a coach in Louisville, Kentucky (kychessambassadors.com). There were many who contacted me after I posted an announcement about the event. US Chess Executive Board member Kevin Pryor took an interest, but only another obligation prevented his attending the event. There were also comments from social media posts asking whether HBCU alumni could participate. A separate tournament would be a great idea.
As a professor at Florida A&M University (FAMU) for the past 25 years, I have seen many student organizations conceived, launched, and unfortunately, die. One of the concerns early on is making it sustainable enough so that it can continue to grow. Many clubs lack continuity and chess is probably more sensitive as far as finding individuals with enough interest and experience to push the agenda further. This is even more true today when competition for one's attention is divided between so many activities, both physical and now virtual.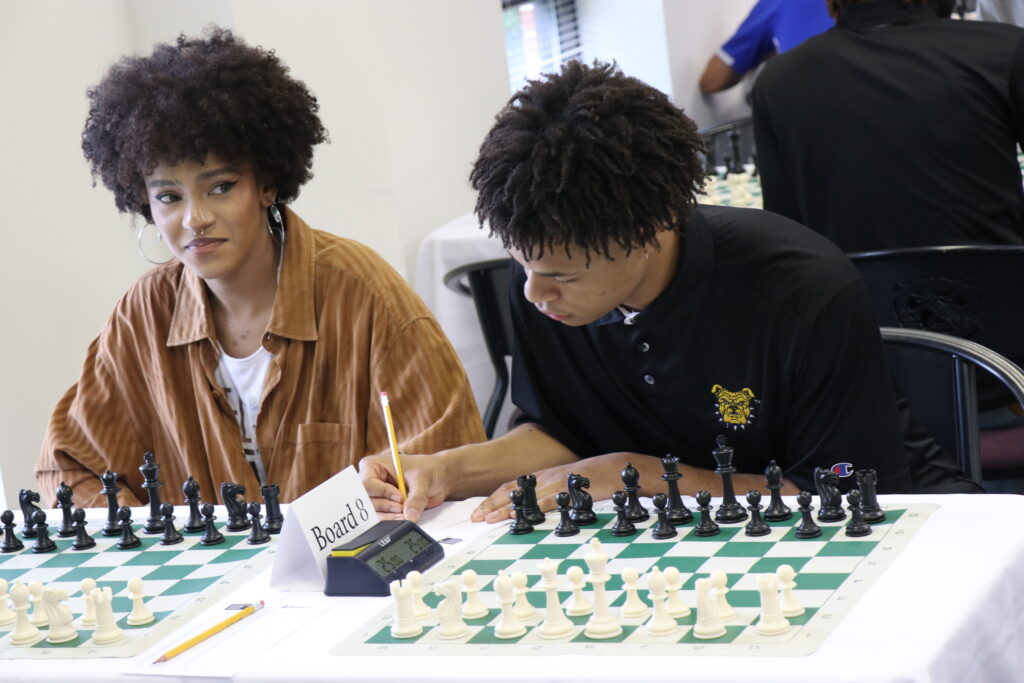 Spelman's Jamila Thompson is ready to rumble! North Carolina A&T came all the way from Greensboro, North Carolina to show their Aggie Pride. Photo Daaim Shabazz/The Chess Drum
Nevertheless, Alan and Shaniah felt a need to organize the HBCU chess event as part of a larger mission. Putting together such an event was no small task and as graduating seniors, both had their work cut out for them. According to Matthews' article, Shaniah stated, "There was a lot of crying, a lot of overnighters, a lot of writing and work, especially when it was only the two of us and Maurice. It was really just the three of us doing the background work."
Creating a sustainable program requires a strong outreach to those who are in positions to help. I was unaware of the event until just over a month before it happened and was unable to provide any assistance in the ideation of the mission. Given my relationships with Atlanta University Center, HBCUs, and role in the global chess community, perhaps I would have been able to play a more active role. Nevertheless, the event came together nicely and Morris Brown College couldn't have been a better host.
Dr. Kevin James, 19th President of Morris Brown College
Courtesy of Melinda Matthews/US Chess
HBCUs in Perspective
Starting with Cheyney State University in 1837, HBCUs provided a learning environment in times when education was not widely available to Blacks, especially in the South. These institutions provided the necessary insulation from the many social challenges in a hostile society and were the centers of political activism.
While the oldest HBCUs are in the North, the majority are in the South and Southeast. Historically they were teaching, agricultural and trade schools where freed slaves would go to acquire much-needed skills. In the 19th century, HBCUs provided nurturing environments and helped to produce some of the brightest talents in the country, regardless of ethnicity. Many of the prominent figures in African-American history attended an HBCU and the roster is a literal Who's Who of dignitaries.
Dr. Martin Luther King, Jr. (Morehouse) and Dr. Kwame Nkrumah (Lincoln) were two of the most outstanding graduates from HBCUs. Dr. Nkrumah would gain inspiration after reading about Pan-Africanist Marcus Garvey and other Black leaders while at Lincoln (Pennsylvania). After successfully winning Ghana's independence from Great Britain, the founders put the black star on the Ghanaian flag in honor of Garvey's Black Star shipping line. Dr. King traveled to Ghana for the independence celebration in 1957, met Nkrumah, and became an ardent supporter of African independence movements. As the President of Ghana, Nkrumah invited the African Diaspora to help build the new nation.
The long list of HBCU luminaries includes W.E.B. DuBois (Fisk), Booker T. Washington (Hampton), Thurgood Marshall (Howard), Dr. Martin Luther King (Morehouse), Dr. Kwame Nkrumah (Lincoln), Dr. Nmandi Azikwe (Lincoln), Kamla Harris (Howard), Walter Payton (Jackson State), Langston Hughes (Lincoln), Rev. Jesse Jackson (North Carolina A&T), Alice Walker (Spelman), Roberta Flack (Howard), Althea Gibson (Florida A&M), Ed Bradley (Cheyney State), Oprah Winfrey (Tennessee State), Spike Lee (Morehouse), David Banner (Southern), Erykah Badu (Grambling) and many more contemporary figures. Also in the number are famous educators affiliated with HBCUs such as W.E.B. DuBois (Atlanta University), George Washington Carver (Tuskegee), Mary McCleod Bethune (Bethune-Cookman), and Booker T. Washington (Tuskegee).
HBCUs continue to produce the lion's share of Black talent who go on to become productive in the areas of business, government, arts, science, and media. Many students continue on to graduate programs at elite schools around the country. HBCUs also offer viable options for graduate study.
There are 107 HBCUs of all different types, but all have similar missions. There is a deep misunderstanding on the role of HBCUs. Many may not realize that it not only provides more upward mobility for the African Diaspora, but more societal stability overall. HBCUs are champions in providing students with a self-affirming environment and to function confidently in any environment. A recent study showed that HBCU students tend to have higher satisfaction than attending predominantly-white (PWI) institutions.
The Tournament Begins!
The time had come! Not far from where intellectual giant W.E.B. DuBois penned his classic book, The Souls of Black Folks would be where the inaugural HBCU Chess Tournament would be held. Morris Brown was the host and the President Dr. Kevin James attended the event for the entire day. Many leaders at this level will make a quick appearance and leave.
Dr. James not only welcomed players from the other schools, he was totally engaged and seemed to enjoy the moment. How wonderful must it have been to host students from Morehouse, Spelman, Howard, North Carolina A&T, Florida A&M, Hampton, Fisk, and Texas Southern!
The site of the 2023 HBCU Chess Classic
Fountain Hall, a prestigious building that once held the office of W.E.B. DuBois.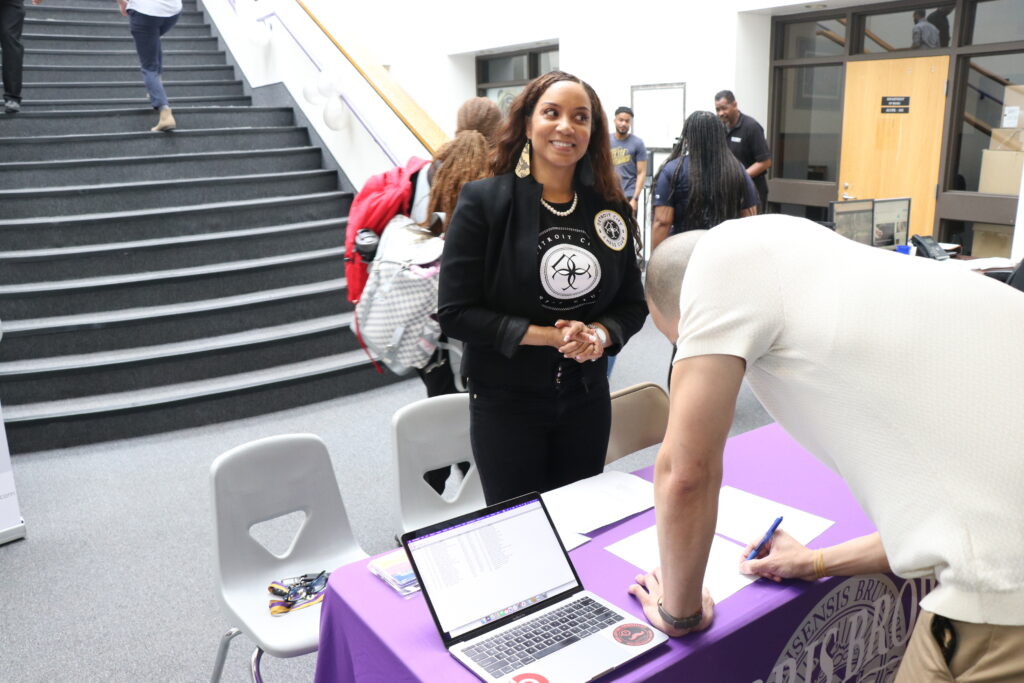 Photos by Daaim Shabazz/The Chess Drum
When I learned of the initiative from Jamaal Abdul-Alim, it was with some excitement that I learned that Maurice Ashley was involved. Of course, Maurice is a global icon in the African Diaspora, but more importantly, he has been at the forefront of innovative ideas such as the African-American Unity tournaments, the Wilbert Paige Memorial, the HB Global Chess Challenge, and the Millionaire Chess Open. Having known Maurice for more than 30 years, I was pleasantly surprised at the extent to which he played an active role in the event. While I missed the opening ceremony, here are the comments before the first round.
Opening of HBCU Chess Classic
Video by The Chess Drum
After those remarks, the HBCU Chess Classic had become history. Personally, it was good seeing Florida A&M computer science student Caleb Parker who had been planning for weeks to get his registration completed. He had participated in a couple of tournaments in Tallahassee and we had discussed rejuvenating the FAMU Chess Club. After being cleared by the registrar's offices, he was set. He rode from Tallahassee with his father Lee Parker to represent the orange and the green. Incidentally, Caleb's father went to Brooklyn Tech with Maurice Ashley.
One of the beauties of this event was that many players were playing in their first tournaments! Imagine this… these players (mostly 18-21 years old) had never competed before. However, the interest and the excitement in the room was palpable. One player from Morehouse said he learned chess during the pandemic by watching YouTube videos and playing on chess.com.
There was a constant buzz throughout the site and the HBCU spirit was infectious. At the Pan-Ams, teams like Webster and the University of Texas-Dallas (UTD) could field two full teams of Grandmasters! While the Pan-Am Intercollegiate has its own prestige, the tournament lacks the collegial spirit seen at the HBCU Classic. It was a beautiful thing to see.
Photo Expressions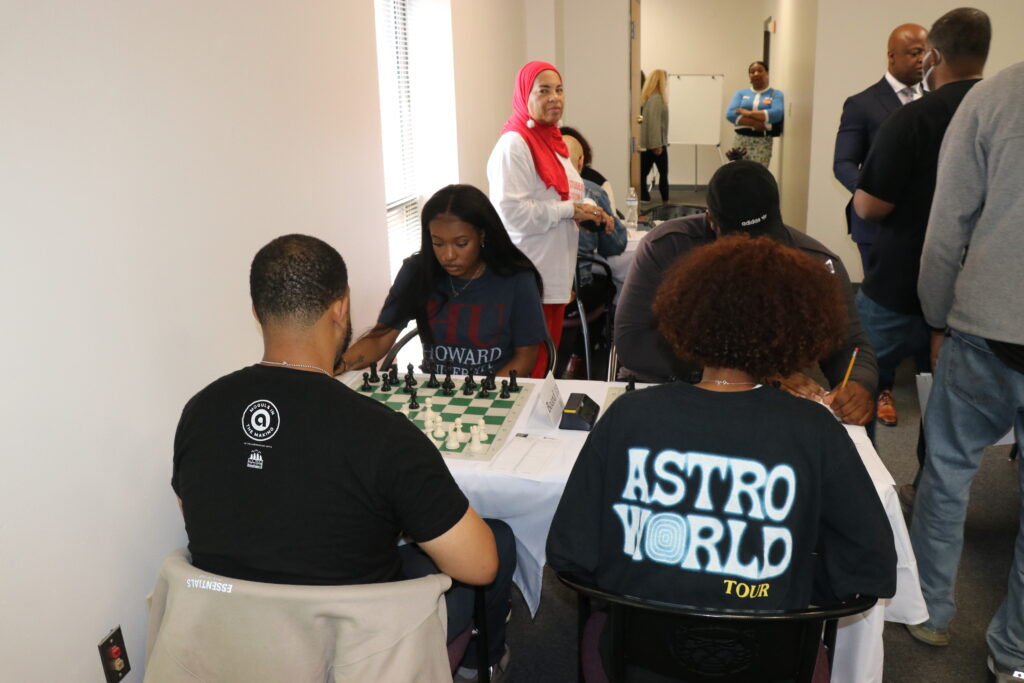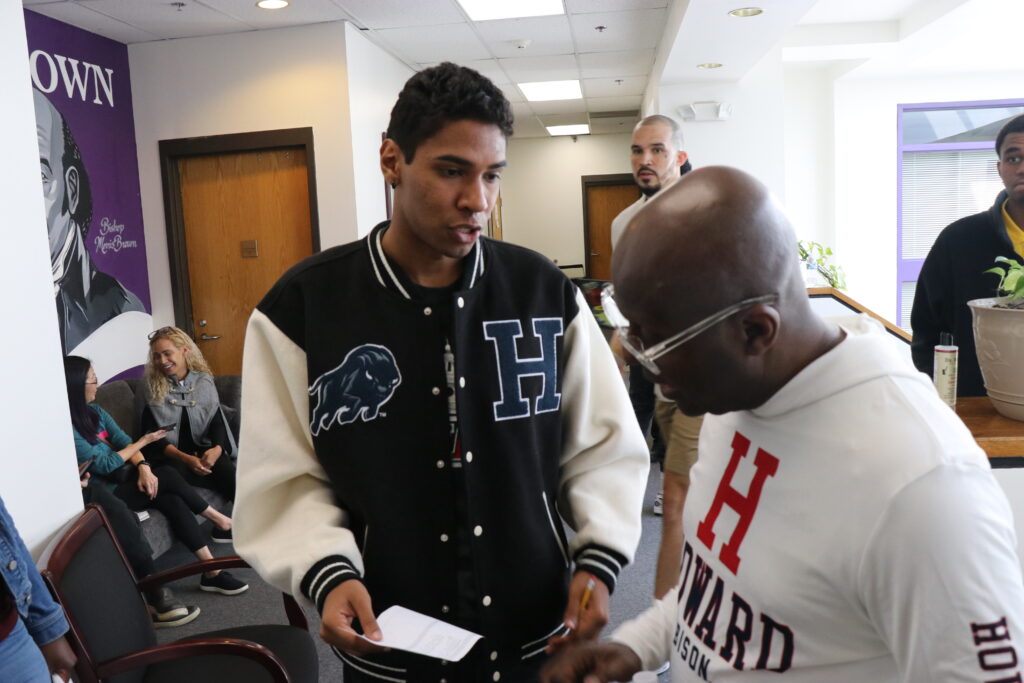 NM Jerald Times reviewing games with Howard team.
Photos by Daaim Shabazz/The Chess Drum
Faces in the Crowd
There were chess personalities coming from far and wide to witness history. Damen Fletcher came all the way from California as an interested observer. Others such as Kevin Fite and others like Catherine Martinez came from Detroit City Chess Club and Ernest Levert, Jr. came from Columbus, Ohio to help with the organization.
James Hudson came from Houston and of course, I flew in from Tallahassee. Locals such as Orrin Hudson from Besomeone, Inc., National Tournament Director Frank Johnson (Morehouse graduate), Thomas Clem (Metro Atlanta Chess Partners), and local tournament organizer Tiffany Harris were also lending their support. I met Florian Dorleans, Jr., a FAMU graduate, but an administrator at Tuskegee University.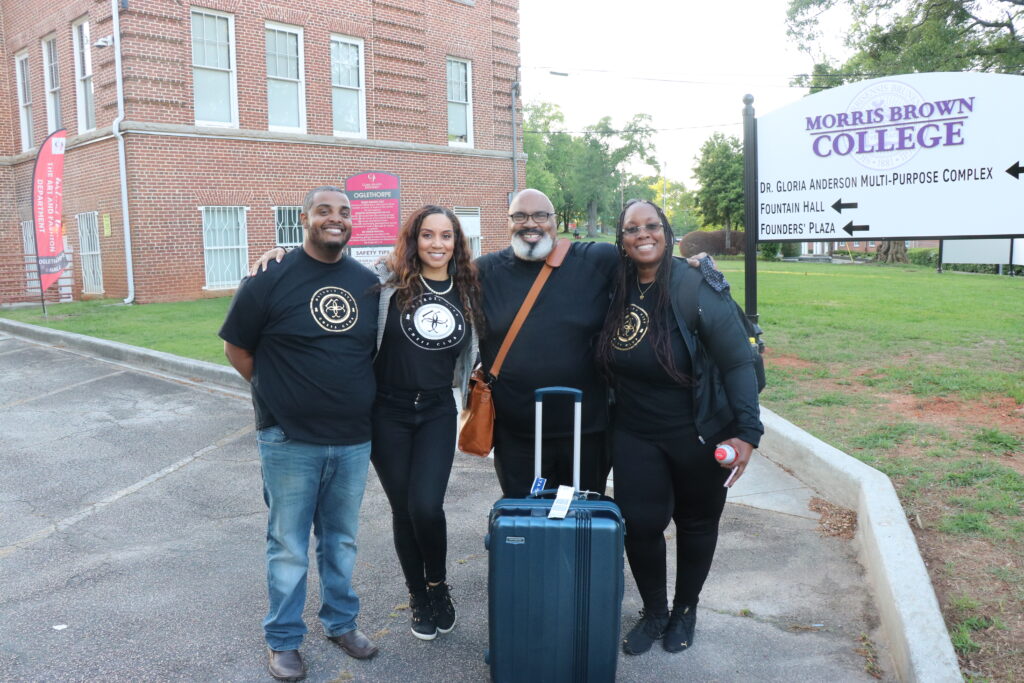 The Detroit City Chess Club made an impression!
With Atlanta chess organizer and activist Tiffany Harris
Photo by Tiffany Harris
I was interviewed by Jazzy Bivar-Tobie, a journalist from Oklahoma
Ernest Levert, Jr. of Colombus, Ohio making pre-round announcements.
All hands were on deck!
Tour Before Round 4
Video and photos by Daaim Shabazz/The Chess Drum
The biggest dignitary at the event was Atlanta Mayor Andre Dickens. He had some stirring words for the participants and although he was a Georgia Tech graduate he was 100% on board with the HBCU initiative. It should not go unnoticed that Mr. Mayor wore Air Jordan 1s with his suit and patterned pocket square… an interesting combination. He made the ceremonial move before Round 4.
Mayor Dickens mentioned to me that his predecessor Keisha Lance-Bottoms
represents Florida A&M proudly. Indeed!
Courtesy of Melinda Matthews/US Chess
Now part of the "old school" influencing the next generation…
Maurice, Jerald and Daaim
Photos by Daaim Shabazz/The Chess Drum
Malik would be the King!
Players at the inaugural event were overjoyed to make history at the event and stated that the experience created a new level of interest in chess. The idea that many are playing in their first tournaments at college age means that the chess community missed an opportunity to gain their membership in earlier years. More on that later.
There was evident excitement and players were happy to compete. For some, it would be their first tournament experience.
Up until this point Howard had clearly dominated and their 15 players had an advantage in experience. What is more impressive was that the delegation flew to the event! That is a serious-sized budget for a chess team. They also brought their advisor Nisa Muhammad and a coach Jerald Times. Jamaal Abdul-Alim, who also serves as an "informal advisor" could not make the trip due to a personal matter.
Howard kept mowing down the competition as the "A" team touted several undefeated players. Their focus to win this tournament could be felt and Jerald could be seen going over their games afterward. This resource was invaluable in that it gave Howard another advantage over the competition.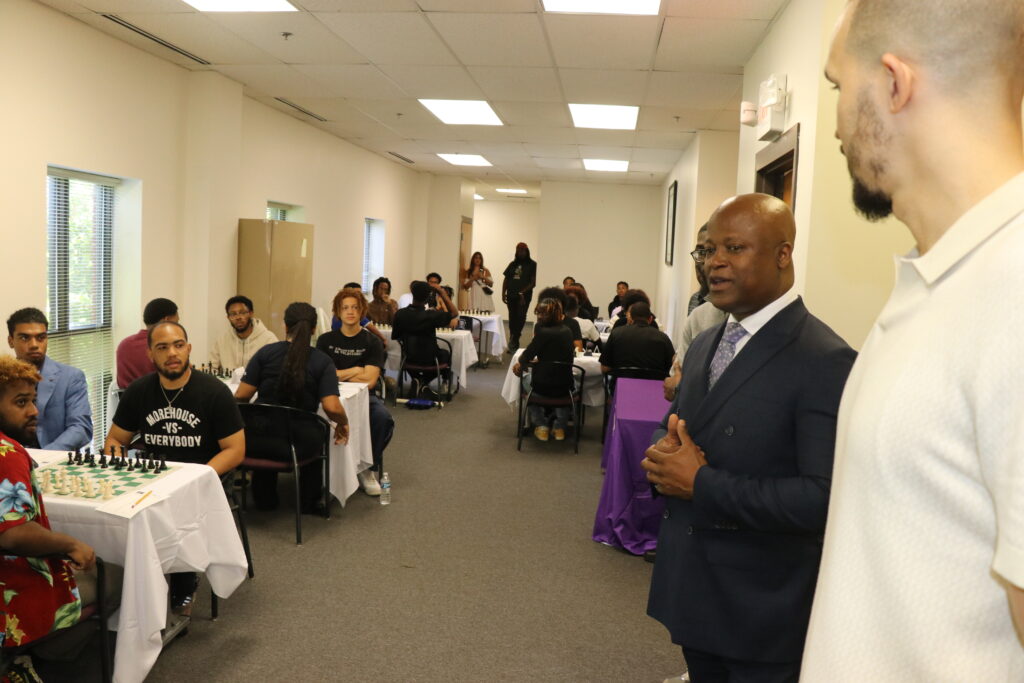 GM Ashley making his remarks before the closing round.
Seth Dousman waits to announce the final round.
What an event!

Tension on the top boards. Three Howard Bison and one FAMU Rattler!
Representing Clark Atlanta University, my second alma mater 🙂
Photos by Daaim Shabazz/The Chess Drum
After a tense final round, it turns out three players would end with perfect 5/5 scores. Malik Castro-DeVarona, Samir Acharya, and Goodness Atanda. They played a blitz tiebreaker to determine the overall champion. Here was the action…
Blitz Tiebreaks
Video by Daaim Shabazz/The Chess Drum
Malik, meaning "king" in Arabic, would live up to his name.
The Chess Drum had a short chat with Malik who mentioned that he had come from Los Angeles, California, and was from a Latino background. When asked why he moved all the way across the country, he stated that he was looking for immersion in Black culture that differed from his upbringing. He is the outgoing President of the Howard Chess Club, but has only finished his sophomore year. As a veteran member, he has two more years to help establish a strong Bison chess culture. Cassidy Sparks, from Claremont, California will take over as President in her senior year.
The Chess Drum chatted with Jamaal Abdul-Alim who was like a proud father.
I'm telling you our best players couldn't really beat me two or three years ago. Now I can't beat them. They work hard. They study. They're true students of the game.

~Jamaal Abdul-Alim on the Howard players
Closing Ceremonies
The closing ceremony was probably the highlight of the event since at a bare minimum level, the event was conceived, organized, and completed! There was enough praise to go around and several people were recognized for their roles to make the event successful.

Now for the awards. There were many and I believe at this moment, everyone was beaming with pride to show they were a part of the historic event. You could sense the accomplishment. Before the awards ceremony, there were group shots to immortalize the event.
North Carolina A&T Aggies
Florida A&M Rattlers
Dr. Kevin James and GM Maurice Ashley join the real stars!
Photos by Daaim Shabazz/ The Chess Drum
Champions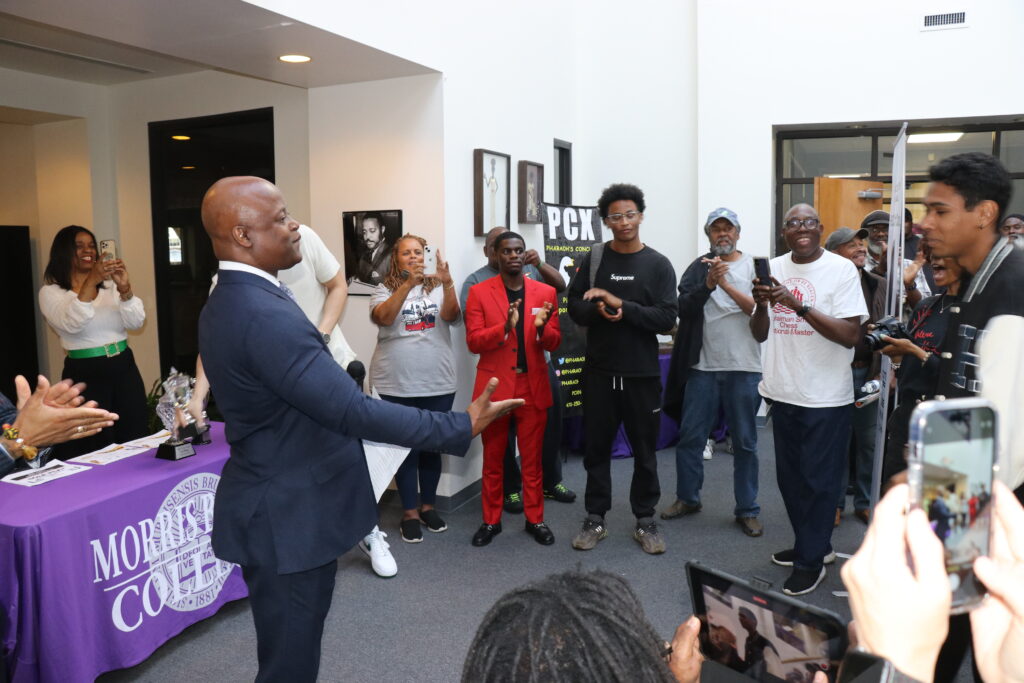 Malik Castro-DeVarona (Howard University), 1st place individual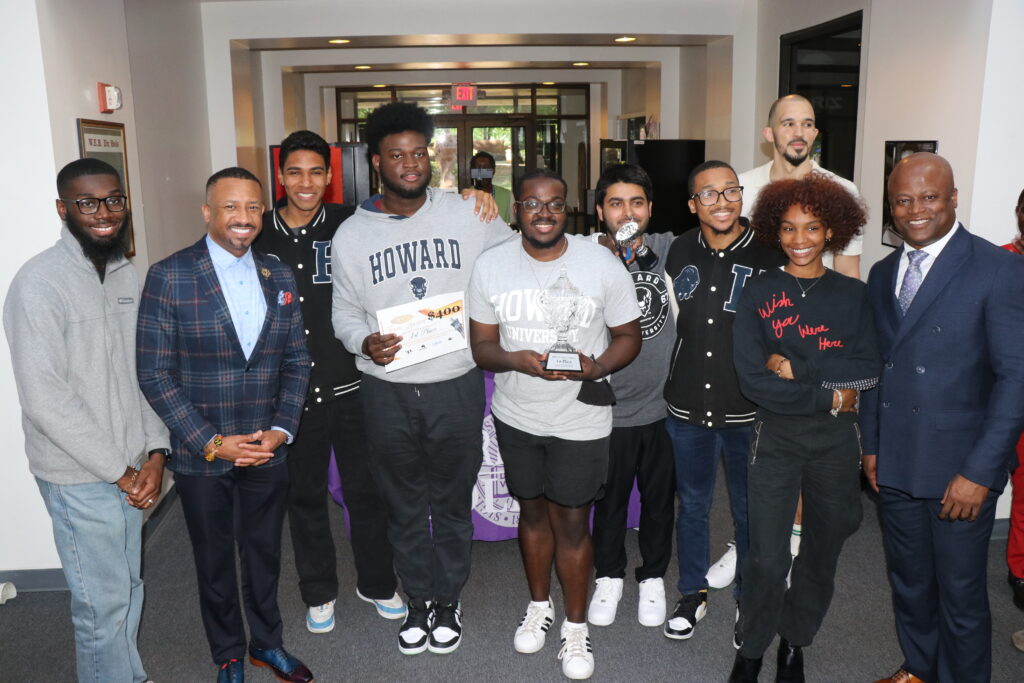 Howard University, 1st place team
HBCU Pride!
The Ladies of Spelman College
Howard had a reason to dance. Go Bison! 🙂
Photos by Daaim Shabazz/The Chess Drum
The tournament positively hummed with excitement, fellowship, and a spirited vibe not often felt at more jaded, competitive iterations — and it literally hummed, too, thanks to a DJ pumping energetic music between rounds. Welcome touches included a provided lunch — much appreciated by the always-hungry college students who gratefully decimated the wraps, sandwiches, and cookies — and a post-tournament pizza party, complete with said DJ, to close out a successful day.

~Melinda Matthews, U.S. Chess
Insights on TBO
The tournament was a rousing success and both Alan and Shaniah are to be commended along with Maurice. The positivity was on full blast and there was optimism in the air, but the obvious question is "What's next?" Both Alan and Shaniah are graduating seniors charting a course for their professional lives.
Co-founders Shaniah Francis and Alan Cowan speaking with 11 Alive.
Will this momentum continue after graduation?
Screenshot from 11 Alive TV

In my experience, a successful event has to be followed with a debriefing session and an immediate plan for the next event. This is done when memories are fresh and when excitement is still strong. Discussions about the Classic's success are still taking place and questions are being asked about the next event. In listening to Alan and Shaniah, it was clear that their passion was take TBO into a sustainable strategy.
One suggestion I made to Alan was that the proposed "top-down" approach of having chapters on various HBCU campuses would be very difficult to manage without a scalable structure. This "top-down" chapter model can be seen in many civic organizations (i.e., fraternities, sororities) that generally have full-time Executive Directors managing the structure from a central headquarters. The structure is further supported by regional, district directors and chapter officers. It is a complex structure and relies on a finely-tuned hierarchy. Today, organizations are less hierarchical and operate more on peer-to-peer (P2P) dynamics.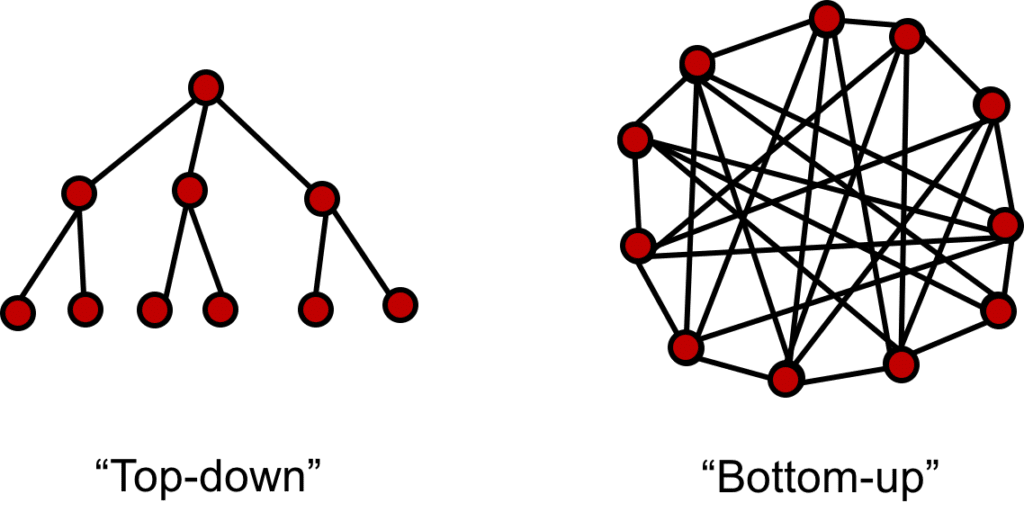 Perhaps another approach would be a "bottom-up" approach with registered HBCU chess clubs joining the TBO network. The flow features the HBCU club joining the TBO network provided they have been vetted by their own university. This would be less daunting than setting up TBO chapters and vetting over 100 campuses. What is the value proposition for joining TBO? The value HBCU chess clubs would get is access to training, tournaments, networking value, chess resources, and other collaborative efforts as part of TBO's mission.
How do we get more Black Chess Players?
In my 22 years of chess journalism, I have been an advocate for more inclusion of players of the African Diaspora. People around the world who have followed The Chess Drum will know this. To my dismay, a coherent culture has not been developed for chess excellence in the African Diaspora. However, what chess has done in the African-American community is provide an avenue for improving academic and professional standing.
"For African Americans in the United States, there's not a lot of incentive to devote yourself to chess because it's not profitable unless you're a top 100 player," Castro-DeVarona says. "So a lot of Black youth do other things in life. If there were scholarships, there would be more incentive to commit to chess when you're younger."

~Malik Castro-DeVarona on recruiting Black students into chess (ChessBase article) by Jamaal Abdul-Alim
One of my essays "Former African-American standouts reap benefits of chess," demonstrates the value of chess as an avenue for academic and professional success. In fact, Kayin Barclay is one of six examples highlighted in the essay, but the only one to attend an HBCU. Kayin was a scholastic standout in Chicago whom I started covering when he was 12 years old. He graduated Morehouse College in 2012, went on to do a Harvard MBA, and is now Vice President for Advantage Capital.
As a Morehouse freshman, Kayin Barclay took on 30 students at the Detroit City Chess Club.
Photo by Daaim Shabazz/The Chess Drum
Typically African-Americans will not necessarily seek to become a chess Grandmaster because they see no return on the time and money invested in that pursuit. In fact, Maurice once told me, "Chess will take you far, just not in chess." He had to remake himself after realizing that life as a chess professional requires one to cobble together different assets as part of a personal portfolio. So, the marketing angle for HBCUs is that chess can be used as a platform for academic and professional success. The HBCU segment is the perfect target market.
Melinda Matthews asked me what the solution was in tapping this market. One improvement I have written about would be to collect more comprehensive data and employ data analytics to better understand membership trends. Ethnic data are not kept so we don't know how many African-American players were active in 1972 vs. 1985 vs. 2010 vs. 2023. What were the trends? Has participation worsened? Has it improved? We don't know.
Why is this important? Most at the HBCU Classic joined U.S. Chess Federation for the first time as college students! From an academic standpoint, learning chess earlier provides a valuable learning aid in developing analytical skills. From a membership standpoint, there are increased numbers and thus, years of additional revenue due to players becoming tournament players years earlier.
Start them early, but beat them while you can!
Photo by Daaim Shabazz/The Chess Drum
U.S. Chess could establish outreach partnerships with key chess personalities in various communities. Maurice has recently raised the subject of chess and academics. Years ago at Florida A&M (FAMU), I helped teach chess as part of our "Successful Business Negotiation" graduate class. Dr. Sid Credle, then Director of Academic Programs, left FAMU School of Business & Industry and took the idea to Hampton (his alma mater) when he became the Dean of the Business School. Dr. Credle has since passed away, but his idea of chess as a part of the college curriculum still has relevance. It may be time to jump-start a discussion on how to leverage chess on HBCU campuses. The HBCU Classic gave us a good start!