Pontus Carlsson wins 2021 Prague Blitz!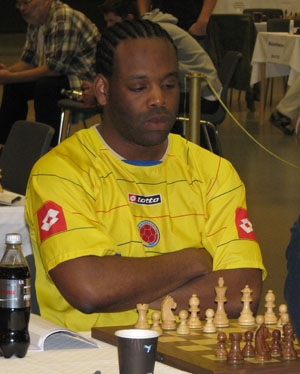 GM Pontus Carlsson
GM Pontus Carlsson
has told The Chess Drum that he was at a tournament in Spain where the others did not believe he was a chess player. After not taking him seriously, he promptly won all of the games. He overheard one of the players saying "The Black guy is playing good!" One thing is for sure… no one was surprised that Carlsson won the blitz tournament at the Prague International Chess Festival.
Many may wonder how active Carlsson has been. Before the COVID outbreak, he played in the 2018 World Blitz in St. Petersburg and the 2019 World Blitz in Moscow. He entered blitz tournament in Prague as the second seed and proceeded to win his first 10 games including a win over top-seed GM Vojtech Plat. He ended the impressive performance drawing with FM Tomas Vojta.
Results: https://chess-results.com/tnr563761.aspx?lan=1&art=1&rd=11&turdet=YES&flag=30
Carlsson has been busy in the last year addressing issues surrounding racial discimination. The protests last year brought to the forefront a number of issues that are being addressed by many social and civic organizations.
While is not as active on the tournament circuit, he has spent time with his organization Business Meets Chess & Kids, an initiative he launched some years back after traveling to several African countries. He also conducted a U.S. tour. More recently, he has invited Malawian Chess President Susan Namangale to participate and offer encouragement in online workshops.
Business Meets Chess & Kids
https://businessmeetschessandkids.com/