2018 World Rapid & Blitz (St. Petersburg, RUS)
Only a month after the World Championship (classical) was decided, the 2018 Rapid & Blitz was held in St. Petersburg to determine the world championship in the two disciplines. Indeed the raging debate on how to determine a classical World Champion to include rapid and blitz tiebreakers has its merits, but of course the main notion to increase the pressure and thus the amount of errors in order to get a decisive result.
These three disciplines are very different and the results of this week in Russia showed. A contingent of "blitz specialists" entered the field including American Grandmaster Andrew Tang who has the moniker "penguingm1". He has played countless matches with Magnus Carlsen (DrDrunkenstein) and then two faced in the rapid play.
What a moment! Bullet legend @penguingm1 Andrew Tang vs. World Champion @MagnusCarlsen at the #wrbc2018 by @LennartOotes

More on Americans in Saint Petersburg, as @GMHikaru finished just shy of champion Daniil Dubov in the rapid. Blitz starts tomorrow! https://t.co/K5p3rnKi4j pic.twitter.com/4k5C9f9Dgp

— US Chess (@USChess) December 28, 2018
Tang didn't threaten in the prize winnings, but had 8.5/15 (2666 TPR) in the rapid and 11/21 (2650 TPR) in the blitz. That didn't stop him from playing some bullet battles with Iranian star Alireza Firouzja. In fact, it was Firouzja who created buzz during the rapids leading after the first day. He was in contention as late as the 13th round, but lost a key game to Anton Korobov, but finished with a 2848 performance and demonstrated why he is one of the brightest talents in chess.
Rapid
Daniil Dubov, the plain-spoken Russian was among more than 100 compatriots vying for the prizes in the weekend and he was able to fend off a late rally by Carlsen who rallied after losing his first two games. Shakhriyar Mamedyarov, Hikaru Nakamura, Vladislav Artemiev and Carlsen finished 1/2-point back with 10.5/15. The 22-year old Dubov stated that this was his finest achievement to date. He has some very candid comments about the two disciplines.
"Should I party all night or should I sleep all night?" Three days ago, after the first day of the World Rapid Championship, Daniil Dubov declared that he hates rapid chess. Now, with one round to go, he's leading and about to win the whole thing. pic.twitter.com/4IkABK1a7y

— Olimpiu G. Urcan (@olimpiuurcan) December 28, 2018
What was interesting was the Dubov won shortly after the death of his grandfather Eduard Dubov who tragically froze to death at the age of 80. It was a fitting and inspiring victory.
Rapid Results (Open)
He is 15 years old, but finished joint second at the World Rapid 2018! He gained 157 Elo and beat Khismatullin, Grachev, Cheparinov, Artemiev, Anton Guijarro, Motylev, Svilder and Zhigalko. Players would do well to beat these players in their entire career. Alireza did it in 1! pic.twitter.com/1l1gfHTL9s

— ChessBase India (@ChessbaseIndia) December 29, 2018
Congratulations to Ju Wenjun ????????!

????????????

The reigning classical women's world champion retained her title as women's world rapid champion, scoring 10/12! pic.twitter.com/pf05xMoqTF

— Chess.com (@chesscom) December 28, 2018
This year has been a banner year for Ju Wenjun as she notched another championship after defending her rapid title. This was after winning the Women's World Championship and then successfully defending the title only months later. That resulted in a change of the world championship cycle since it would have been ridiculous otherwise to defend the title in the knockout format only months after the championship match.
Iran's Sarasadat Khadmalsheriah
took silver in both rapid and blitz.
Photo by Lennart Ootes
Ju showed her class in the 12-round rapid event with a dominating 10/12. She was pursued by contingent of talented young players in Sarasadat Khademalsheriah (Iran), Aleksandra Goryachkina (Russia), Lei Tingjie (China) and Zhansaya Abdumalik (Kazakhstan). They represent the future of the women's chess.
Khademalsheriah, who beat three former women's champions (Alexandra Kosteniuk, Antoaneta Stefanova, Mariya Muzychuk) seems to be part of a movement among young Iranian talent powered by Alireza Firouzja and Parham Maghadsoodloo. If her progress is indicative of the talent in the pipeline, Iran will be a contender in team competitions for years to come.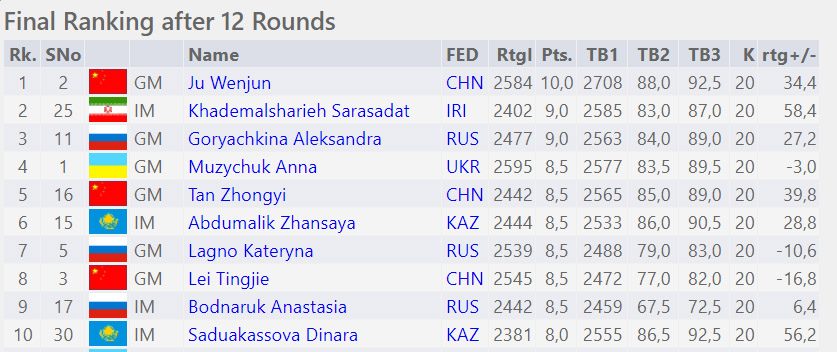 Rapid Results (Women)
There has been some discussion on the disparate size of the prize funds with some suggesting there should be an equal prize fund for the women. However, given that the open section is free for women to enter, the argument seems hollow.
Women have an option to choose between the open and women's and 100% of them chose the women's because they seek a better chance at a prize. That is understandable, but if the open is comprised of the best the world has to offer, it is logical that this is what the sponsors are investing in.
There should be no double standard in suggesting equality of prize fund when women have two options to win prizes. In fact, one can argue that they have an advantage. Judit Polgar was one who was able to compete on equal terms and there were a lot fewer women playing during her era. What did she do that others have not been able to replicate?
Blitz
Magnus Carlsen
Photo by Lennart Ootes
Magnus Carlsen came in holding the Triple Crown (titles in classical, rapid and blitz), but came into the Blitz segment just having just lost his Rapid title to Daniil Dubov. Of course, in these events there is a bit more room for error because of the pressure and inevitable blunders that occur.
One commentator was discussing this issue during the Grand Chess Tour final and lamenting how good the elite players play in fast time controls. His point was to buttress the fact that faster time controls can be used as a tiebreaker without much degradation in the quality of play.
On cue, the game that was being covered featured several blunders in a row at the very end. There is simply no way to escape the fact that these are completely different disciplines and errors (and big ones) in faster time controls are simply inevitable.
With that being said, blitz is still a favorite discipline of many of the top players… including five-time World Champion, Viswanathan Anand.
Following the frenetic pace of blitz is indeed exciting!
The legendary Viswanthan Anand is in the pit.
Photo by Lennart Ootes
In the blitz competition, Carlsen scorched the field with and undefeated 17/21. While +13 would be enough to win most blitz tournaments, he had to fend off the sparkling play of Polish phenom Jan-Krysztof Duda who won 15 games. Carlsen defeated Duda in a masterful style in their encounter in round seven.
In the blitz competition, it is about "runs" of play. A player can easily rattle off several wins in a row or lose several in a row. Carlsen's undefeated play is remarkable at that level and only Bobby Fischer's Novi Sad performance where he defeated several world champions in the field enroute to a 19-3 (+17-1=4) win.
It's much more difficult to get a run given the dangerous field with so-called "blitz specialists" and young lions looking to relieve top guns of Elo points and scalps. Ahmed Adly of Egypt had a good run and was sitting on board four in round ten after beating Hikaru Nakamura and Sergey Karjakin in consecutive rounds. A lost to Russia's Dmitry Andreikin knocked him off course and he ultimately settle for 20th place, a strong showing.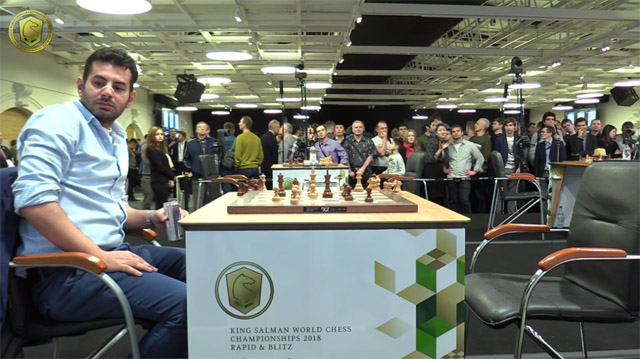 Egypt's Ahmed Adly, ponders after a loss. However, he had a strong showing with 13/21 and 2702 TPR. Photo from FIDE Chess
Hikaru Nakamura had taken bronze in the rapids and was optimistic going into the blitz segment. As mentioned, he was upset by Adly, but got key wins over Vladislav Artemiev and Dmitry Andriekin to pull within two points of the lead. Unfortunately, he had fallen too far behind and ended on 14.5 points and 3rd place.
Duda lost to Carlsen and Peter Svidler early on, but and at one point scored eight consecutive wins! In round 17, he faced Sergey Karjakin in a sharp Keres Attack. That game ended in an exciting draw, but the Polish star would lose to Nakamura the next round to fall off the pace. Duda bounced back with three wins in a row, but a Carlsen victory against Anton Korobov meant he would take silver.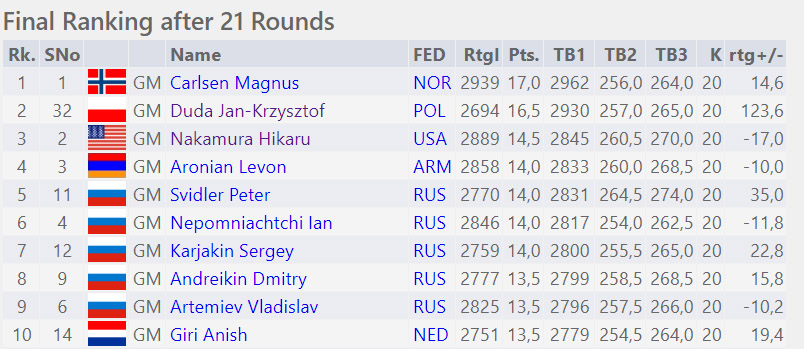 Blitz Results (Open)
In the women's competition, Ju Wenjun started off with four straight wins, but was derailed with draws and a loss to Sarasadat Khademalsherieh. At that point the Iranian was on a blistering six-game winning streak and would push it to seven with a win over Koneru Humpy. Both she and Kateryna Lagno were on 7/8 and drew in round nine to maintain the lead. However, a trio of Chinese players were only half-point back.
The most improbable development was the performance of Leya Garifullina, an 14-year old Russia who was vying for a top spot. Rated at 2120, she was on 6.5/9 had just beaten Antoaneta Stefanova and also earned scalps from Elisabeth Paehtz, Harika Dronavali. By round 12, she had moved to 2nd place on 9/12, a point behind Lagno along with Lei Tingjie and Valentina Guinina. Who would've predicted this??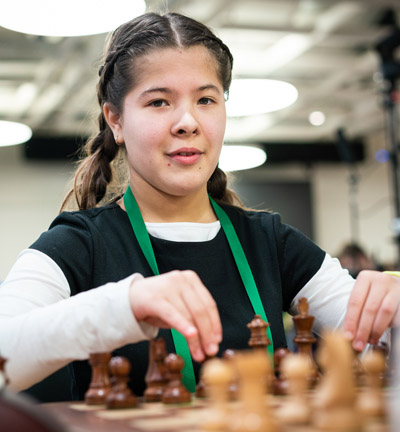 Leya Garifullina took the blitz field by storm.
Photo by Lennart Ootes
Unfortunately, former women's champion Anna Ushenina took the wind out of her sails and after rebounding against Pia Cramling, she lost to Guinina dropping her to 8th and effectively eliminating her from from the top three positions. After drawing with Ju Wenjun she settle for 11/17 and 8th place.
In the end, Kateryna Lagno was in form having gone undefeated with ten wins in 17 rounds! After having lost to Ju Wenjun in the finals of the World Championship last month, she earned some redemption at defeating her in round 11 and winning the tournament. What is more amazing is the fact that Lagno had taken a long break from chess and seems to be playing better than ever. How did she explain it?
Interview with Kateryna Lagno
Video by FIDE
Blitz Results (Open)
Photo by Lennart Ootes
Official Site: https://wrbc2018.com/
PGN Games (TWIC): Rapid (Open), Rapid (Women), Blitz (Open), Blitz (Women)
Drum Coverage: https://www.thechessdrum.net/blog/2018/12/31/2018-world-rapid-blitz-st-petersburg-rus/