2019 World Rapid & Blitz (Moscow, Russia)
In the last top-level chess event of the year, the top brass assembled in Moscow, Russia to compete in the World Rapid & Blitz Championships. Given the rising popularity of online blitz, this event attracted professional players, blitz specialists and top chess streamers. Magnus Carlsen would be the top attraction. Back in 2014-15, he held world titles in three formats (classical, rapid, blitz). Daniil Dubov took the rapid title last year and in the blitz segment Hikaru Nakamara (2885) would try to strip the blitz crown from Carlsen.
Magnus Carlsen would attempt to reclaim the "Triple Crown"
One of the side topics going into this event was the participation of Iranian phenom Alireza Firouzja. Last week he announced that he would play under the FIDE flag protesting the Iranian Chess Federation's decision to withdraw players from the Rapid & Blitz tournament. This occurred because Parham Maghadsoodloo and Amin Tabatabaei violated policy by competing against Israelis. Nevertheless, Firouzja would be a major threat considering his strength in quick play.
"I am happy that Russia is hosting another big event, this time in Moscow. It is wonderful that it is held at a great historic place such as Luzhniki Stadium which was home to all important ceremonies in the Moscow Olympics of 1980," FIDE President Arkady Dvorkovich. #rapidblitz pic.twitter.com/P000rFJKuY

— International Chess Federation (@FIDE_chess) December 25, 2019
In the women's competition, there would be the usual suspects minus Ju Wenjun and Alexandra Goryachkina. Both will be competition for the upcoming title match in January. Humpy Koneru is a welcome addition to the field taking a two-year hiatus after marriage and having a daughter. Since Ju would not defend her rapid title, Anna Muzychuk would go in as the top seed. Kateryna Lagno is the defending blitz champion.
Rapid
A good mixture of players in the field included some veterans like Ilia Smirin (age 51) who in an interview was asked about keeping up with the young lions. His response referred to a nature channel in which the lion was outsmarted or defeated by its prey. In the first day of the rapid (15 minutes + 10 second increment) he was certainly up to the task finishing the first day in joint first. Wang Hao of China had a nice run, but gave an intriguing interview with ChessBase India. When asked how he felt about his qualification for the World Candidates and the prospect of two Chinese qualifying, he seemed a bit irritated.
"I don't really consider him to be my friend!" Wang Hao speaks about his equation with Ding Liren and also how the Chinese number 1 has always received support, while he has fought a lone battle to reach the Candidates.

Full video: https://t.co/zGUZpCRzwe pic.twitter.com/Iqv53lAVP4

— ChessBase India (@ChessbaseIndia) December 26, 2019
Interesting.
Listening to the entire interview may lend some insight as to why Wang Hao had become alienated from the Chinese national team. Of course, it is not required to be one's friend to make a comment about their chances in the cycle, but it was an uncomfortable question. One thing that was clear that he mentioned Ding's determination and this is a top concern for the Carlsen camp.
After day two Carlsen had closed the day with three straight wins (8/10) to lead the pack by half-point over Wang Hao, Jan-Krzysztof Duda and Maxime Vachier-Lagrave. In the third day, Carlsen built up a 1½-point lead with two rounds left and had to stave off a rally by Nakamura.
The Carlsen-Nakamura finale was a tense affair, but Nakamura couldn't score the victory and had to settle for bronze. Firouzja got 4½/5 on the last day beating four heavyweights and holding Dmitri Andreikin. A lot was made over the Iranian's performance, but he has been poised to shine anyway.
Rapid Results (Open)
Interview with Magnus Carlsen
Video by FIDE Chess

The biggest success story of the World Rapid 2019 was definitely Alireza Firouzja. The 16-year-old scored 10.5/15 and won the silver medal. He scored 4.5/5 on the last day beating Wang Hao, Mamedyarov, Inarkiev and Le Quang Liem.
The boy is an epitome of "Nothing is Impossible!" pic.twitter.com/El7z1wCZu3

— ChessBase India (@ChessbaseIndia) December 29, 2019
Video by ChessBase India
The silver medal is a wonderful result for the 16-year old Iranian, and the political effect of the conflict with the Iranian Chess authorities has been palpable. In the final analysis, Firouzja simply wants to play chess and realize his tremendous potential. The notion that he is serving as a "freedom fighter" is a bit of an overstatement.
The political environment in the Middle East is extremely complex and will not end soon, but it is hopeful that the Islamic Republic of Iran will find a way to mitigate these controversies. Iran's Sarasadat Khademalsharieh weighed in.
Iran's Sara Khadem gives her views on Alireza Firouzja's switch to the #FIDE flag. pic.twitter.com/Poo8n3RcaR

— Nigel Short (@nigelshortchess) December 26, 2019
In the women's rapid event, the field was wide open and at the end of the first day only ½-point separated the top 15 places. Olga Girya and Meri Arabidze was joined in the lead by Irina Bulmaga of Romania with 4/4. Bulmaga won the 1st Hail Rapid Championships in Saudi Arabia back in March so she appears to be a specialist.
On the second day, the Chinese players conducted an onslaught and pulled into medal contention. Bulmaga was still holding on to a share of the lead and top-seed Anna Muzychuk rounded out the quartet of leaders. Bulmaga beat Humpy who was sizzling on 4½/5! She then drew the two front-running Chinese players to end the day on 6½/8.
Bulmaga started off with a win against Mariya Muzychuk, but then begin to falter. She failed to maintain the momentum and fell out of contention. Ekaterina Atalik quietly moved in the forefront and scored a last-round win over leader Lei Tingjie to get the bronze. Lei had to settle for silver while Koneru Humpy ended the tournament with two important wins including a last-round win over Tan Zhongyi to get at 9/12. Because of Lei's loss, the Chinese player also ended on 9/12. Koneru had to play her in a tiebreak.
The match started with Humpy losing the first on time only to equalize with a must-win. This was improbable because she got a losing position, but fought back to force an Armageddon game. Lei won the toss and opted to take white and the extra minute. The final game was an Italian and white not only failed to secure an advantage, but lost
Congratulations to GM Koneru Humpy ?? on winning the @FIDE_chess Women's World Rapid Championship in Moscow, Russia.

Humpy beat Lei Tingjie ?? in a playoff match to win her first World title!#rapidblitz #worldchampion pic.twitter.com/BNz6gpE8oK

— Chess.com – India (@chesscom_in) December 28, 2019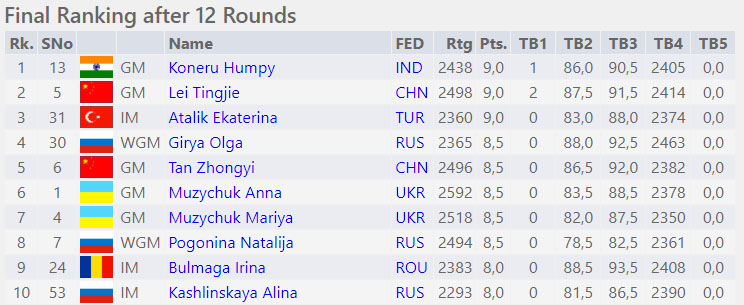 Rapid Results (Women)
Interview with Koneru Humpy
Video by FIDE Chess

Blitz
The blitz competition would feature two days of thrilling chess. With each player facing 21 rounds, it goes without saying that having a good environment is important. There were some complaints about the gap in between the rapid games which result in much longer days and thus, more fatigue. In addition, there were delays given that some of the games went down to the very end.
Carlsen would be trying to defend his title against the likes of Nakamura (top-seed) and a strong Russian contingent. Eyes would be fixated on the games of Carlsen and Nakamura as they were the top seeds, but in a blitz tournament, there are inevitable upsets from "dark horses." In this tournament the improbable "dark horse" Iran's Alireza Firouzja. In fact, Nakamura actually lost a game to Firouzja and it was celebrated in social media.
After his loss to the Iranian phenom, Nakamura went on a rampage
Photo by Lennart Ootes
Despite the loss, Nakamura then rattled off five wins in a row! He was in a joint tie for first with the surprising Bartosz Socko, Carlsen and Vidit Gujrathi on 7½/9. After consecutive losses to Carlsen and Dubov, Socko faltered and rapidly fell out of contention. After the 12 rounds on the first day, Carlsen was on 10/12 with Maxim Matlokov on 9½ and Nakamura in joint third (with Dubov and Ian Nepomniachtchi) on 9.
Nakamura actually caught Carlsen in round 15 after beating Matlakov, but the world champion immediately regained his ½-point by beating Dubov. There is a saying that the better you are the luckier you are. In round 19 with Carlsen trying to hold a draw against Firouzja, the young Iranian flagged!! Firouzja then filed an appeal citing distractions from Carlsen. Here is all the action captured by ChessBase India…
Video by ChessBase India
Firouzja clearly had problems keeping his pieces on the squares knocking them over several times before he ran out of time. He immediately filed a handwritten appeal, and after consideration by the appeals committee (headed by Lukasz Turlej), it was denied. Thus, Carlsen expanded his lead over Nakamura to a full point.
This was an unfortunate situation because it would've turned the entire field on its head. In general, when one's time has expired, it reduces the chances for a successful claim. Such disturbances should be addressed during the game by stopping the clock and reporting to the arbiter.
After losing his appeal, Firouzja would also lose his next game to Kramnik effectively eliminating his medal chances. Meanwhile Nakamura had to win "on demand" against Rauf Mamedov. It was an intense battle ending in a frenetic time scramble. Here is how that game ended (with Carlsen watching)…
An epic tiebreak for the world blitz title coming up: Magnus Carlsen versus Hikaru Nakamura. https://t.co/evhnmkVuvo pic.twitter.com/jjRTZEsbBt

— Olimpiu G. Urcan (@olimpiuurcan) December 30, 2019
This meant that both Carlsen and Nakamura would play a series of tiebeak games to determine the winner. Here were the two games…
Game 1
Game 2
Videos by ChessBase India (Sagar Shah)
So there it was… Carlsen's third consecutive blitz title! This caps off a wonderful year with a number of super-tournament wins and breaking Ding Liren's record for consecutive games without a defeat. He holds the classical, rapid and blitz titles; he holds the highest rating in classical and rapid and #2 in blitz. The only title he doesn't hold is the 960. He will go into 2020 with supreme confidence as he waits on his challenger. Being the chess enthusiast that he is, he will be watching with great interest. He has had a great 2019 and his celebration below says it all.
Magnus Carlsen ends 2019 as a champion in all three formats of chess (classical, rapid, blitz). First time he did it in 2014.

? by @LennartOotes #rapidblitz #chess #Carlsen pic.twitter.com/VD4ZUhZKCj

— International Chess Federation (@FIDE_chess) December 30, 2019
Blitz Results (Open)
Interview with Magnus Carlsen
Video by FIDE Chess

In the women's competition, Lagno would try to defend her title, but ran into stiff resistance from a trailing pack. She scored an incredible 8/9 after the first day. On the second day, she started off by beating Alexandra Kosteniuk, but Koneru Humpy was in hot pursuit. The Indian ace actually caught Lagno after she lost to Alisa Galliamova in round 13.
With fours rounds remaining, it would be a sprint to the finish. Lagno would hold some tiebreak advantage in the event of a tie. However, tragedy struck for Koneru as she lost her last three games! Both Anna Muzychuk and Tan Zhongyi put together mini-streaks and threatened the defending champion. Muzychuk had a chance to win the tournament, but lost to Zhongyi in the finale. Zhongyi had 4½ from her last five games and despite beating Muzychuk she had to settle for the bronze. So Lagno successfully defended her title.
Blitz Results (Women)
Interview with Magnus Carlsen
Video by FIDE Chess

Congratulations to the frontrunners of the King Salman World Rapid & Blitz Championships 2019! ?

Rapid Open: Carlsen, Firouzja, Nakamura
Blitz Open: Carlsen, Nakamura, Kramnik
Rapid Women: Koneru, Lei Tingjie, Atalik
Blitz Women: Lagno, Anna Muzychuk, Tan Zhongyi#rapidblitz pic.twitter.com/ZFWb1u9dOz

— International Chess Federation (@FIDE_chess) December 30, 2019
Official Site: https://wrbc2019.com/