Back in December, when the world was grappling with the COVID-19 pandemic, Senegal was hosting its National Open qualifier to determine who would compete in the National Championships. The seven-round Open Swiss tournament attracted 44 participants and had a time control of 60 minutes. The event took place at the Cours Sainte Marie De Hann from December 4-6, 2020. Those Senegalese players placing in the top ten qualified to play in the Senegal Closed National Chess Championship.
Mansour Gbedo Sy won the National Open and would come into the championship riding high on confidence. Amadou Lamine Cissé only placed 8th in the National Open, but this would be his tournament. The 2020 championship was postponed until a definite date could be set. Finally, the Senegalese Chess Federation scheduled the championship to take place in the nation's capital of Dakar at the National Arena de Lutte, June 11th-20th. The time control was a bit more generous with 90min/40 moves + 30min + 30s.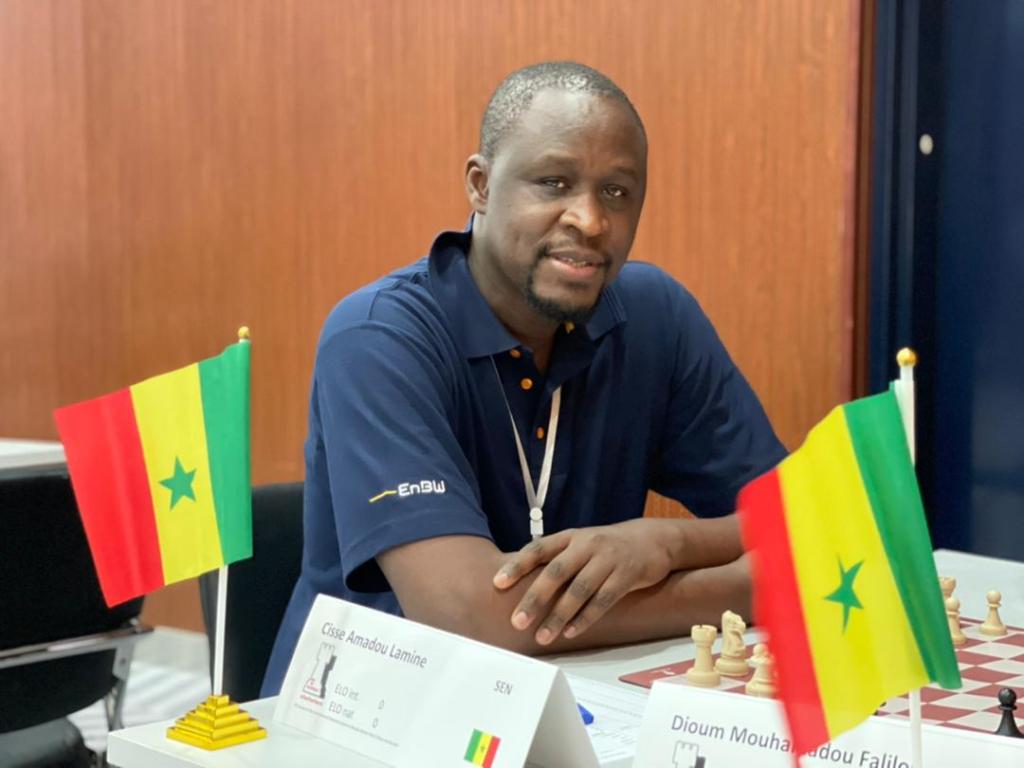 Amadou Lamine Cissé set to play Mouhamdou Dioum
Photo by Federation Senegalaise des Echecs
The result was surprising. Lamine, who doubles as the President of the Senegalese Chess Association, won the title with a scintillating 9/9. Of course, this score bring memories of Robert Gwaze's 9/9 performance at the Bled Olympiad in 2002. Lamine's performance may not have been on the Olympiad stage, but being a national champion is a magnificent achievement. Here is his game against Dioum:
Mansour Gbedo Sy, the country's highest-rated player, took the second spot with a fantastic 7.5/9. A score of +6 would normally be enough to win a national champion, but Cisse's performance was unmatched. To show the dominance of both Cisse and Sy, the rest of the field was no less than two full points behind!
Mansour Gbedo Sy had previously won the National Open in December but was unable to overcome Cisse's golden performance in the National Championship.
Bernard Lebros claimed the bronze on tiebreaks.
Nadezhda Marochkina vs. Mouhamdou Dioum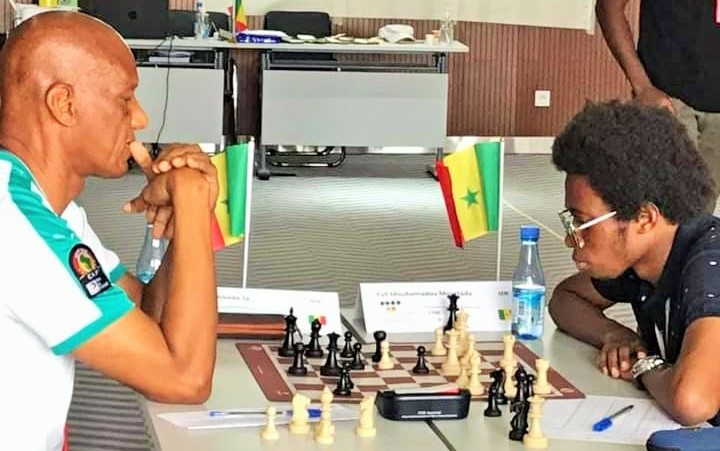 Mansour Gbedo Sy vs. Mouhamdou Mourtada Fall
Photos by Federation Senegalaise des Echecs
Other noteworthy performances were Bernard Lesbros and Mouhamadou Mourtada Fall, both ending on +2 at 5.5/9. Fall is considered one of the younger talents who will lead Senegal into future battles. Here is his game against Wara Diop which ended on a humourous note:
Women's chess is still developing in Senegal and there were not enough participants to have a separate competition for girls and women. Perhaps that is the right direction if we want to ensure equality in chess. Oftentimes we assume female chess players are seeking the "W" titles, but why is that a foregone conclusion? Why are African women not actively pursuing the FM, IM, and GM titles? Why are they not competing in the open championships? These are important questions.
Nadezhda Valerevna Marochkina is a Russian immigrant who recently represented Senegal in the 2021 African Individual in Malawi. She was one of five players from Senegal to make the trip and ended on 4.5/9 in the women's section.
Ironically, Marochkina would be the only woman competing in the National Championship and was (by default) declared the women's champion. One wonders if the humbling experience the four other players received in Malawi damaged their confidence. Nevertheless, it is a goal that more women will compete in the open format if there will be any hopes of equality.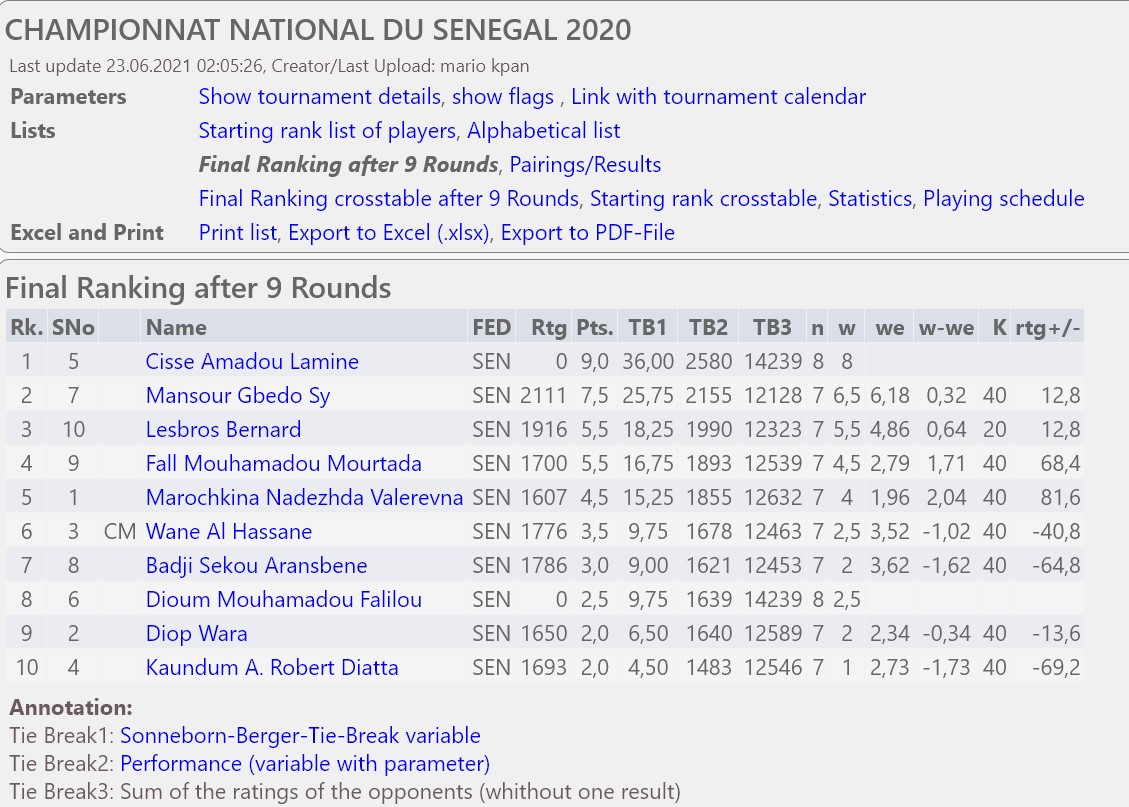 Also see…
One Response to "Senegal crowns national chess champion!"
Le Sénégal sacré champion national!

En décembre, alors que le monde était aux prises avec la pandémie de COVID-19, le Sénégal a organisé son qualificatif National Open pour déterminer qui participerait aux championnats nationaux. Le tournoi en sept rondes a attiré 44 participants avec une limite de temps de 60 minutes. L'événement s'est déroulé sur le Cours Sainte Marie De Hann du 4 au 6 décembre 2020. Les joueurs sénégalais classés parmi les dix premiers qualifiés, participeraient au Championnat national du Sénégal d'échecs.

Mansour Gbedo Sy a remporté le National Open et entrerait dans le championnat avec une grande confiance. Amadou Lamine Cissé ne s'est classé que 8e à l'Open national, mais ce serait son tournoi. Le championnat 2020 a été reporté jusqu'à ce qu'une date précise puisse être fixée. Enfin, la Fédération sénégalaise des échecs a prévu que le championnat se déroulera à Dakar, la capitale nationale, à l'Arène nationale de Lutte, du 11 au 20 juin. Le contrôle du temps était un peu plus généreux avec 90min/40 coups + 30min + 30s.

Amadou Lamine Cissé jouera Mouhamdou Dioum
Photo by Federation Senegalaise des Echecs

Le résultat était surprenant. Lamine, qui est également le président de l'Association sénégalaise des échecs, a remporté le titre avec un 9/9 scintillant. Bien sûr, cette partition rappelle la performance du 9/9 de Robert Gwaze à l'Olympiade de Bled en 2002 . La performance de Lamine n'a peut-être pas été sur la scène de l'Olympiade, mais être un champion national est un accomplissement magnifique. Voici son match contre Dioum :

Mansour Gbedo Sy, le joueur le mieux noté du pays, a pris la deuxième place avec un fantastique 7.5/9. Un score de +6 serait normalement suffisant pour remporter un champion national, mais la performance de Cissé était inégalée. Pour montrer la domination de Cissé et Sy, le reste du peloton n'avait pas moins de deux points de retard !

Mansour Gbedo Sy avait déjà remporté l'Open national en décembre, mais n'a pas pu surmonter la performance en or de Cissé au championnat national.

Bernard Lebros a remporté le bronze aux bris d'égalité.

Nadejda Marochkina vs. Mouhamdou Dioum

Mansour Gbedo Sy vs. Mouhamdou Mourtada Fall

D'autres performances remarquables ont été Bernard Lesbros et Mouhamadou Mourtada Fall , tous deux terminant sur +2 à 5,5/9. Fall est considéré comme l'un des jeunes talents qui mèneront le Sénégal dans les batailles futures. Voici son match contre Wara Diop qui s'est terminé sur une note humoristique :

Les échecs féminins se développent encore au Sénégal et il n'y avait pas assez de participants pour organiser une compétition séparée pour les filles et les femmes. C'est peut-être la bonne direction si nous voulons assurer l'égalité aux échecs. Souvent, nous supposons que les joueuses d'échecs recherchent les titres « W », mais pourquoi est-ce une fatalité ? Pourquoi les femmes africaines ne poursuivent-elles pas activement les titres FM, IM et GM ? Pourquoi ne participent-ils pas aux championnats ouverts ? Ce sont des questions importantes.

Nadezhda Valerevna Marochkina est une immigrante russe qui a récemment représenté le Sénégal lors de l'African Individual 2021 au Malawi. Elle était l'une des cinq joueuses sénégalaises à faire le déplacement et a terminé 4,5/9 dans la section féminine.

Ironiquement, Marochkina serait la seule femme à participer au championnat national et a été (par défaut) déclarée championne féminine. On se demande si l'expérience humiliante que les quatre autres joueurs ont reçue au Malawi a nui à leur confiance. Néanmoins, c'est un objectif que plus de femmes concourent dans le format ouvert s'il y a un espoir d'égalité.

Photos par la Fédération Sénégalaise des Echecs (FESEC)

Voir aussi ces websites…
Leave a Reply!