GM Román Hernández Onna dies at 71
GM Román Hernández
Román Hernández Onna passed away early this month on June 1st from a lengthy illness. The Cuban Grandmaster and former national champion was 71 years old. As a pioneer, Hernandez had a long résumé before he ventured abroad and faced some of the world's elite competition. Recently, The Chess Drum featured his contributions to chess.
Born November 23rd in 1949 in Santiago de Cuba, Hernandez gained notoriety by defeating Mikhail Tal and Bent Larsen, both elite players of their day. Having represented Cuba at the Olympiad eight times, first in 1970 and last, in 1990, he scored.
After spending decades as a professional, Hernandez became known as a coach of young prospects and earned the title of Coach Fide in 2014. By some accounts, Hernandez is credited with helping to strengthen the country's international reputation in chess. Here is a sample of his career.
From the 1970s to the 1990s, Román Hernández Onna was one of Cuba's leading chess players. He won Cuban Chess Championship in 1982. One of the his greatest successes in the international arena was in 1977 in a strong chess tournament in Las Palmas, where Román Hernández Onna shared the 4th place with Mikhail Tal and Walter Browne behind Anatoly Karpov, Bent Larsen and Jan Timman, and won parties against Larsen and Tal. In the same year, he also shared the 2nd place with Oscar Panno and Ulf Andersson in Biel Chess Festival behind Anthony Miles. His other chess tournament successes include: 3rd place in Kecskemét (1975, behind Károly Honfi and Ratmir Kholmov), shared 2nd-3rd place in Bogota (1978, behind Efim Geller), shared 3rd-4th place in Quito (1978), 2nd place in Havana (1978, behind Silvino García Martínez) and the first place in this city in 1983, as well as two third place in the 'Premier' tournaments in Capablanca Memorial (1999 and 2003).
Here is the miniature win against Tal in an Accelerated Dragon. Truly an embarrassing performance by the World Champion, but a win against Tal is never a trivial matter.
The Chess Drum has featured many Afro-Latino players, but one of the unfortunate realities in the chess world is that much of the content is geared toward the English language. Because of this, a large amount of chess content does not reach the critical masses. There are a number of sites on "ajedrez" (the Spanish word for chess), but quality information often goes unreported in English sites. This is particularly true with Cuba being one of the strongest chess nations, but without such reporting on the quality players.
GM Roman Hernandez (center) analyzing
Photo by MI ICCF José Guillermo de la Rosa Solórzano
There were a number of tributes given to the Cuban legend. In fact, the University of Cuban Sports made a very interesting admission on the ancestry of GM Hernandez.
"Chess Grandmaster Román Hernández Onna passes away. Our university mourns the physical loss of chess player Román Hernández Onna. Born in Santiago de Cuba on November 23, 1949, he is the world's first black Grand Master (GM). Román graduated from International Master (IM) in 1975 and Grand Master in 1978. It is a unique case in Cuban chess since his IM and GM standards were completed in competitions held in foreign lands. Our condolences extend to all your family and friends". (link)
Falleció Gran Maestro cubano de #Ajedrez Román Hernández. Campeón nacional en 1982 y ocho veces integrante de los equipos olímpicos, sobresalió por su carácter afable y vasto conocimiento de su profesión. #Cuba #InderCuba https://t.co/XFPySMcjXQ pic.twitter.com/hpPKJ8BbRw

— JIT Deporte Cubano (@jit_digital) June 1, 2021
Olympiad
In 1970, at 4th board in the 19th Chess Olympiad in Siegen (+7, =7, -2)
In 1972, at 4th board in the 20th Chess Olympiad in Skopje (+6, =7, -2)
In 1978, at 2nd board in the 23rd Chess Olympiad in Buenos Aires (+0, =9, -2)
In 1980, at 1st reserve board in the 24th Chess Olympiad in La Valletta (+1, =1, -3)
In 1982, at 4th board in the 25th Chess Olympiad in Lucerne (+3, =2, -2)
In 1984, at 1st reserve board in the 26th Chess Olympiad in Thessaloniki (+3, =2, -1)
In 1988, at 2nd reserve board in the 28th Chess Olympiad in Thessaloniki (+4, =3, -0)
In 1990, at 1st reserve board in the 29th Chess Olympiad in Novi Sad (+2, =3, -1)
Team Chess Championships
In 1963, at 1st reserve board in the 10th World Student Team Chess Championship in Budva (+2, =3, -3)
In 1969, at 3rd board in the 16th World Student Team Chess Championship in Dresden (+5, =2, -6)
In 1971, at 1st reserve board in the 1st Panamerican Team Chess Championship in Tucuman (+1, =0, -1) and won team silver medal
In 1972, at 2nd board in the 19th World Student Team Chess Championship in Graz (+3, =7, -0)
In 1976, at 3rd board in the 21st World Student Team Chess Championship in Caracas (+5, =4, -1) and won team bronze medal.
In 1989, at reserve board in the 2nd World Team Chess Championship in Lucerne (+1, =4, -1)
In 1991, at 1st reserve board in the 4th Panamerican Team Chess Championship in Guarapuava (+3, =0, -1) and won team and individual gold medals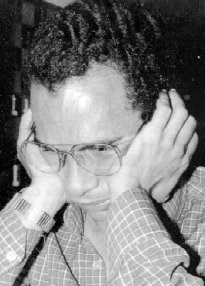 Román Hernández
For those who are descendants of Africa, there is an excitement in seeing success from within the Diaspora. While there is a lesser-known awareness of Afro-Latino chess players, this group has certainly made its own set of contributions.
From the tradition of trailblazers like the legendary Jose' Raul Capablanca to former national champion Rogelio Ortega to the younger Cubans excelling at home and abroad, Hernandez demonstrated that players from small federations could compete with the elite.
Looking at the Spanish-language sites, it is easy to see he was highly regarded in the Americas. It is imperative that we make more of an effort to learn and read Spanish, or making English translations available to benefit from the coverage of overlooked chess personalities.
Hernandez given a tribute by International Arbiter Uvencio Blanco…
"In addition to his recognized humility, he is one of the American chess players with the greatest culture and understanding of chess."
Daaim Shabazz, "GM Román Hernández… Afro-Cuban trailblazer, The Chess Drum, 20 February 2021.
"Fallece el Gran Maestro cubano de ajedrez Román Hernández," TopHoy.com, 2 June 2021.
ChessGames.com: https://www.chessgames.com/perl/chessplayer?pid=41936
Games of Hernandez-Onna: https://www.thechessdrum.net/
Note: These are games up until 2008. Looking through this collection, Hernandez played a number of legendary competitors including Josef Pribyl, Jan Hein Donner, Aivars Gipslis, Istvan Bilek, Andras Adorjan, Yuri Balashov, Kenneth Rogoff, Evgenij Ermenkov, Vlastmil Hort, Ljubomir Ljubojevic, Walter Browne and so many others. He also played Tunisia's Slim Bouaziz, the first Grandmaster of the African continent.