The Anatomy of USA Gold at '16 Chess Olympiad

Heading into the Baku Olympiad, there was heightened anticipation of how the USA would do given the two new additions on the team. Out were Gata Kamsky and Alexander Onischuk and in were Fabiano Caruana and Wesley So. These were very favorable replacements of two players who had served the national team admirably and helping to wins bronze medals in 2006 and 2008. However, this year the USA was going for gold. With the return of Fabiano Caruana to the U.S. and with Wesley So's switching of federations, the team suddenly became a contender to favorites. The top three boards of the American team were unmatched.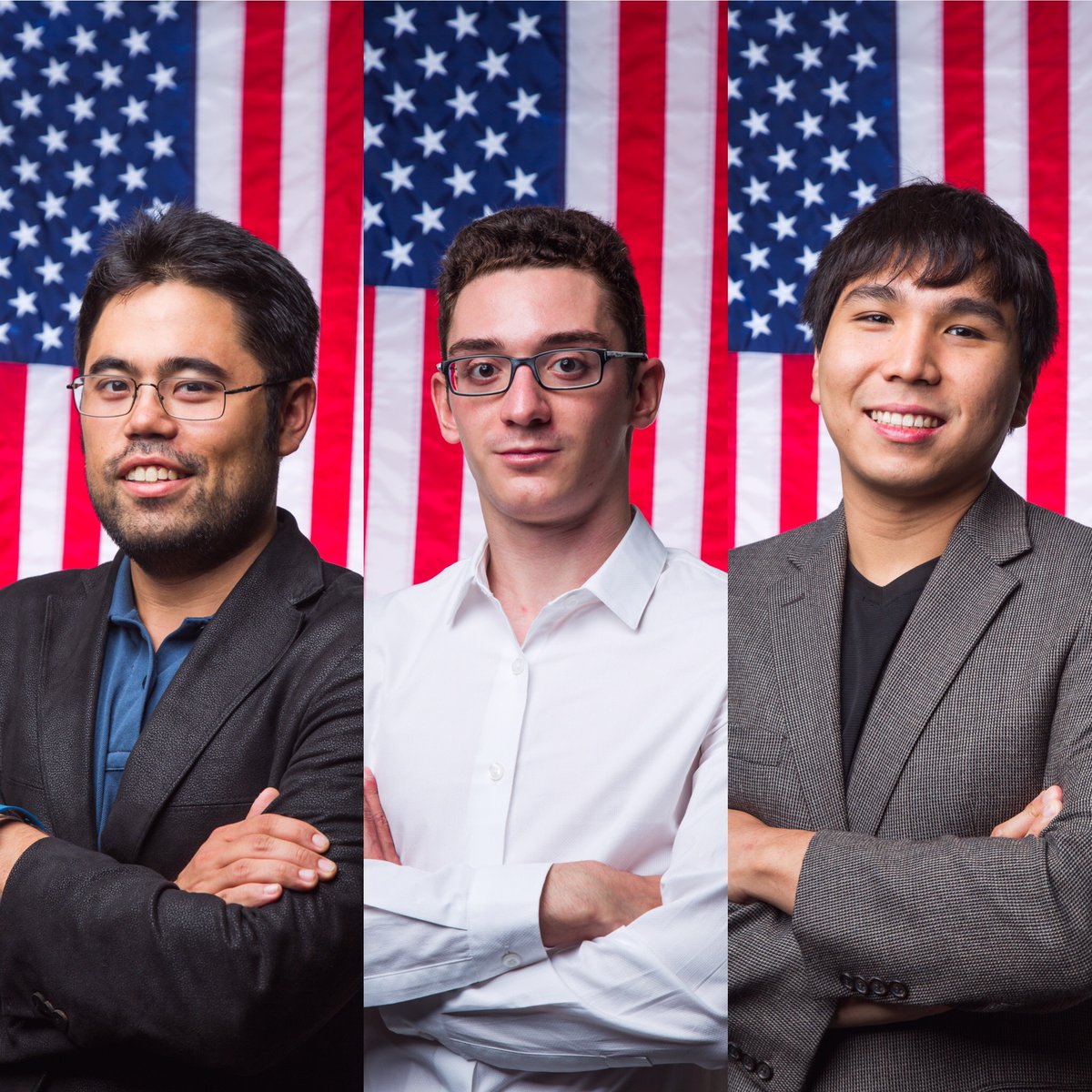 Hikaru Nakamura, Fabiano Caruana and Wesley So.
Photo by Chris Bauer
After Caruana switched federations, there was all types of snide remarks made about Rex Sinquefield's role in the transfer. In fact, New York Times writer Dylan Loeb McClain penned an article titled, "U.S. Wins Gold at Chess Olympiad With Help of Imported Talent," a very misleading piece on the matter. Bear in mind, the thought of returning to the U.S. has been on Caruana's mind already and he implied this in interviews. However, he was certainly encouraged by the support and development of chess on the American landscape and wanted to be part of the movement in his home country… and not returning as an immigrant. In So's case, he was a student at Webster University and there was never a pretense about him coming to switch federations.
Instead of congratulating the tournament victors, World Champion Magnus Carlsen posted the above tweet suggesting that Sinquefield "bought" a super team the way an executive assembles a collection of stars with free agent signings and transfer fees. The comment was met with harsh reaction and he will most likely hear some objection when he arrives in New York for the championship match in November.
For 20 years, the USA had mostly Russian emigres playing on Olympiad teams and no one mentioned "buying" players although there were the usual jokes about there being three Russian teams at Olympiad: Russia, USA and Israel. In addition, having highly-rated players does not constitute a gold medal. Of course, Russia and their own import Sergey Karjakin has proven this.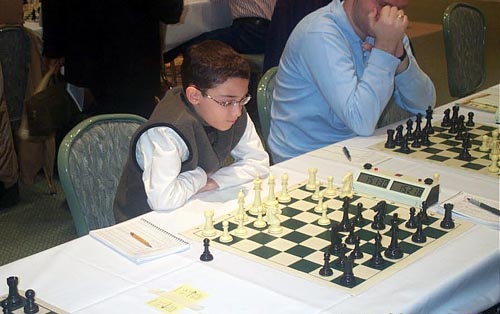 Pictured is a 10-year old FM Fabiano Caruana playing at 2003 Foxwoods Open (Connecticut, USA). Photo by Daaim Shabazz.
In Caruana's case, he was born in the U.S. and developed the passion for chess in New York where he was identified as a prodigy always desiring to play in the open section. He represented the U.S. at youth level before his parents decided to move to Europe to help him realize his chess talents. He then switched federations to represent his father's native country, but never took up permanent residence in Italy. Hungary and Switzerland were listed as his locations as well as Spain. Nevertheless, much of the chess world assumed Caruana was born, raised and lived in Italy. None of which are true.
For 10 years, Caruana played under the Italian flag, a sense of family honor and certainly a boost to Federazione Scacchistica Italiana. Upon his return in 2015, Caruana received a hero's welcome and moved to reacclimatize himself. Winning the 2016 U.S. Championship helped in the process, but now would come the true challenge of forming the Olympiad team.
Nakamura at the 2004 World Open. Photo by Daaim Shabazz.
Hikaru Nakamura is a product of American Swiss system. Having cut his teeth and toughened himself on the brutal open tournaments and Internet chess, Nakamura was also identified as a young talent and proceeded to break most of Bobby Fischer's records. Ironically, his teammates Caruana and Ray Robson, then broke most of his records.
Becoming a master at age 10, Nakamura was under the tutelage of his stepfather FM Sunil Weeramantry and followed his brother Asuka to tournaments. Eventually Nakamura began to soar in his mid-teens and in 2005 won his first of his five U.S. Championships at age 17. Although, he was snubbed from the Olympiad earlier that year in a minor controversy, he continued to improve and soon became the face of American chess. Now a four-time U.S. Champion, he was the elder statesman of this team at 28!
Wesley So is an interesting case. He rose to stardom in the Philippines as a junior player following the example of Eugenio Torre. The country has a vibrant chess culture, but internal strife caused some players to become disgruntled. So decided to test the waters as a student at Webster University studying international relations. He and Ray Robson were roommates, but after two years So sought a new direction. His leaving Webster was a bit controversial and occurred shortly after he won the $100,000 first prize at the 2014 Millionaire Chess Open.
Wesley So, wearing a beautiful Filipino barong, hoists the Sinqufield Cup aloft after winning the 2016 edition. Photo by Lennart Ootes
Nevertheless, he had decided to remain in the US, paid his own transfer fee and changed his federation. He settled in Minnesota with a host Filipino family and competed in his first U.S. Championship. He fared poorly and also finished last in the 2015 Sinquefield Cup. Had he gone astray? The very personable Filipino righted his situation and began to fare well again in international tournaments. He had a creditable 2016 U.S. Championship (joint 2nd) and recently won the 2016 Sinquefield Cup. Thus, this has been a banner year for So. Prior to the Olympiad, he was the subject of an interesting interview by IM Sagar Shah where he discussed some of his challenges.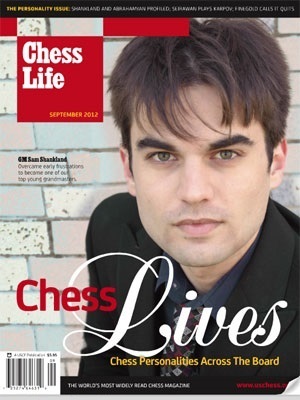 Samuel Shankland was initially an unheralded player on the international circuit, but widely recognized as a fine raw talent in America. "Sammy Shank" rose through the scholastic ranks, competed in a number of junior events in the U.S. and represented the country at the youth level. Back in 2010, he threatened to quit chess due to the poor opportunities for GM norms in the U.S. After some soul-searching he came back and in 2011, he created a stir by defeating Peter Leko in the first round of the 2011 World Cup. He won the Samford Fellowship in 2013 and continued measured improvement. At the 2014 Chess Olympiad in Tromso, Norway, he scored 9/10 and earned a gold medal on board four.
One can argue whether New York is still the capital of chess in the U.S., but St. Louis certainly has a stamp on the Olympic gold medal. Four members of the U.S. team has some connection either through the St. Louis Chess Club or through Webster University. Born in Guam and raised in Florida, Robson is another one of the new generation players raised on a diet of Swiss tournaments and junior chess. A heavily decorated scholastic player, Robson was recruited by both marquee chess programs, University of Texas-Dallas and Webster. He finally chose the latter and will graduate in May 2017 with a degree in International Relations.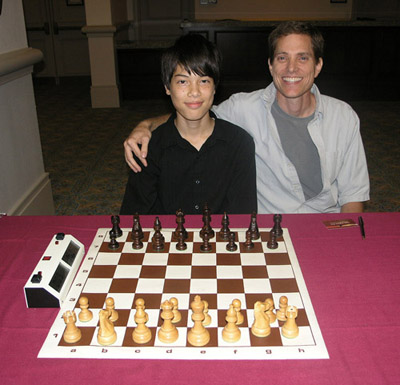 GM Ray Robson with his father, Dr. Gary Robson.
Photo by Daaim Shabazz.
Robson earned spots on the 2012 and 2016 Olympiad teams winning the gold medal in Baku. He had the following results in the U.S. Championship: 5.5/11 in 2012, 5/9 in 2013, 5.5/11 in 2014, 2nd place on 7.5/11 in 2015 and 4th place on 7/11 in the 2016 edition. He was also a member of national team for the two World Team Championships (2009, 2013) and participated in the World Cup in 2009, 2013 and 2015. At Webster, Robson has been part of four national championship teams and earned a spot on the national team for the gold medal winning team. He has done all of this and he's only 21!
With all of these respective histories, there is always a question of chemistry. Many of the past champions such as Armenia, Ukraine and China had incredible camaraderie and it showed. India also showed a similar chemistry that led them to the bronze medal in Tromso and 4th place in Baku. What about the Americans? Well… all of the team members were intricately familiar with each other since junior chess and they had an experienced captain in IM John Donaldson. Team coach GM Aleksandr Lenderman was also familiar with team events having played on USA's World Team last year.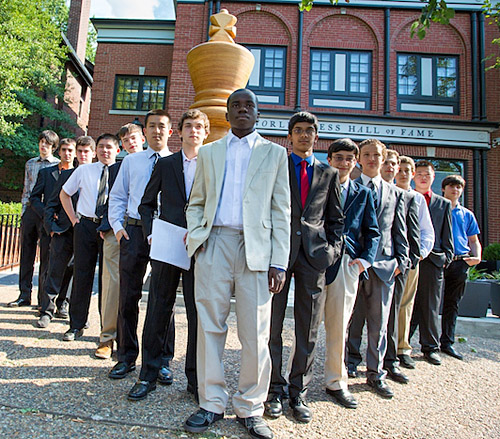 The U.S. junior circuit has been the path of ascension to the national team. With the exception of Wesley So, all Olympiad members starred in these tournaments. Who will graduate next? Photo by CCSCSL.
There was a question about Wesley So after his debacle last year at the U.S. Championship when he was disqualified against Varuzhan Akobian, but he recovered from that incident quite nicely and the controversy subsided. In addition, Caruana's changing of federation caused speculation that Nakamura would balk at playing board two. This was based on the false perception about Nakamura's fulsome pride. However, he has carried a professional stance since his 2006 Olympiad debut and has been a valuable team player and leader.
2016 Chess Olympiad Tournament
September 1st-14th, 2016 (Baku, Azerbaijan)

USA Match Scores (+9=2 – 20 pts.)

Rd.

Opponent

Flag

Rating

Score

Result

1
Andorra

2320
4-0
WIN
2
Scotland

2434
3½-½
WIN
3
Argentina

2594
3-1
WIN
4
Czech Republic

2631
2-2
DRAW
5
Serbia

2599
3-1
WIN
6
Ukraine

2704
2½-1½
WIN
7
India

2683
3½-½
WIN
8
Russia

2768
2-2
DRAW
9
Norway

2654
3-1
WIN
10
Georgia

2613
2½-1½
WIN
11
Canada

2597
2½-1½
WIN

Full Team Results
(chess-results.com)
For the future, Team USA has a torrent of talent coming through the pipeline. The gold medal will certainly have an impact on the desire of scholastic players to play for the national team. However, there is still the question of making chess a viable option for aspiring Grandmasters. GM Jeffery Xiong (2647 at 15 years), GM Daniel Naroditsky (2646 at 20), GM Samuel Sevian (2591 at 15), GM Kayden Troff (2534 at 18) and IM Awonder Liang (2484 at 13) are poised to compete for a position on future Olympiad teams. In the meantime, USA will enjoy the renaissance that is currently taking place on the chess scene.
USA


Players' Scores

#

Name

Rating

Result

TPR

1
GM Fabiano Caruana
2808
7/10 (+4=6-0)
2838
2
GM Hikaru Nakamura
2789
7.5/11 (+5=5-1)
2762
3
GM Wesley So
2782
8.5/10 (+7=3-0)
2896
4
GM Samuel Shankland
2679
5.5/8 (+4=3-1)
2661
5
GM Ray Robson
2674
3/5 (+2=2-1)
2585
The winning USA team (wearing papaqs) accepting the trophy. Pictured from left to right: GM Aleksandr Lenderman, GM Hikaru Nakamura, IM John Donaldson, GM Samuel Shankland, GM Ray Robson, GM Wesley So and Fabiano Caruana. Photo from Chess Cast.